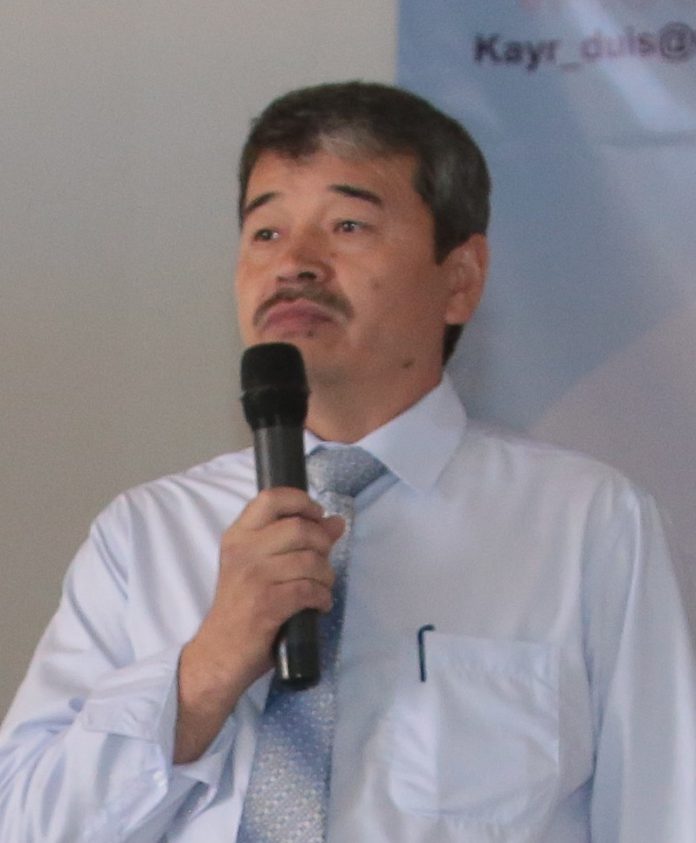 Kairat Duisenov PARMAN (Кайрат Дуйсенов) is a poet, composer, translator, essayist, Songwriter, and a journalist, He is also the founder and President of the World Nation Writers' Union.
He is a member of the International Union of Writers (Beybіtshіlіk alemi – Planet of the world",)
Member of the World nation writers' Union,
Member Of Seemed (A Copyright Society of Kazakhstan)
And a member of the Union of Journalists of the Kazakhstan Republic.
Kairat was born in January 7, 1964 at Kazakhstan, South Kazakhstan region, Kazygurt district, in a village called Kokibel.
Educational And Working Background
From 1971-1981, He studied at the school called Sabyr Rakhimov (the former name of Friedrich Engels).
In 1994 he graduated from the Kazakh National University named after Al Farabi (Almaty), Department of Journalism.
He worked in the regional
newspaper "Lenin osietі"
(in the current "Qazygurt"), "Shymkent kelbetі – Panarama Shymkent" national newspaper "Auyl"
In the Writers' Union of Kazakhstan newspaper "Adebiet Aydiny"
In magazines "Zerde", "Daraboz" "Zhuldyzdar Otbasy", "Anyz adam"
He was also the editor for Kazakh radio,
Editor for international TV channel «KASpionet» at the agency "Khabar".
Editor for Poems and articles publishing newspaper "Zhas kazak", "Zhas kazak unі", "Jas Alash" ( "Leninshil jas") "Ayqyn", "Kazakh adebietі", "Tүrіk alemi" magazines and "Parasat", "Atazhurt" "Daraboz" and many more.
He is an author of more than ten songs. The most popular of his written songs are : "Ai da, kun de" and "Bileyіk".
Some of his Poems are published in many anthologies. "Tugan jer ystyq bәrіnen" (Native Land warmer all),
From 2010-2014, He was appointed, chairman of the International Union of Writers Association "Beybіtshіlіk alemi – Planet of the world."
In 2011, he was made director of the publishing house "Halyqaralyq zhazushylar odagy", www.temirqazyq.com
The chief editor of the site.
In September 18 2014 he was appointed as the president of the World Nation Writers Union and The chief editor of World Nation Writers' Unions Web-sites (akgo.org).
In 2016 he was promoted to professor of Humanities and he was awarded the Medal by the United Nations ( for serving his community) he was also made as an Ambassador of Peace Mission.
Dr. Kairat Duissenov Parman, (President of the World nation writers' union in Kazakhstan) is a member of the WORLD UNION OF POETS (W.U.P.)", "AMBASSADOR IN THE WORLD OF THE WORLD UNION OF POETS (CO-GENERAL DIRECTOR OF THE WORLD UNION OF POETS).,
Dr. Kairat Duissenov Parman also had a "Silver Medal for culture of the World Parliament of literature (W.U.P.)".
I DON'T NEED WOMEN ANYMORE
(POETRY)
And you know friends, I'm very happy today and I want to share this good impression with you!!!
I recently met a young close law who worked together in the TV and radio company "Qazaqstan". It turns out that he has been translating Indian films from English into Kazakh for several years. And is one of the authors of the translation of a Hindi romantic, family drama "Diya Aur Baati Hum" to Kazakh language. He spoke translating even poetry that occurs in the film. And over time, he had the desire to write his poems. He is young and he has great desire to be a translator not only of films but also literary works. I told him: "Yertay, maybe you'll try to translate some of my poems into English. And then suddenly you'll have this! ". He says: "Of course, I would gladly do it, but I'm used to translating from English!". I told him: "And this time, translate the other way around." And he gave his consent. He sent me my two versions. It seems good. And I sent them to the young African famous poet Waheed Musah. He edited them and sent them to me. And in the end He left a warm compliment me. And so the translated of my poems English version of Yertai Nurbekov, editing and proofreading Waheed Musah.
Autumn
Half naked trees are very tired
Devastated bank of river is still quiet
The man is suffering from the severe cold wind of loneliness
Is following his dog
Yelling as if he has lost something
The poor men are across and over the bridge
Roaring cars are racing
With rich owners of mercedes and opel
Besides iron lattice
Looks like they caught each other by the hook
There are lovers chit chatting
Hugging each other with burning desire
This love is so strange
You may feel horny if a lady is hot
In the night long or day long,
You will forget everything but love
One lady who is wearing a mini skirt
Is passing by without understanding my poor soul
What can I do? The autumn is too long a season
Better i should back home without any regret
1999 year, kairat duissenov parman
I don't need women anymore
(Jar toseginen suyndym)
In spite of our country having abundant gold
I was presses in the grip of rialto
I also suffered by winter cold
I don't need women anymore
My bed gets too cold
Oil rich wealth of our country has fallen
I demand the oil increase non stop
Will i get shattered by worrying?
I don't need women anymore
My bed gets too cold
My relations make a smiley face,
Yet gossips behind my back
They broke all ties with me
I'm sitting there idle in the corner
I don't need women anymore
My bed gets too cold
I never planned to become rich but I'm toiling to survive
I don't feel myself as strong as at my 40 years old
Today, I'm just a man without a budget
I don't need women anymore
My bed gets too cold
I have no excellent horse, but I'm a racer
And still have my brain and I'm a skilled artist
The inner voice wishpered these are your wealth!
I don't need women anymore
My bed has become too cold
I used to be a flirt with someone
Who loves me
But there is no love, no desire today
Why? I don't understand myself
I don't need women anymore
I have become impotent
Where is my strength?
Come and hug me at once
2016 year, kairat duissenov parman
English version of Yertai Nurbekov, editing and proofreading Waheed Musah
HEY, POETS!
Hey,
Poets,
Listen to me!
The world needs «worlds of poems»!
Let burning poems will reach to one's heart S, mankind love the poems
Hey,
Poets,
Cheer up with inspiration
Let's start on the way of peace
In order to melt ice heart with our burning hot poems
Hey,
Poets,
The world needs all of us!
Take a pen by grace of God…
I wish I could rescue the world with my bright poems like the bright dew!
I HAVE A FRIEND AND AN ENEMY
By the grace of God
I have a friend and an enemy
The first one is pulling me forward, last one backward
Did you see that, they are fighting!
It seems to me my friend is my enemy
He nonstop forbidden me with his endless forbidden things
His judgment is so inhospitable like my father's judgment
But my enemy is always at my side (He is agreeing with my intention)
As soon as I show interest, he said: Do what you want
He starts to burns my lust (forbidden things)
At the same time, I follow my bad side
I feel so excited and my nose starts pulsing
As the say, I don't care if you die
As soon as the case to be done, you will get rid of your enemy
When i broke my soul
Only my true friend will be sitting worried beside me
…My enemy makes fun of me
And he is always mess up
But a true friend makes me cry
And lead me to right path
This is Gods will
Now, tell me please, what did you see, what do you know?
I'M AT HOME
I'm at home, but my dream is far away
No, no, I have not reached to the space yet
I'm egger to find keys of the world
If I find this, I would never have lost it
I'm at home, but my consciousness is traveling the world
I keep look for, but it keeping cheating
It very fast, I can't follow it
Am I really mesmerized?
I'm at home, but my desire is in the sky
I have already found out where my lost belongings
I almost reached the stairs which contains the keys of world
I'm at home