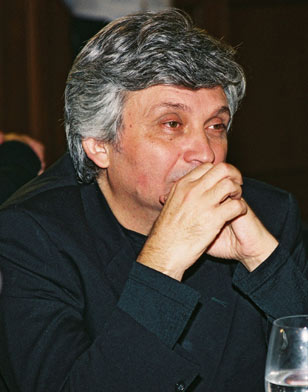 Olexandr Korotko (Ukraine),
after a prominent career in medicine and politics, became a professional poet, short story writer, dramatist and essayist. Published in different languages, winner of several literary prizes, he was nominated for the Nobel Prize.
***
Town of red-headed brides.
A provincial, suffering wind
drinks up all the water from the puddles
in one sitting and from gossip
weaves a spider's web of hurts and leaders
that old women held to their hearts
and sweeps from souls and declines them without cases,
sweetening belches of times with celery or more often parsley.
Doing a hundred sit-ups at sunset,
the horizon disturbs balding thoughts.
Go out and look – it is only in this hole,
nowhere else, that you will come across such repellent, dear mugs,
that whether you howl or scream
you won't be able to beautify the ridiculous hermitage with this.
This is our cross and we have to carry it in the Judaean night
to those places where we were happy as the lowest beggar.
BETWEEN HEAVEN AND EARTH
You'll hardly discover silence by touch: believe this, there's no better food for the soul than thoughts. With your knack and your rat's look you cannot pull down the heights behind the clouds. So, while you are here and warming the soil underfoot, drive (and you can do it) all your hot ardour there, where your peace, guarded by parting will save you from the sinful trial and from troublesome and vain boredom. Your eyes against the sky are like two extinguished stars, but, my friend, they are minor disasters, you haven't witnessed disaster yet. Over the abyss only dream and spirit soar fearlessly (flesh will not exert pressure) but who will say this aloud, while the kingdom of earth reigns over us?
***
Blacker than black ink on the black page of nights lay the fair copy of miracles. You served alongside in my dreams, you loved them more than you did me, not over me, over them you circled like a black raven and cast spells, spells. In the enchanted winter the snowflakes melted like stars and the air
was so weightless that I didn't know that you were with me, that you were weeping tears of desperation late at night, whereas I thought it was a dream.
***
Down the current of fate the soul floats both sides of love,
tired of happiness. Night having spread its wings, scarce breathing,
flies over the silence and is reflected in
the water as anguish of its own premonitions.
The last desire in the earth's consciousness, like a dream, shut itself from me with an invisible wall.
Silent ages, like angels, stand in that part
of life where there'll never be a meeting with spring.
The Pole Star is all the more capricious as years go by. The naпve moon grows wiser before one's eyes, and all that meant disaster in the past has long not been disaster and that country that was called the Homeland has passed over like a storm cloud.
***
Dream up life while the timid rain falls. Don't believe that the long river of night flows in the veins of silence. It is only a dream, the hopeless migration of birds, a snake without a sting, without misunderstandings and hurts, not at all garish to the sight, looking to somewhere
in the distance from the lonely window of the revealer of the line.
English translations by Richard McKane