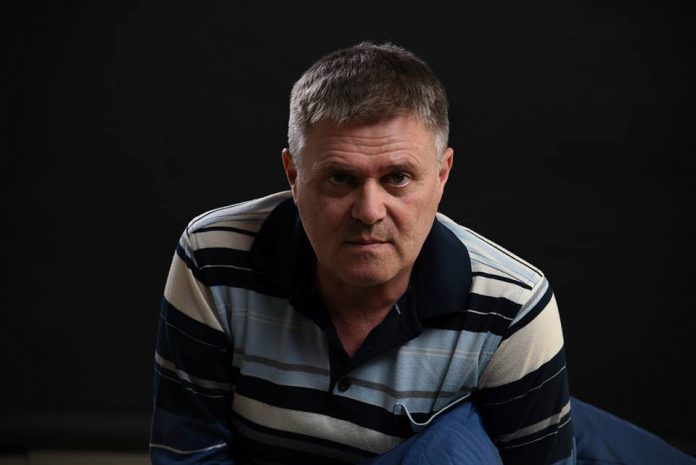 SASHO OGNENOVSKI
Sasho Ognenovski, Ph.D (1964) is Macedonian writer, actor, director and scientist. Born and raised in Macedonia he earned his BA in Acting on 1987, being creative in almost hundred roles in his native city Bitola and on the stages in Sofia, Moscow, St. Petersburg, Wroclaw, Grenoble, Belgrade, Ljubljana, Zagreb, Sarajevo, Melbourne, Sydney etc. On 2002 he earned his MA in Communications building his carreer as a scientist and educator too. His creative list includes four poetry books (Avalanche, 1995; The Fruits of Hell, 2014; Desert flower, 2015m, Forrest, 2018), two books of children plays (A Simple Tale, 2001; The Magic Compass, 2011) and two plays for adults (Grief, 2012; Citadel, 2016) and also papers in the field of Communications, Semiotic, Multiculturalism, Theater printed in various journals and presented in the conferences around the world.  His latest play Citadel was published on English language by Lulu Publishing House from Northern Carolina, USA, and his children plays The Magic Compass has been published on Serbian language by Alma Publishing house from Belgrade. He's also writing reviews, essays and columns for Macedonian, Serbian and European magazines and internet portals. Attended in a lot of conferences for Media, Communication and Multiculturalism in Gothenburg, Sofia, London, Oslo, Milano etc.
Sasho Ognenovski, Macedonia
SECRET
Somebody ate this morning too…
Dry utterances of tenderness
Are merging in the breath of
The new sun's flick.
I don't know where the sunshine had hidden.
The linden trees are whispering to each other
While the morning is crying, and the yellow
Circle
Is rising on its zenith, on his
                                          Throne.
They are playing with the shine in
                                             My eyes.
I will never find the sunshine.
Sasho Ognenovski, Macedonia
LIVID POST
It is a general feeling:
Everybody is crying, but do not know why.
Nobody is considering  about anything
All looks are livid, lachrymose…
Everyone is a livid post.
Sasho Ognenovski, Macedonia
REMEMBERING
Olive tree by the lake,
house of stone on the cloud,
someone crying on the threshold,
someone eating bitter olives.
The sky turns red, torn by a spit of flame.
The house is burning, the cloud is gone.
Holes in our eyes,
empty space.
Sasho Ognenovski, Macedonia
WATER
How was it before the fury came?
Quiet, with five letters,
limpid, cold, then warm,
fast water –
as flash of thought.
Now it is bitter,
overflowing its banks,
one day it will flood everything.
What should we do then?
Would the twilight,
which we look at every day,
give us to drink?
Sasho Ognenovski, Macedonia
WHERE GRIEF BEGINS
At the place where grief is born
the heart spreads open a fan of the passions.
A fleeting glance
exchanged
and we,
messengers of our bodies, naked,
play together, tongue to tongue
and are glad.
(At least we appear to be.)
That place
is no place for tears,
where grief begins.
Sasho Ognenovski, Macedonia
SAD POEM
Sad old woman with a black bundle
carrying something black –
net in the isinglass eye of a fish.
Love in the hide-and-seek soul,
Sad kiss, sad morning,
Sad poem.k