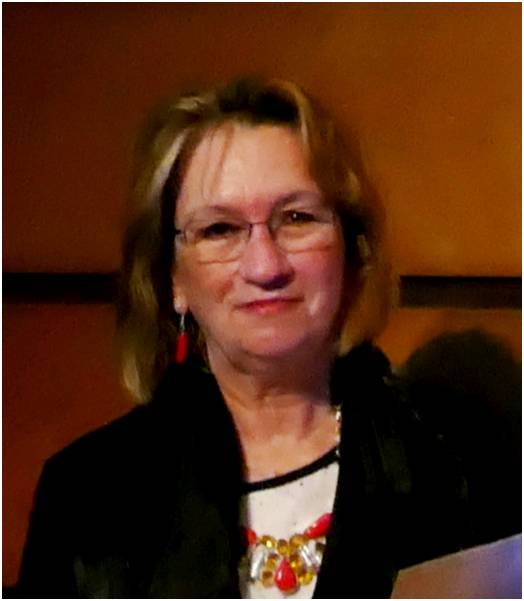 MARIA DO SAMEIRO BARROSO, Portugal 
THE SPROUTS OF HEAVEN
I pick the red berries of your heart
when you lay restless in your bed
and the moon is full, the night is bright,
the breeze is calm, the leaves are true.
Then, whispers of light
unfold your dream,
and the sprouts of heaven grow
deep in the earth
where sleep is sweet,
in the poppies shade
where I pick the berries,
steal the stones of heaven,
wrap myself in jade, pearls,
dream of eternity,
and taste the blue,
the sight of heaven,
in the crimson beatings
of your heart.
BLUE VIOLINS
An angel carries me through the wide,
endless world,
his wings touch the open darkness,
his fingers move,
his human breath is still alive.
And I go down into the deepest scars
of my face.
That´s where he lives.
In bright moon nights
I feel him living.
Once we played in a bright
sunny house.
He was with me as a golden star
in a dark sky.
He was my twin.
I will never mourn him enough.
Now the childhood home
is closed
and dead birds come.
They fill the house
while blue violins play
endless midnight songs
in September looms,
sweet scented gardenias
and cloths of May.
A BIRD ACROSS MY FACE
Endless dreams, the purple heaven,
a bird across my face
your heart a wonder -,
the miracle of life unfolding light
while you live in the shelters
of green, breathing, loving,
bringing the rain inside you.
Earth corrodes skeletons.
And you survive in the splendor
of light,
in the flowers of indigence,
in the stages of hunger.
Your heart is a deep, green
valley,
your sounds are a musical
piece,
your dream is a white bird,
pomegranate juice,
a whisper of peace.
Your hands are blissful
feelings of the earth.
DWELLING OF THE RIVERS
Waters are my dwelling.
A body is my dwelling, a river,
an unsteady place
facing an obscure front
to which I never return.
I choose nothing in the flame
that crushes me.
I refuse nothing
in the night rose that dawns.
No use running away
from drunken jasmine.
There is a front, a place,
a house to which I never return.
Springs are my dwelling,
I pursue candles, torches,
the extreme brightness
where foam creates
the inner stone
that segregates the light, the sun,
the steep moon,
and the crystalline flower
of turbulent bloom.
A CHARIOT OF WATER
I am the etheric flesh,
wrapped in the feet of dance.
I move among the leaves,
pursuing the patterns of gold.
I hide in the shadows of green light.
My labor is to go through the fields
and dive into a mud,
as if it was a chariot of crystalline water.
The horses of the night bring pain,
manes, eternity.
The sun is diving in a blue century,
the world is a drunken movie,
the flowers say good-night,
the nightingales keep singing,
the music flows.
And ripe dates go by.