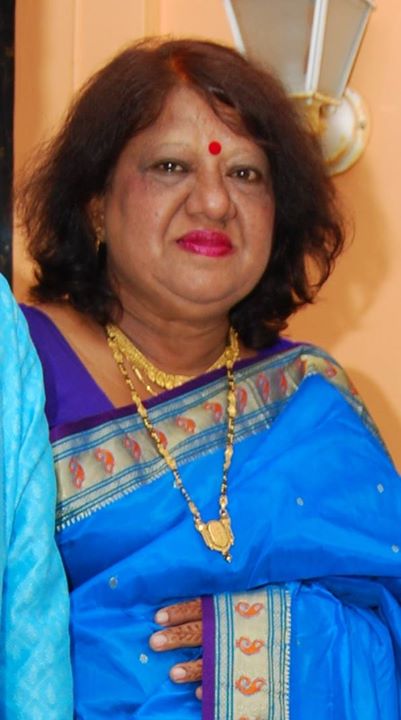 Mrs Pramila Khadun is a poetess from Mauritius.
Her poems have appeared in various anthologies mainly,
•
T
he American Poet Naomi Nye's anthology,
The Vast Sky
•
N
atio
nal library of Poems, Maryland
•
The significant anthology by Dr
Ampat
Koshy
•
Brian
Wrixon
for anthologies, Spring Summer Autumn and Winter
She is a featured poet at Pentasi and her poems appear regularly in "Rejected Stuff" and Destiny Poets.
She has had 4 collections of poetry published entitled 'Rajnee', 'Kavi' ,'Priyumvada' and Igniting Key. Her Novel entitled "When love speaks" has also been published in India
Her book "Food and Nutrition  Simplified" is currently being used by Cambridge School Certificate in School in Mauritius.
Her two projects, "Understanding Diabetes" and her collection of 108 Poems on peace and love entitled "Shangri – la" are currently under print.  
She is a retired educator and lives with her husband and three children.
We sat around a hearth of dim fires
Sipping our coffee laced with sugar.
Considered as most acclaimed and influential poets,
By the usual world of glitz and glamour,
We were rather focusing on mankind's fate
While the river flowed languidly.
We remembered the illustrious moments
Of great inventions, of great makers of civilization,
Of fighters of liberty, the writers and the satires,
The painters and the singers and the accompanying musicians,
And the sweet sweat on the neck of farmers.
We, as avant-gardistes of our times,
Could not allow our minds to play old thoughts.
Our unrelenting passion for humanity's progress
Which must glow like paint on canvass,
The gleaming light that stands on man's path
Will never leave man like old trash or recycled garbage.
Man's evolution must not lead to man's degeneration.
While the columns of smoke rose
Like falcons flapping their wings
For the great heights, with graceful composure
We eased our troubled hearts
And prayed for man's unity, for peace and for love.
Prayers have powers, conclusively, incisively.
With our uniform loneliness, we started drawing
On plain paper with our box of crayons
Of a world   called tomorrow
He  was a London-born designer
Inspired by the rich cultural heritage
That is synonymous with India.
And she was a ballet dancer
With sophisticated tastes
And a champion for social causes.
Both knew each other for sometime
And soft flames of love and desire
With emotions cascading in all forms
Grew gently in her heart
Sparkling a ray of hope.
He was the answer to her prayers,
The warmth that encased her
And when she thought of him,
Be it dawn or dusk,
A sweet radiance of happiness
Glimmered in her grey eyes.
Her soul embodied the perfection
Of love God had created.
One evening, while they walked
Fingers intertwined, in the long
Promenade in the pine forest,
She unraveled to him
The sweet mystery of her love.
The horizon shone
Luminescent orange and white.
The birds sung unheard melodies
And she felt stepping on
A threshold to a new experience.
He held her close to his heart
And she whispered in his ears,
'I know your heart is not mine,
Yet, give me a small place
In the backyard of your heart.'
He held her closer to him,
With a resplendent smile,
And strolled his fingers on her hair.
He thought for a while and said,
In love, I don't give all my heart,
I always keep some to myself
And that precious part,
I give it to you now.'
The strings of her heart
Strummed into celestial melody,
In an air scented with lavender.
Enfolding her soul in his,
He gave her his first passionate kiss.
Lover lost
She was tall and elegant and languid,
A beauty with pale blonde hair,
And wistful blue eyes.
He was a great jazz guitarist
Who had read ten thousand books
And travelled ten thousand miles.
He had the wisdom of ancient men,
Always nurturing her thinking,
And broadening her mind.
Weaned from cartoon channels,
She had a tender and seductive body
And yet, the child in her never grew up.
Transparent innocence,
Great compassionate mind,
She always clang to him,
Seeking for love and kisses,
And especially for his attention.
Nestling close to him,
She listened to the fables
Of La Fontaine
Which he narrated so beautifully to her.
She would look at the snow – capped
Mountain range while he smoked his pipe
Releasing spirals of smoke in the air,
Listening to the silence of the woods.
Sometimes, they would sail to deserted beaches,
Basking in the sun with bodies naked.
He would apply jasmine scented oil,
To her back and buttocks,
Her soft shoulders and when
His hands touched her soft breasts,
She felt a breathlessness,
She had never felt before.
The sun felt shy, like a virgin
And hid his blazing face
Behind the clouds rolling and stopping
At this sensuous sight.
Sometime, on moon – hit nights,
They would make a bon – fire
On the shore, far away from
The melancholic tinkling of bells.
He would make tea for her, Darjeeling tea.
While drinking the tea, they watched
The whales diving and surfacing.
Loss in the dimness made by stars,
He touched her velvety legs.
Swept away on a tidal wave
Of sensuality, she came closer and closer,
And they made love till the early hours of the morning.
One summer morning, he leaves her,
Leaving his guitar behind.
He simply disappeared.
And yet, the sweet melody
Did not change to a sad eulogy.
The sweet music of pain played on and on.
While the thunderheads,
Rose above the horizon
And were mounting with swift strides
Through the sky,
She thought of the father.
She had lost in him,
More than the lover.
And she waited for him,
With a pain and grief
Almost beyond bearing,
While the sweet perfume of promise
Filled the air.
Sadness, a quintessential part
Of our lives governs our heart
Since the creation of the universe.
There are institutes of seismology,
Meteorology and hydrology
For various studies of  earth's functional behaviour
Across the sands of time.
And yet, though the heart has its own
Fire, inundations, tsunamis and sandstorms,
There is so little research done on it.
Poor heart! Just the essentials and that's all.
With a single sigh, it disappears
In distant solitude, running out of time.
However, hers is a heart
Which  always leaves an impression appeasing
Wherever she trod with a holistic approach,
Leaving the air replete with
The scent of a million roses.
While the log fire roared
And the turquoise-hued waves
Touched the shores with peerless love,
Her mind brimmed with memories sweet,
Giving to love a transcending meaning.
She felt she knew her lover
Since a million years.
With a sheepish expression,
She looked at the feisty clouds
High up in the sky
While the rhythmic move
Of the swirling branches
Fanned the air with grace.
All of a sudden, she felt her lover's hands
Holding her breasts lovingly,
Caressing them with soft touches
And gently drawing her close to him,
So passionate, so compassionate in his moves.
And now the fire of desire
Rose with bright flames
Trying to reach those great heights.
Sometimes hard and at other times harder,
And yet, always desiring for more,
The moments stretched
To phenomenal altitudes
Charting the transparent territories of love
While the moon hid her face behind the clouds
For a sight hot as this one,
She had never seen.
We exist because others exist
And yet, everyday we pretend others don't exist.
How long?
Each one of us has flamboyant ambitions,
An insatiable desire for perfection.
Creative, smart, realistic and flexible,
We want to bring our plans to fruition
And the voice within us that says
'Move on,' cannot be stilled.
It is believed that if we want
To achieve something in life,
The ensemble of the entire cosmos
Conspires with us to make of this daunting task
A mission successful and plausible.
It is the glorious path of full consciousness
That sages have worked on for years
That helps to open the sleeping eye.
It is the spirit of togetherness
Which under the yoke of ignorance
Looked like a bull without horns.
Einstein's theory of relativity
Just turned hundred years old.
Faraday, Marie Curie, Michelin, Darwin,
To mention but a few,  have left light for us
And gone.