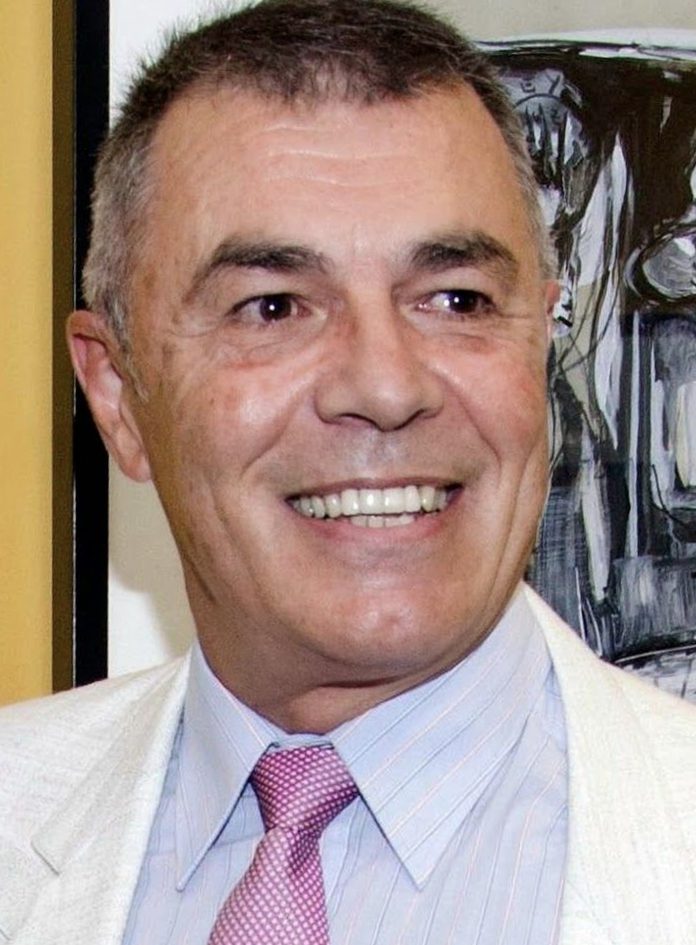 JULIO PAVANETTI (Montevideo, Uruguay, 1954)
He is a poet, a translator and a cultural promoter born in Montevideo, Uruguay in 1954.
He belongs to the generation of young people who suffered under the rigors of the country's military dictatorship. Facing a very difficult socio-political situation, he decided to leave Uruguay and in 1977 settled permanently in Benidorm (Spain) until 2013, now he lives in Villajoyosa, Alicante (Spain).
He is founder and President of the international poets association "Liceo Poético de Benidorm". Honorary Vice President of the "World Organization of Poets, Writers and Artists".
Consul of the "International World Poets Movement" for Foreign Uruguay.
Cultural Delegate for Uruguay of "Hispano-American Union of Writers".
Associate Academic by the North American Academy of Modern Literature.
Director of the poetry collection "Azul" of Enkuadres Publishers, Alzira, Spain.
Director of the International Poetry Festival "Benidorm & Costa Blanca" (FIPBECO).
Honorary Member of the American Academy of Modern Literature.
Member founder of the Student Academy of Contemporary Art in Rio de Janeiro, Brazil, occupying the chair No. 7 "Gabriel Celaya".
Member of the "Association of Spanish Writers and Artists".
Member of the "Spanish Collegiate Association of Writers".
Member of the "World Poetry Movement".
He has published eleven books, one of them in Romanian/Spanish bilingual edition, published in Bucarest, Romania. His book "Al roce de la piel callada"/"At the touch of a silent flesh", won the first prize in the contest of Aspe, Spain, in 2015, and was published in October 2018 in English/Spanish bilingual edition.
He has participated in several international festivals of poetry andhas taken part in more than 70 international anthologies. He hadreceived many awards, honors and recognitions, both for his poetry as for his cultural work.
Many of his poems have been translated into English, Italian, Sicilian, Catalan, Arabic, French, Romanian, Portuguese, Croatian, Polish, German, Dutch, Japanese, Chinese, Bulgarian, Turkish, Malay, Korean, Bengali, Greek and Mycenaean Greek (Linear B) and have been published on innumerable Spanish and international newspapers and literary magazines, both in digital and printed format.
TRAIN OF SHATTERED DREAMS
​  ​​
The poem refers to the deep tragedy experienced by certain countries
in Central America, where thousands of desperate people, ride on the train called "The Beast", also called "De La Muerte", crossing all Mexico
to reach the United States searching of the famous American dream.
Most emigrants die in their attempt, victims of Marasgangs and drug mafias.
   ​J.P.
Desperation travels grasped
to an oxidized iron in the coaches of the beast,
that train that rolls slowly
on tired and rusty rails
by immobile and uncertain plains
avoiding hell in its fluttering.
Desperation is what leads
the hungry and undocumented immigrant
to cross miles of risk and blind smoke,
mounted on the loin of the fierce animal,
ravenous of the essence of man
and his longings.
Desperation turns him weak,
vulnerable, pushing him to huddle
the brother of fight, the companion,
in those uncovered wagons,
eager to cross that border
towards the new horizon of his dreams.
Desperation is the abyss
of those that fall asleep and fall,
a mortal breath between the bodies.
How many deaths will still have to come
and how many women be raped?
How unfair this world and how imperfect!
Desperation is anonymous voice…
when corpses pile up,
It's the solemn name of the dead
the name of fear, that stretches
when life remains more deserted
and the foals gallop across the chest.
©Julio Pavanetti
Translation into English by the author, reviewed by Mª Juliana Villafañe
THEY SILENCED OUR CHANT…
They silenced our chant
they tear out our feathers
and cut our wings
without them they push us to the woods
they piled up hopeless moons
in a horizon that stopped escaping.
Not happy with cutting the chain
they broke links
and raped our houses
they confiscated letters to our parents
whilst beyond the sea
we had to survive with no news
when internet did not exist.
Located in our own abyss
we tried to connect our steps
to an unhurt hope
but in a shared reality
we stayed face to face with time.
We wandered as nomads
unknown and unlinked
we resist the disillusionment
of messy days in memory,
like lingering feelings in rebelliousness.
But we had survived
teaching exile in freedom
burning each one on them own way
in a fight against the sea that brought us
deaf rumours of absences.
Temporary lives with us
although it sleeps out in the open.
Human being gets used to everything,
some of us saw muses go away
while we tried to reborn
breathing peripheries.
Trapped in the net
that warps survival
muses slowly came back
others rediscovered them
drowning dictatorship on alcohol
but sooner or later all of us
came back to look for lost youth.
Life is like a wound that worsens with years.
© Julio Pavanetti
Translated into English by Prof. Gabriela Pavanetti
HOW FRAGILE BEAUTY IS TONIGHT
How fragile beauty is tonight
suspended between candid remains
interwoven with summer strands
transforming your body into sea.
Untangled from the shadows, the moon
moves between whitened ants
and lays to dream among us
with the soft murmur of waves.
Accomplice of the games in the dark
disperses over the ocean the seeds of light
particles of a mysterious dust
that the breeze entangles in your hair.
The sand remains warm
delineates the contour of our bodies
while your hands reinvent filigrees
to the bird that poses in my back.
Your lips slide along the curve
of my flesh, advancing without obstacles
crossing the threshold to my essence
unfolding my wings.
© Julio Pavanetti
Translated into English by María Juliana Villafañe