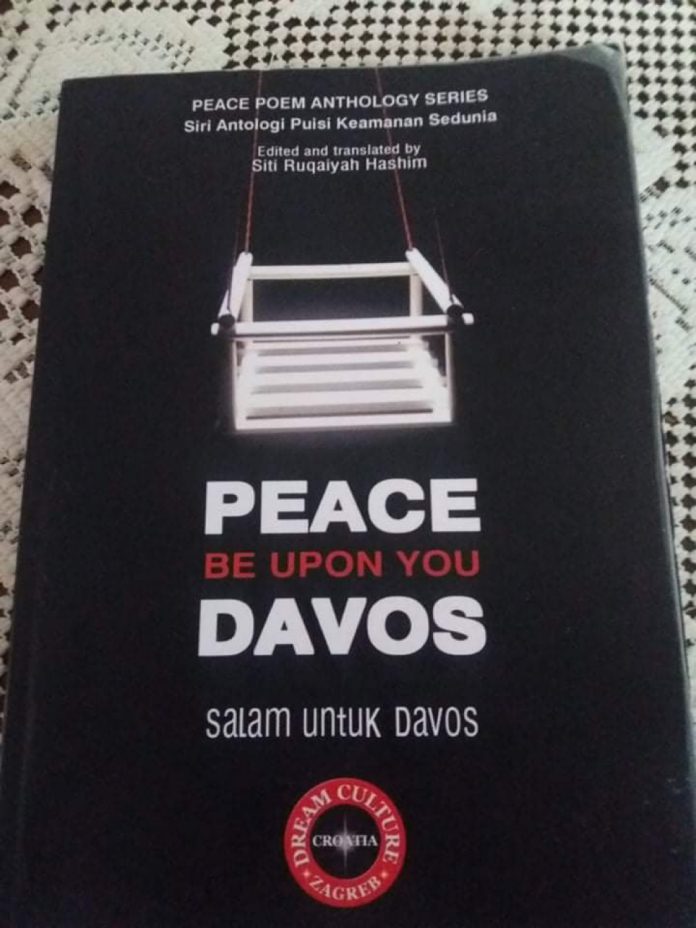 AHMAD SALLEH BIN HJ AHMAD
Ahmad Salleh bin H. Ahmad @ Asha was born on July 28, 1957 in Tapah, Perak.  Received early and secondary education in Tapah. Entered The Perak Teachers College (New) in 1978 and began serving as a trained teacher in 1980. Pursued his studies at Universiti Putra Malaysia (UPM) in 1986 and obtained his Bachelor of Education (PBMP) in 1989. Served as a lecturer at the Department of Education  at the Institute of Teacher Education (IPG) Ipoh Campus, from 16 January 1993 until his compulsory retirement in 2015.
Currently, he is active as Committee Member of Perak Writers Association ( Karyawan Pk) given the responsibility of organising activities such as poetry readings, concerts and theatre. An active writer on essays, political books, religions, educations, poetry, and novels.  Now he is preparing a political book called "Politics of Malaysia: A confused Father of The People" Education Book called " Is it Difficult To Be A Teacher? " and a religious book called "O Believers" and "Anti-Polygamy Inviting  Torments". Many of his poems published together in joint anthology with other poets, besides his poems published in magazines and newspapers in Malaysia.
PEACE BE UPON YOU DAVOS: ANTHOLOGY OF WORLD PEACE POETRY
Reading and fathoming the poetry anthology of " Peace Be Upon You Davos", the first thing we cannot afford to ignore is to give credit to Siti  Ruqaiyah  Hashim as an editor as well as the translator of poems that saw collection of peace  poems from poets all around the world. To work together  and collaborate with many  big names and great and influential poets of  the  world,  is  not  an  easy  job.     Siti  Ruqaiyah's relationship with these famous  poets must have been fostered for quite sometimes. As  a  Malaysian  I  am very proud  of  her  efforts,dedication and achievements      .    .
​Siti Ruqaiyah  has also  chosen  the title  of  her  poem  "Salam  Untuk  Davos or Peace Be Upon You Davos" contained  in  this anthology,  as  the  title of this anthology.  In  myopinion,  this   title, coincide accurately and greatly as the best title of the anthology   that  presents peace, anti-war -themed  poems. Known to everyone especially Muslims,  the word "salam"  is  derived  from the Arabic word  meaning peace and becomes greetings that brings salvation and well-being not only in the world  but also in the hereafter,  which is the day that all mankind will be resurrected  to meet his Creator,to receive a recompense equal to what has been done throughout life in this  world. Islam  attaches  great  importance  to peacefulness andsecurity to all lives.  Islam also  encourages human beings  to  love and  pray  for each  other's welfare.   When meeting  someone  or a group  of  people,  Muslims  are  encouraged to initiate goodness to the person or group encountered, by saying"Assalamualaikum"which means  "peace upon  you", and the one on the receiving party is obliged to answer it with the greeting "Wa'alikummusalam"which means, "and  peace beupon you too".
​Why "Davos"?  It is known that Davos is the World'sannual economic forum . Human being is a special servant of God , who has soul, mind and body. Knowledge, Faith is thefood of the soul, but the economy is the material need for physical requirements. If food supply is threatened, humans canact violent like animals. Therefore, it is not surprising that humans are willing to kill and fight solely to meet the physical needs of the body. Thus, the second series of this peaceanthology is given the title of "Salam for Davos" which expectsthe annual economic forum to discuss grave matters of human survival in a transparent, justified manner, to create economicbalance and equality indirectly to serve the whole world  who occupy the planet Earth. Is it (the World Economic Forum)really transparent to achieve that goal? It is the nature of human beings to love peace and justice, and poets have sensitive soulsand they are not happy , if mankind needs are not met, so thisanthology suggests some answers to create conducive means to a good peaceful living.
             In this Peace Be Upon You Davos, Siti Ruqaiyahworked together with 16 world-renowned poets publishing another bi-lingual peace anthology series which she worked onand translated, after "Khabar Dari Strasbourg/News From Strasbourg "  which she published in  2017.
​Siti Ruqaiyah herself wrote 14 poems in this  anthology , starting with "Peace Be Upon You Davos" and ending with a poem titled "Between Stolen Glances". Peace Be Upon YouDavos is loaded with cynicisms, on the plight of the victims ofwar who suffered and forced to be refugees . They arerepresented by Osama, Mohamed, Shaif, Brahim and Ziaur. Warhappened solely to fulfill the agenda of great powers with theirgreatest economic sources in the arms trade. The great powers ofthe world have never fought each other but cunningly waged their proxy wars for the sake of their arms trade. Siti Ruqaiyahcynically clings to the Davos-based economic forum andinvokes hopes to return to universal peace values needed by everybody.
​The poem Alleys of Paradise 2 revolved aroundrelationship, which ended up in a break-up and  split due to differences of beliefs. This Poem is rich in metaphor. The poem Sketches of Love  described  situations that even in a violent,war-torn communities, the human soul amongst the sophisticated  armies of Israel, men eventually succumbed to their consciences when asked to do things contrary to their soul. This message  is  featured in the form of a  true  story cited  from the   Haaretz.com online newspaper. The poem When I Met You, Prayers For Dad, Are You Happy Now, Poem For ALittle Brother , Getting To Know Brother, Existence, Sands ofSri Lavender, and I Really Love You Very Much aredocumentation of personal and private feelings and expressionin nature.
When I Met You , is an expression of relying to the divine intervention of God to solve problems according to the rites of the sufi as In Islam. While Prayers For Dad was a personal impulse having to leave a beloved father who passed away whilethe author had to leave the country. However , the love  between  a daughter  and the father  is inseparable. Although  far away  and unable to  attend the father's burial , the prayers from a loving, devoted, righteous child will be fulfilled by God.
Are You Happy Now? is about difficult realities in a relationship between two people who ended up in a parting.Poem For A Little Brother is also very personal in nature, about love between brothers  who are reminded of the greatness of sacrifices from a brother to his younger sibling.The poem Getting To Know Brother is also a personal one, about the  author who remembered stories of her mother who  never forget her dead brother after  reading a poem written by her friend Ibrahim  about his son  Irvin who also died young. While the  poem Existence, I Really Love You and The Sands of Sri Lavender         portrayed the author's hopes in love to  last forever whether to her beloved ones or to her homeland.
The second  contributor of the anthology, Professor Mohamed Abdul Aziz Rabie contributed  four  poems  in this anthology,  including "Do  You Have A Clue?"  In  this poem, Mohamed used questioning technique about  the weaknesses of the social and economic systems and injustices of the world  towards the poor and the weak, by saying that the safety and well-being of the world might be enjoyed if they did not manipulate the weak and poor.  In this life, to achieve justice is very  difficult.   But man needs to be sincere and commited to create justice on this earth. However,because many humanbeings are greedy  it is impossible that can be achieved easily.
While through  his poem "Farewell"  Mohamed became spokeperson to all mankind who love peace and happiness.  Ahope that  will  never  come.  The poem  "Let  the Sun  Shine"  is    indirectly   an answer  to the poem "Farewell"  which invites  people  to forget their sufferings  and enjoy life as what it is. It's clear on  the first  and  second lines of the poem that reads, "Let the sun shine again " and "Sing  your favorite song". Likewise, his poem "Anniversary"  is  a hope of  a   safe,  peaceful and happy life besides family and friends that brings much happiness to us all.
If anyone  expects  every poem to be in stanza forms,  then  it is a big mistake. Hungarian      Literary  figure Istvan Turci, indirectly  describesd that  poetry in particular poems can be  presented  in other forms. Istvan Turci  in  all  four poems in this anthology writes his poems in the form of interesting short prose which is the prose poems. Through his "Rilke" using metaphorical elements,  he managed to touch the reader's  emotions. All  of his  poems in  this anthology, such as "Rilke", "Brightness  And  Darkness", "Folk  Song" "As If  Emerging  From  Myth  (My Days In the Mountains)" are  all written in  the form of short prose  like essays using lots of metaphors. I think  it's  very  interesting and effective  ways of writing poems in varieties like this.
Cordoba-born Argentine poet who lives  in  the United States Luis Alberto  Ambroggio,  contributed  two poems  in  this  anthology.  His poem titled "Father"  was written after his father's 90th birthday,  indirectly  representing  children who remembered their father's sacrifices to his children. Through this poem he  used  the  technique of re-impacting  and thanked the father for all his sacrifices in raising him to grow up as a human being who gave  a lot of benefits for  the  community.   This  is a  reality  that we  cannot afford to ignore in this life. Where would hope live and breathe air of peacefulness if the child isunable to appreciate the services of others, especially the fatherhimself. This hope was expressed by him through his secondpoem titled,"We Want to Breathe Air of Peace.
          the Syrian-born    poet Osama  Esber who lives in california today, can't hide his feelings about the importance of peace and security and is upset that his homeland is  in turmoil of war .  All  his  hopes  and regrets are  expressed  in his poem,"Mother's  Day","King  of the World", "Waves  in Childhood" and "Question Marks".
Dr. Maurus Young,  87, who was born in China now living in Paris and is president of the World Congress of Poets did not miss sharing three of his poems in this anthology,  titled  " My Story", "A Beautiful Leaf", and " A Jar of Wine". All of hisprayers are themed around peace and security, longing for thelife and love of his fellow inhabitants of the world, who hoped for eternal peace.The author's desire is evident in the final linesof his poem titled A Beautiful Leaf,-" buried in my heart forever " and in the poem A Jar of Wine, -"and kept forever in theheart".
Tetovo, Macedonian-born poet  Shaip  Emerllahu in this anthology contributed three poems,  each titled  "The Broken Project ", "Breeze "and " Anxiety of Returning". Through theBroken  Project",  Shaip  expresses  his disappointments  to  see  a peaceful life in this society, destroyed,  though various efforts  made  for peace, the  world  remains unpeaceful. The  poem consisted  of three stanzas,  poured  in metaphorical and symbolic forms. Shaip's persistence in fighting for peace can beseen in the "Breeze." poem. Through " Anxiety When Returning " he described the worry and insecurity faced in his life.
A professor  from  Beijing University of Civil Engineering and  Architercture, Jia Rong Xiang also  narrated  the poem "In That Era" and "From  Wing  to Wing". "In  that Era",  the author   wrote about the misery that the Chinese people, especially young people, went through around the 1960s  and  1970s.  It was the  time of  the  Chinese Cultural  Revolution. The  author also explained  how  important loyal  friends   are to be able  to  work  together for the sake of future  happiness.  This overflow of  his heart  is  poured  in  the poem  "From  Wing  to Wing".
Poetry "Decades" expressed the tribulations who  had beenin the people of Ramallah, Palestine, and sufferings faced bythem since Zionist occupation and nasty work of  foreigners. This was described  in the " Strangers " poem .  It  is a reality of life  that  cannot  be  denied  because  the poetry is written  by  an   experienced Palestinian journalist , Ahmad  Zakarneh, who was born in Egypt.
Norway's contemporary poet  Knut  Odegard also contributed  three poems. They were titled  "The Windows Stay Open For Ravens In The Night "Paper Clips","God's Breath" . As a scholar in the field of Theology and Philology, his poems are inseparable in discussing about things of Godliness.  Thisstate of circumstances are evident in all his poems.
The young poet from  Tamale, Ghana also expects peace inthe  world,  prosperous and peaceful to live in. He expressed this  desire for love and peace through his poems "For  Our Children" and "It Is Time".  Through the poem "For Our Children," this pure desire is spilled over into the third stanza:
​​For our  kids
​​How about  we  build  a  world
​​Made with  emeralds, which  are  bombed proof
​​Racial, extremism and  violence
While through the poem "It Is  Time", this  desire  for peace and security, is not difficult  to be seen in  every  verse and line of the poem.
The Skopje, Macedonian-born poet Biljana Biljanovska,through a poem titled "Phoenix" stated that she was a descendant who inherited a revolutionary  spirit, both from her father and mother , who never stop fighting for justice to make the world a safe and a comfortable one to live in . Sufferingsfrom war, separated from her loved ones and heartbreaking loverelationship, revealed through her poem titled "In the LastCircle. The hope of being happy with her lover is expressed in apoem titled "Between My Lips".  Through these poems, thereader could feel much how ill-hearted human beings are tearingapart peace and security.
The prominent poet Agron Shele from Albania now residing in Brussels too, cynically expressed his disappointmentswith the lack of peace in an insecure world of arrogance andgreedy human beings who fought and killed each other without solving problems and differences by peace. This disappointmentis seen through both his poems entitled, " Never Ask A Poet"and"I Know…!"
The voracious world rips everything apart by war,  the mother's   longing for a lost child, the little ones who become refugee and the  various stories  of  war  grief.  This  sadnesswas expressed  by  the  poet  Hasna  Jasimuddin  Maudud  of Bangladesh through her poem  in  this anthology  ,  namely  "Waiting  Mother"and " The Small Refugee From Syria."
Born in Osijek, Croatia Zdravko  Odorcic expressed his sadness and hates for wars, through his poems  " Scent of Holocaust". In this poem he portrayed disgust of  war  of ethniccleansing. This was evident on the first row of third stanza:
      I counted the pellets in a number of holes in your head.
The memories of the Balkan Wars were fresh in his mind and described the cruelty of  man who is hard to stomach. In "Keeping You Under My Skin" he also  illustrated how  much the  author  craves for peace and security .
The Ulanbataar-born poet,  who lives in Chicago  Oyuntsetseg  Jamsrandorj also shares a    mother's   feelings and affections,  through her poem titled  " My Elder Brother  And  I". The  comparison of the  affections  of  a bird's mother, whois able to do anything for the safety of her child, makes the author understand much of the great sacrifices of a mother. The  author  uses comparison  techniques,  such  as in  the fourth  frame..
​​Their Mother  will  fly  overhead
​​protecting them
​​rushing in circles to reach home
Her poem,  titled  "The Road Across The Low Bridge", also  revolved  around  a mother's    affections.
The poetry that filled  the final  space of this anthology was contributed by Padmaja Iyengar-Paddy. Her poems are titled "Journey"and "Hatred". In "The Journey" the author expressedher sadness in exposing her discomfort and misery fromchanging places and being in a new place. While in  "Hatred"Padmaja invited the reader to stay away from this  negative  trait  because,  hatred  does not give anything good or  will  result in  other  negative  traits  that  destroy  oneself. The author  wantedto invite  people  to show compassionate feelings to their fellow human beings for the sake of respect and peace in this   world.
Ending my analysis of this  anthology, published by Kultura Snova, Zagreb, Croatia under the poet Zdravko OrdorcicI once again took  this  opportunity to congratulate and expressed that I am proud of my compatriot, Siti Ruqaiyah Hashim who had managed to  produce a poetry anthology  themed around peace and anti-war stance for  the  world.  Thank  you  and  congratulations  also  to all  her famous  friends from  all over the  world  who had contributed  verses of great and interesting  poems,  to be laid out in this book for the world to think and ponder the voices of the poets. I  believe  her love for peace will  certainly  record  history on the world peace map, which  will indirectly documented that the world's inhabitants  love and crave for peace and no-war. I  am also  personally  happy  and with a   willing  heart  will  provide  as  much  help as I can if  that  desire  is   to be realized. In joy I close my  writing  with  a poem of my own.
GOD IS THE CREATOR
God is the  Creator
the most conscientious  of the  wise
Creating the world
Man is servant  created begins with one
from the ground and mud
Don't walk with arrogance and proud
The most perfect  creation
comes  from heaven
gifted with ear eye and  heart
mandated to look after planet  earth
Equipped with mind and  lust
Be wise to administer it
For peace, harmony and  tolerance together
The slave of life  is dead in the end.
Resurrect to life
Brought to judgement
Sublimeness returns  eternally  happy  to  the end
The cruel following lust  will  always be burned.
Ipoh
29 August 2020  
TUHAN MAHA PENCIPTA
Tuhan maha pencipta
maha teliti maha bijaksana
Mereka alam maya
Manusia hamba ciptaan mula satu
dari tanah dari lumpur
usah angkuh jangan takbur
Ciptaan paling sempurna
berasal dari syurga
dikurnia mata telinga hati
diamanah planet bumi
disisip akal dititip nafsu
mohon tadbir bijaksana
aman damai toleransi sama-sama
Hamba hidup sudahnya mati
Hidup kembali
dikira diteliti
luhur berakal kembali bahagia kekal ke asal
Zalim bernafsu derita terbakar selalu.
Ipoh
29 Ogos 2020
Ahmad Salleh bin Haji Ahmad
Poet
Committee Members of Perak Association of Writers.
NOTE: ARTICLE WAS ORIGINALLY WRITTEN IN MALAY LANGUAGE .
TRANSLATED INTO ENGLISH BY: JAA JASRIL . EDITED BY:  SITI RUQAIYAH HASHIM.