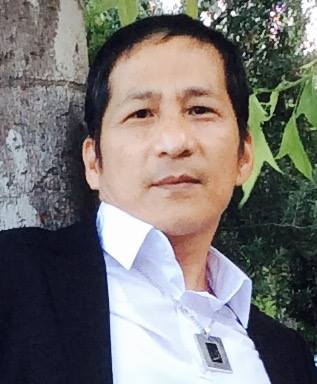 Ernesto P. Santiago, Philippines 
Ernesto P. Santiago says, "He is too small for his ego. He is enough for himself." He thinks, "Poetry is a global temperature that will always surprise us." His poetic thought has been widely published and anthologized, in print form as well as online. He is the author of two poetry books The Walking Man, 2007 and The Poet Who Asked The Birds How To Fly, 2009. He lives in Athens, Greece, where he continues to explore the poetic myth of his senses, and has recently become interested in the study of haiku and its related forms.
Tongue And Word
You know the journey of word
from the breath of tongue so keen
is like mastering the sword
in the dance of the wandering wind.
Every tongue is a word
and every word is a tongue,
use both with such accord
to bless the old and young.
Fear and excitement hold
our tongue and word exactly
one and the same as told
by the feel of the eyes that see.
If the tongue is a good father
who arouses the land in noble deeds,
then the word is a good mother
who welcomely fills in his seeds.
We are the tongue and word —
should be a grace in prayers,
in prints or in letters, where martyrs often honored
by a salute of silence that matters.
Tongue and word reveal the heart
like a song of lips in flames,
creating the perfect rhythm and art
for the country that never crosses out our names.
Being Human Is Not A Miss Or Hit Thing
On my rugged lips your fevered faith
keen to the licking of my curiosity,
when with silence abound
our words become our hands
clinging to the limitlessness
of divine touch. Keep your eyes
towards heaven, wish for rain
to lift our redundant prayers
to God. While I acquaint myself
with your firmness my thirst you satisfy
with sap of gladness that my tongue
keeps seeking out the last. Dip into
my dawn, and then understand
the first light, the journey of a child
from womb a poet loves to honor
with music like cry and sigh verses. Your
so warm body makes me feel where being
human is not a miss or hit thing, but an objective;
and I realize I am poet too, not endangered
species. Ah, loving you, I see my purpose!
Bashful Mimosa
To live life, no one is born with a contract.
And just like you, I also came out from
the rose womb of a woman plucked from God's own act.
Although I am not of such a royal ham,
still I'm entitled— to play snowball thing
and mate myself with winter night in fairydom,
to smell the aroma of colorful spring,
to sway my tongue with the leaves of autumn,
or maybe, to see what crazy summer will bring.
Of course, I want to live my own myth and bloom
like bards who write and write, rewrite and rewrite,
but who's this fatuous finely creating my tomb?
Will I have a day without a fear in might?
is exactly how I start to lean on
solitude, for these tears are now dimming the sight
of my life, which I so thought a concoction
of best breath and sweat of your flesh and bone.
May the Lord of distribution feel my vision,
for I desire not to be the free-verse clone
of a man laced in immorality,
nor be the legal inheritor of the throne
of fool, 'cause I know and sense the "I" in me
is a tiny mimosa, though bashful
yet it has a great curio for the world to see.
I can fill the air you breathe with song so cool,
just touch me not and let me wear my smile.
My Life, My Body
Not so pleased
With my DNA,
So I call God, the Mightiest,
To inherit the dark
Side of my poetry.
Intently reciting Our Father,
Repetitively I feel the shivers
Of my name cultured by lust
Of men, unbeknownst to contentment
As my silence craves for me.
Ah, in my thirst
All angels
Are beautiful—
I pick the one not hesitant
To lead my soul
To her wet tundra
That can remould the seeds
Of love that photographs
The memories
Of my blood nearer to peace.
Untitled Love
Don't let the busybodies see you cry,
and even if I come to say goodbye.
No matter what daily gossip gives you,
this untitled love born within my heart
ever steadfast to labors of virtue.
Come, oh dawn of my life, sit by my side
and I will tell you where my words reside.
You a cuddler of laughter, hear me sigh;
as you trust my lips, as you trust your mind,
often I like soul as high as the sky.
Claim me hard to a joy of heaven's yell,
and let the twinkles of your brown eyes tell,
so what if I love you like dew to grass.
There's no more time for inessential lie;
real death, it's kind of lush, like poetry . . .
of wine and roses, only I refuse to die!