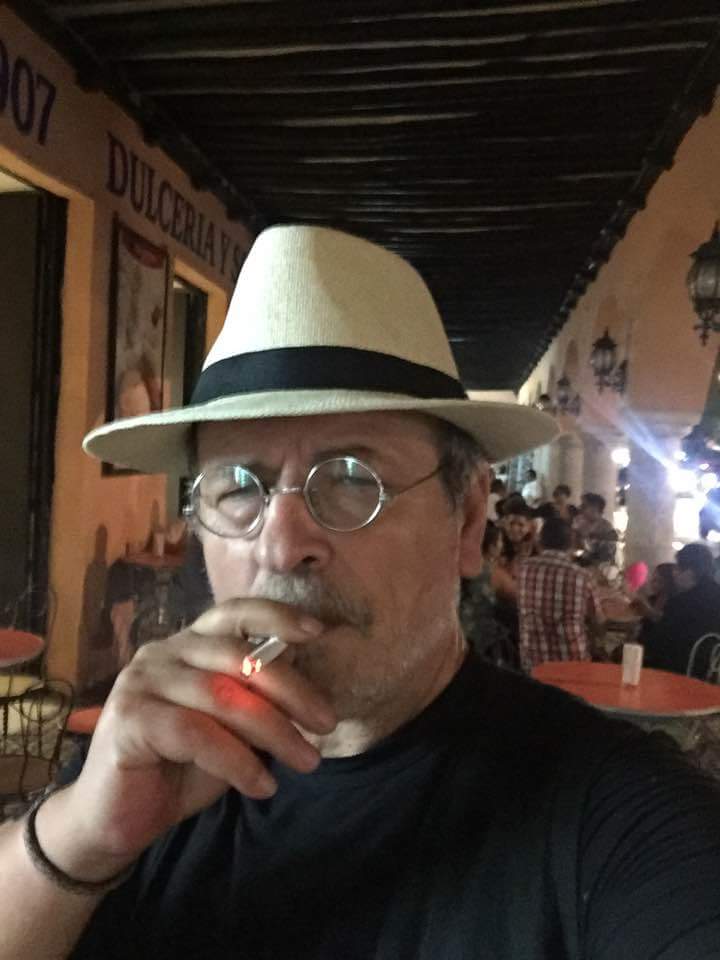 Xhevdet Bajraj, Kosovo/México. Member of the Board
Xhevdet Bajraj is a poet, dramatist, translator, and professor. His works of poetry, which total nearly twenty volumes, have been translated into English, German, Spanish, Danish, Serbian, Slovenian, Hungarian, Turkish, and Polish. He has been the recipient of many awards and honors, among them, the prize for best book of poetry (both in 1993 and 2000), conferred by the Kosovo Writers' Society; the Goliardos International Prize for Poetry in 2004; the 2010 Katarina Josipi award for best original drama written in Albanian; first prize at the Festival of Monodrama, Vlorë, Albania in 2013; and the award for the best book of poetry in 2015, presented at the Prishtina International Book Fair.
In May of 1999, Bajraj and his family were deported from Kosovo. Through the International Parliament of Writers and their program for persecuted writers, he was granted asylum and a fellowship at the Casa Refugio Citlaltépetl in Mexico. In the years since, he has become a full professor of creative writing and literature at the Autonomous University of Mexico City and been inducted into the Sistema Nacional de Creadores de Arte. In a parallel artistic universe, he appeared as a co-star of Aro Tolbukhin, In the Mind of the Killer, an Ariel award-winning film and Mexico's submission to the 2003 Oscars.
ALBANIAN FOOD
Serb soldiers in Kosova
Had rich Albanian menu
In the morning
Milk from torn mothers' breasts
And newborn babies boiled in the fires of the homes that were burning
Served with black eyes, blue eyes or brown eyes
And a bottle of boiling tears
Some were content only with the roasted head
At lunch
Broken hearts of all ages
Cooked in the juice of bones
And back meat roasted in live coal
Accompanied with children's fried brains
And a salad of shouts sprinkled with vinegar of horror
And one and half liter of raped girls' blood
Some were content only with the roasted head
At dinner
Black and white lungs
Here and there a kidney
Child meat mixed with the blood of mothers
Some old man's flesh roasted on a spit
Salted with the salt out of the tears
Some were content only with the roasted head
In the meantime
They were munching left ears and right ears
Fingers and toes
Here and there some bloody noses
And our dreams dried on the execution wall
Some were content only with the roasted head
They baked and cooked in the fires of the homes that were burning
They were eating and drinking from the skulls of Albanians
As if they were not men
Were they, God?
Until the summer returned them back to their soil
When they fattened up from death
Translated by Fadil Bajraj
IN MY SONG
To my brother Fadil
If in my song
The sun rises in the south and dies in the north
Leave it alone
If the rivers flow without names of men
Leave them alone
The oblivion has its own reason
If the stone in his kingdom is quiet
Leave it alone
The fire is being saved for the great day of returning
If in my song you meet a man
On a sunny day
As he drinks water in the river
With his knees on the stones
Leave him alone
He was born free
Translated by Fadil Bajraj
THE ANGEL'S DREAMS
The moment he set foot on earth
First thing he did was walk into a cantina
He drank two whiskies, then he died
And the angels have night terrors
When he came down a second time
He drank nine vodkas and didn't notice when
The people cut off his wings
Ever since, he is afraid of sleeping
Scared to dream something human
Translated by Alice Whitmore
THE SHOPPING BAG
I don't know about you, dear friend
but life keeps biting me with its beastly teeth
and there's nothing left to do
but bite back
I flick away my cigarette and cross the street patiently
so that some car doesn't tear off
my brand new shoes
I walk into the supermarket
lamb chops
a selection of fish
chicken wings breasts thighs … whole chickens
bull testicles cow brains beef liver
pig trotters rabbits quails
all heavy, all carefully packaged
with the price in the corner
to see if we can afford it
I carry a bag with tortillas
green chiles
six Indio beers, nice and cold
three packets of Delicados, no filter
and I return home
to eat
tortillas with chile
and a little piece of myself
Translated by Alice Whitmore
KING OF NOTHING
I don't know if I'm standing on my head
or if the world has toppled over
​Here it seems reality will never stoop so low
as to deny our own imagination
meanwhile each day we wait among loved ones
​for the cold kiss of the blade of a thief's knife
​a bullet's flight from its black nest
​straight into kidnapper's chest
or the liquid wail of drug traffickers' ax
who make illusory collages
​out of flesh from our bodies
So
we wait
with a smile on our faces
We prove Aristotle's words
that man is the only animal
capable of such a thing
smiling
Wind blows from all directions
​the sky committed to make a mess
Goddammit
​Life must be lived
But
I don't give a fuck about anything
I'm nearly dead but I'm rich
I have seven Bozhur cigarette packs
and a collection of bottles
filled with fresh Rahovec air
while the world exists solely for poetry
for a glass of raki
and making love
​
I say this from the land of the winged snake
it grew wings
because it swallowed a dead
​​​seagull
I know this
because I am
the son of the Knight of the black Eagle
​​​black as the final night
emperor of the red sky
For my swift return to the empire of silence
I need nothing
because I'm the king of nothing
I'm the holy nothing
God of nothing and more than that
I am nothing itself
I
who have just found another house
and now live here
my belly full my soul empty
and while time flies stealing days from the future
no one complains about this
translated by Ani Gjika