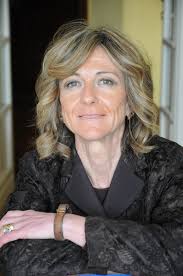 Laura Garavalia, Italy. Member of the Board 
Laura Garavaglia was born in Milano in 1956 and now she lives in Como. She is poet, journalist, teacher, founder and president of "La Casa della Poesia di Como" (www.lacasadellapoesiadicomo.com). She is director of International Poetry Festival "Europa in versi" (www.europainversi.org) that take place every year in Como. Her poetry books are: Frammenti di vita (Il Filo, 2009); Farfalle e pietre (Lietocolle , 2010); La simmetria del gheriglio (Stampa2009, 2012, new edition in English and Rumanian); Correnti ascensionali (CFR, 2013, in English, Spanish and Rumanian); Numeri e Stelle (Ed. Ulivo, Balerna, CH in English, Spanish and Rumanian). She's member of PEN Club of Italy and Switzerland. Her poems are translated in several languages and published in many anthologies and literary magazines in Italy and abroad. She's invited in many International Poetry Festival (Romania, Macedonia, Turkey, Denmark, Germany, Japan, Colombia, etc.). She is member of jury of Literary Awards "Antonio Fogazzaro" and "Europa in versi". Her poetry books won various International Poetry Awards.
(www.lauragaravaglia.it)​
From Numeri e Stelle – Numbers and Stars (Ed. Ulivo, 2015)
English translation by Annarita Tavani
Alan Turing
Anche tu che hai partorito
il grande pensiero artificiale
chiuso nella diversità vissuta
a ritroso come vizio, sotto un cielo
di numeri e di segni
hai incontrato il male della fiaba
che costringe in un ghigno sconcio la morale.
Alan Turing
You, too, who gave birth to
amazing artificial thought
you, shut up in diversity, experienced
backwords like a vice, under a sky
of numbers and signs,
you came across evil in a fairy tale
which turns morals into indecent giggling.
La musica delle sfere
(Pitagora)
Tutto il segreto della serie armonica
nell'urna colma d'acqua
percossa dal martello.
La strada che corre tra numeri e note
uniti nella luce.
Formula e suono, sequenza di frazioni
unica dimensione di bellezza.
The music of the spheres
(Pythagoras)
The full secret of the harmonic series
in the brimful urn
struck by the hammer.
The road running between numbers and tones
merging in light.
Formula and sound, sequence of fractions,
the only dimension of beauty.
L
From Correnti Ascensionali – Updraft (CFR, 2014)
English translation by Annarita Tavani
Indicativo presente
Cerchi anche tu le linee di universo
tra le faglie orizzontali del giorno?
Ma se lo zenit fosse proprio qui
sul davanzale tra il vaso di verbene,
l'ombra del pomeriggio sulle scale
in quest'assenza muta di perché.
O se il cono di luce confondesse sul prato
questo istante ingiallito
tra futuro e passato?
Present indicative
Present Indicative
Are you too looking for the lines of universe
among the horizontal faults of day?
What if the zenith were actually here
on the window ledge between the verbena vase,
the shadow of the afternoon on the stairs,
in this mute absence of because.
Or if the cone of light would confuse on the grass
this instant turned yellow
between future and past?
From: La Simmetria del gheriglio – Simmetry of the kernel (Stampa2009, 2014)
English translation by Barbara Ferri
Mi dici "Non c'è mai pace in questo posto".
Lo dici e levi lo sguardo. Ma il rimorso
azzanna le viscere e l'invidia
strappa i tendini con i suoi uncini.
Morderei l'amore, se fosse mela o pane.
Mi riempierei la bocca, lo stomaco.
Ma è già molto poter stare vicini
gusci di noce, simmetrie di gheriglio
sulle onde dei nostri quantici destini.
You tell me, "There is no peace in this place, ever".
You say it and lift your gaze. But remorse
sinks its teeth into the guts and envy
tears the tendons with its claws.
I would bite love, if it were apple or bread.
I would fill my mouth, my stomach.
Yet it is much already to be close
nutshells, symmetries of kernel
on the waves of our quantum destinies.
From La Simmetria del gheriglio – Simmetry of the kernel
English translation by Barbara Ferri
Fitto il mistero serra l'universo
illude il mondo
galassie, stelle, sasso, foglia o frutto
apparenza, condanna
all'infinita vanita del tutto.
Amo la scienza che non lascia
spazio all'inganno del tempo
della fede e del sogno.
La mela matura, marcisce.
Ma l'atomo resta, ritorna
il silenzio del cosmo.
Thick the mystery that locks the universe
deceives the world
galaxies, stars, rock, leaf or fruit
appearance, condemns
to the infinite vainness of it all.
I love science that does not leave
room for the trickery of time
of faith and of dream.
An apple ripens, rots.
But the atom remains, returns
the silence of the cosmos.