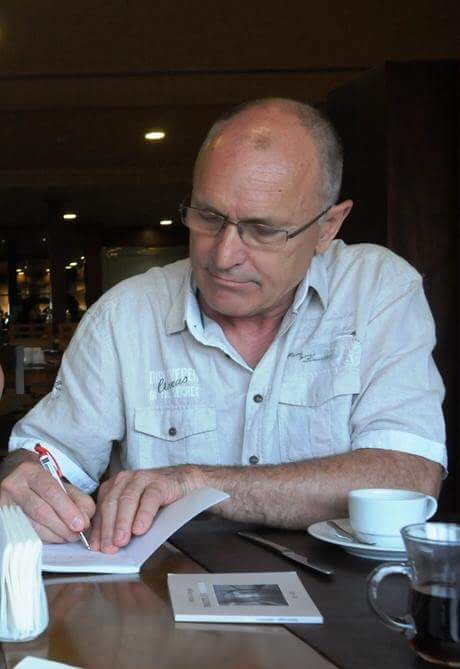 Attila F. Balázs, Hungary Member of the Board 
Attila F. Balázs, Hungarian writer, poet, literary translator, publisher was born in Targu Mures / Marosvásárhely (Transylvania) on January 15th, 1954.
He studied at the Theological College in Alba Iulia / Gyulafehérvár between 1973-1976, and from 1977 he studied librarian specialisation and literary translation in Bucharest, where he graduated in 1982. Between 1978-1989 he was Chief librarian of the County Library in Miercurea Ciuc / Csíkszereda. Since 1990 he lives in Slovakia. He was the editor of the newspapers Nap (1990-1991), Új Szó (1991) and Szabad Újság (1992) in Bratislava / Pozsony, as well as the reporter of the Slovak Radio (1990-1995) and the manager of the Madách Publishing House (1993). In 1994 he established the publishing house AB-ART, since then he is the company's managing director. Attila F. Balázs is the chief editor of the literary journal Szőrös Kő. He has received several literary awards (Madách, Lucian Blaga, Arghezi, Eminescu).
He is a member of Slovakian, Hungarian and Romanian writers' federations and Vice President of the Hungarian PEN Club.
Many of his poems and short stories were translated into English, Romanian, Czech, Slovakian, Slovenian, Turkish, Serbian, Macedonian, Albanian, Spanish, Portuguese, Hindi, Swedish and French.
His major works include:
1. Masks, Poems – 1992, Madách, Bratislava
2. The Juice of the Cat. Short Stories – 1992. Microgramma, Bratislava
3. Naked Knights. Selected and New Poems – 2002. AB-ART, Bratislava
4. Hungarian Who is Who in Slovakia – 2002, Plectrum, Lucenec
5. My Cross of Words 50 Years 50 Poems – 2004. Lilium Aurum, Dunajska Streda
6. Portrait Gallery – 2004. AB-ART, Bratislava
7. Transformations of Casanova – Premeny Casanovu. Bilingual (Hungarian-Slovakian) Edition
8. Missa Bestialis, Poems translated into Romanian by A. Iancu – 2008. AB-ART, Bratislava
9. Poems – Poezii – Bilingual (Hungarian – Romanian) edition, 2009. Limes, Cluj
10. Minimal – Poems, 2010. AB-ART, Bratislava
11. Casanova's Metamorphoses – Short Stories in Romanian language, 2011. Grinta, Cluj
12. Blue – Poems, 2011. AB-ART, Bratislava
13. Minimal – Poems in German, 2011. Gabriele Schaefer Verlag, Herne
14. Casanova's Metamorphoses – Short Stories, 2012. AB-ART
15. Gordiev Jazol – Poems in Macedonian, 2012. Matica Skopje
16. The Scene (Multilingual Anthology), 2012, Orient-Occident, Bucharest
17. Prelomljeni hleb (Poems in Serbian), 2012, Libertatea, Pančevo
18. Beautiful poems, 2013, AB-ART, Bratislava
19. Minimal Poems in portugueze translated by José Eduardo Degrazia, Editora Aty, 2013, Porto Alegre, Brazil
20. Casanova's Metamorphoses, Short Stories in English, translated by Adrian George Sahlean, 2013, Ekstasis Editions, Canada
21. Villon's necktie, poems translated into Romanian by Serban Foarta, TipoMoldova, Iasi, 2013
22. Drowning moon, Short Stories in Romanian, translated by Ildikó Foarta, Arc, Chisinau, 2014
23. Blue / Kék, poems translated in English by Erzsébet Csicsery, Libros Libertad, Canada, 2014
24. La metamorfosis de Casanova, translated by Rafael Soler, El Quirófano Ediciones, Ecuador, 2014
25. Casanova's Metamorphoses, Short Stories in Serbian, translated by Jolánka Kovács, Sremska Mitrovicá, 2015
26. Missa Bestialis, Poems translated into English by Lucia Gorea,Libros Libertad, 2015
27. Istegin Hususiyeti, poems translated into Turkish by Müesser Yeniay, Siirden Yayincilik, Istanbul, 2015
28. Villon necktie, poems, Art Dabubius, 2015
His literary translation works:
1. Contemporary Romanian Poems, AB-ART, Bratislava, 2007
2. Escape from the Ghetto – Literary translations, 2008. AB-ART, Bratislava
3. A Bag of Cherries – Contemporary Romanian Poetry, 2009. AB-ART, Bratislava
4. Mircea Petean: Anna Poems, AB-ART, Bratislava, 2008
5. Varujan Vosganian: Blue Shaman, AB-ART, Bratislava, 2009
6. Gabriel Chifu: Board game, AB-ART, Bratislava, 2009
7. Angela Baciu:Poezii / Poems, Limes, Cluj , 2009
8. Vasile Dan: Liquid Mirror, AB-ART, Bratislava, 2010
9. Lucian Blaga: Poems, Nemzeti Tankönyvkiadó . Budapest, 2011
10. Robert Serban: Home Cinema, l'Harmattan, Budapest , 2012
11. Ion Deaconescu: The poet in hell, AB-ART, Bratislava, 2012
12. Ioan Es Pop: I did not dare shout never, AB-ART, Bratislava, 2012
13. Carolina Ilica: A little more, AB-ART, Bratislava, 2012
14. Robert Serban: Fragrant coffin, l'Harmattan, Budapest. (2012)
15. Rade Silian: Centuries, AB-ART, 2012
16. Rafael Soler: Return / Maneras de volver, AB-ART, 2013
17. José Eduardo Degrazia: The Geometry of Love, AB-ART, 2013
18. István Turczi: Stranger, Europa, Craiova, 2014
19. New Denmark / 22 Moldovan poet, Parnasszus Budapest, 2014
20. Augusto Rodriguez: They were glad kiss, poems, AB-ART, 2014
21. Nedeljko Terzic: Crash and silence, poems, AB-ART, 2015
22. Metin Cengiz: Black and white, poems, AB-ART, 2015
23. Müesser Yeniay: The Rite of Picking Roses in the Garden, poems, AB-ART, 2015
24. Nicolae Spataru: Álmatlanság Európáért, poems, AB-ART, 2015
25. Tudor Arghezi: Poems, bilingual Romanian-hungarian, Targu Jiu, 2016