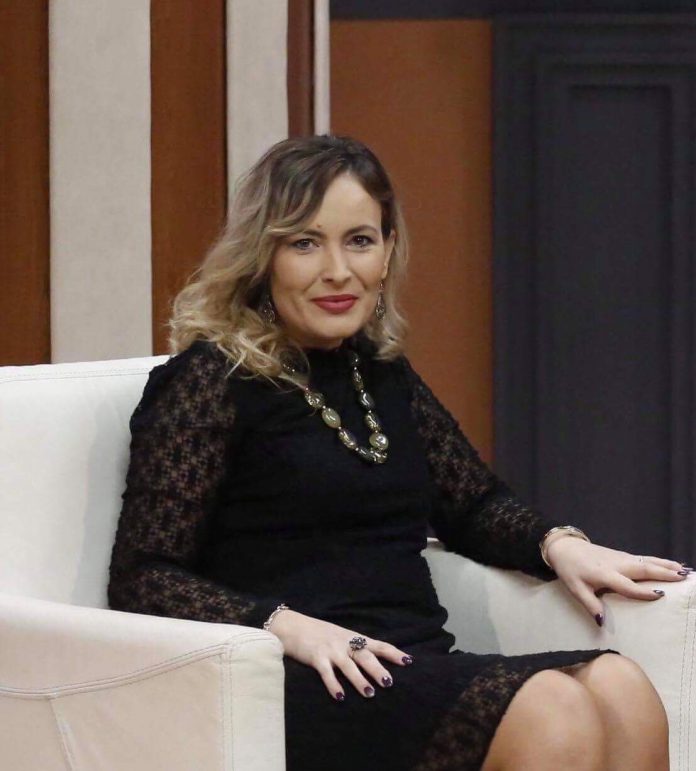 C V – MIGENA ARLLATI
Lindi në Elbasan / Shqipëri në 06.09.1974 në një familje me tradita qytetare dhe arsimdashëse. Jeton në qytetin e Gjakovës në Kosovë prej 22 vjetësh me bashkëshortin dhe katër fëmijët (Bora, Rina, Triumf, Argen).
Studimet e larta i ndoqi në Fakultetin Filologjik, dega gjuhë – letërsi në Universitetin "Aleksandër Xhuvani" në Elbasan. U diplomua për diplomaci (studime një vjeҫare pasuniv.) në Akademinë Diplomatike Shqiptare në Tiranë.
Ka përfunduar studimet e Magjistraturës në Qendrën e Studimeve Albanologjike në Tiranë.
Aktualisht punon si profesoreshë e gjuhës shqipe dhe letërsisë në Gjakovë.
Prej kohësh ka konfirmuar vullnetin ndaj hulumtimeve shkencore në gjuhësi dhe albanologji duke marrë pjesë në Konferenca të ndryshme shkencore të organizuara nga Universiteti i Tiranës, Prishtinës, Shkupit, Tetovës, Shkodrës, Elbasanit, Durrësit, Vlorës, si dhe me prezantime të nivelit ndërkombëtar në Slloveni, Itali e Gjermani nga fusha e linguistikës.
Është redaktore dhe recensente e 37 vëllimeve me poezi e prozë të autorëve shqiptarë e tre të huaj.
Karriera në gazetari (10 vjet):
Karriera e saj paraprihet nga dhjetë vjet angazhimi në gazetarinë radiofonike, të printuar dhe televizive ku disa herë ka marrë edhe çmime.
Në vitin 2002, organizata amerikane IREX e nderoi Migena Arllatin me Ҫmimin e dytë për projektin e saj radiofonik kushtuar gruas së pasluftës në Kosovë;
Në vitin 2006, Qendra mediale "Dukagjini" i ndau Ҫmimin e vendit të parë për shkrimet e saj në gazetën "Lajm Exclusive", lidhur me promovimin e punës dhe sfidat e femrës shqiptare.
Botimet:
Autorja deri tani ka botuar gjashtë libra:
vëllimin me poezi: "Mendime në kornizë" (2012)
monografinë: "Lindur për t'u bërë mjek" (2013)
studimin gjuhësor: "Vështrim rreth shprehjeve frazeologjike në të folmen e Gjakovës" (2014)
botimin studimor: "Patronimet, mbiemrat familjarë në Gjakovë" (2015)
kritikë letrare e recensa: "Etern'Ars" (2016)
Fjalor enciklopedik: "Autorë të letërsisë shqipe për fëmijë e të rinj, 1886 – 2017", në bashkëautorësi me prof. dr. Astrit Bishqemi (2017)
Çmime në letërsi:
Krijimet poetike të saj janë prezantuar në disa përmbledhje Antologjike të botuara në Shqipëri, Kosovë, Maqedoni e Rumani.
Në Mitingun e Poezisë mbajtur në Gjakovë në Maj 2013, u shpall si poetja më e mirë e Mitingut, duke u nderuar me çmimin 'Yllka Domi";
"FiloLet 2013" në Zvicër e nderoi poezinë e saj "Jeta ime poezi" me çmimin e dytë në konkursin vjetor ndërkombëtar;
Në Festivalin Kombëtar të letërsisë për të rinj, mbajtur në Podujevë në gusht 2014, zuri vendin e dytë në gjininë letrare të tregimit me tregimin "Piano";
Në Konkursin mbarëkombëtar poetik nё Istog, në dhjetor 2015, triumfoi duke fituar Çmimin e parë "Dr. Ibrahim Rugova" me poezinë "Burri i dheut";
Në Festivalin e Letërsisë, në janar 2016 në Podujevë, zuri vendin e dytë me poezinë "Ngadhnjim i ri";
Në korrik 2016, zuri vendin e dytë me poezinë "Idealizëm" në manifestimin letrar mbarëkombëtar "Peja Poetike", organizuar nga Shoqata e Shkrimtarëve;
Në shtator 2016 në Klinë, u nderua me Ҫmimin e parë për poezinë "Motiv monologu" në Takimet tradicionale kushtuar reporterit të luftës dhe poetit të ndjerë Tahir Desku;
Në dhjetor 2016 laureohet nga "Albanian Excellent" në Tiranë për angazhimet e shumta në shoqërinë civile, punën e frytshme në letërsi dhe në arsimin shqiptar.
Qytetare Nderi në vendlindjen e saj, në Elbasan
Vendlindja e saj Elbasani, Bashkia e qytetit, e shpalli znj. Migena Arllati "Qytetare Nderi" me Motivacionin:
"Për kontributin e shquar të saj si gazetare, shkrimtare, hulumtuese ndaj gjuhësisë dhe albanologjisë, dhe një personalitet i shoqërisë civile në vend dhe diasporë". Vendimi u mor me votim të hapur nga Këshilli Bashkiak në mars 2015.
Aktiviteti në shoqërinë civile:
Kryetare e Lidhjes së Poetëve, Shkrimtarëve dhe Artistëve "Pegas" Kosova;
Anëtare e kryesisë së Lidhjes Ndërkombëtare të Poetëve, Shkrimtarëve dhe Artistëve "Pegas" Albania;
Drejtoreshë e Fondacionit të gruas intelektuale "Nermin Vlora Falaschi", Gjakovë;
Anëtare e Lidhjes së Shkrimtarëve të Kosovës;
Anëtare e organizatës botërore "Pentasi B World Friendship Poetry";
Anëtare e Institutit Alb – Shkenca me seli në Tiranë, Prishtinë e Shkup;
Anëtare e Shoqatës së Intelektualëve "Jakova" në Gjakovë.
Migena Arllati
Prof. of Albanian language and literature
1. To Jon
I become Narcise always I come to you
The clear and fresh Ion sea ,
Like a little shell I plunge deep in your body
to see how with the sky, your blue competes
Like a smooth mirror reflecting everything
the emeralds aren't cleaner than you today
So many islands, straits, boats
and how many hearts gather in your bay.
I love you my sea ,and everything around you
In your shores I go rambling
And I have no one else in this world
Only you and my dreams over there !
Caressing from your waves
Cuddling with the sun rays
I love your dark bottom
the sand and salt covering my tanned skin
I enclose my words in a bottle
throwing away in the angry waves
My awards for you,Ion of azzures
in your heart keeping my dreams.
2. A river of longing
My heart and my longing grew
covering a huge mountain
The longing engulfs my heart
And the mountain moans like a longing
Krena (the river) went dry
The longing became crying river
The foams of Shkumbin take it into their arms
and rolling waves together drain into the sea!
With the boat of my soul engulfed in tears
I cruise in sadness
me and you, inside it
the only navigators!
3. Witness
The air witnessed it,
The river did feel it,
the eyes fall in the silence
like nothing happened ?!
The footprints hidden under the sky
the soul remains locked
the silence … covers everything!
4. Offshore
With bare foots
and wet body
wrapping up the night with stars,
decorating the west with colours ,
Take the dreams over the shoulders
Spreading happy odours
Like some light steps,comes to me
From the sky bringing down the clouds
Soothing the challenging wave
Melting away the bitter sadness
Here I want to be forever
the nature and me blended together!
5. Idealism (To my love)
Idealism you are my love!
I can hear you…
In your steps after midnight
when the couples hurry
to melt away in passionate kisses!
I can hear you.
In the rustling dresses
when girls cover their breasts
and forget about their exposed high knees.
I speak to you!
And call your name Amor
like the gods did call you
once upon a time
when they took you in their laps.
I hug you!
Cuddling with my purple arms
In my first and last dream of the night.
covered in the mornings
exposed in the evenings.
I touch you!
In the long dragging hours of the day
when my hands without direction
up in the high skies among the clouds fly
I keep you!
In my warm lap and in my soft pillow
from my childhood to my last days again and again
You my love….
My idealism REMAIN.
6. Wife & husband
We clash
and this has happened often
like two destroying icebergs
in the ocean of anger
collide and confront each other
Storm of hurricanes
the light tide comes with ease
In the shore the waves make peace.
We spark like two flints, two firestones
From our clashing smoke of anger
emerge in our faces,
Confronting each other.
And again other waves
brought us offshore…
In our nest of rock
with bits of clay we tie leafs of grass
Like swallows feed the little ones
our creatures warming up under the sun .
In our hot war ,in our cold one
From years and years
we reamain best friends
wiping each other the tears !!
7. SEASIDE
A uniformed coloured dust
The sky threw over the sea
The shells (refugees of the sand )
Pull over,fighting back the anger within
Me and you laid on the back
make philosophy of love …
The rocks not far away
Scattered all over there
Like guilty pleasure punishments.
Just listen …
and later become hard again.