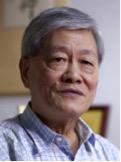 Introduction to the Poetry of Jeton Kelmendi by Lee Kuei-Shien (Taiwan)
On the main axis of one life in growing process, there are two opposite directions, namely retrospective and prospective. The circumstances of one's living will clearly affect the attitudes toward the life, thoughts and philosophy, due to either smooth or troublesome in retrospect to the past and prospect to the future. Poets involve into the life with poetry, thus will inevitably look at the existence status and displacement on the two opposite directions of the life. Therefore, poetry is often based on nostalgia or memories, so as to raise comfort and hope.
The poetry creation of Kosovo poet Jeton Kelmendi has this kind of expression. On the one hand, he has experienced the sad history of his country and his family, and on the other hand, he has developed his academic achievements, so that make him able to investigate the being of life, to hunt/chase the meaning on the essence of love, and to think about the vision of future. His love includes love for the country, homeland, relatives and friends. His poetry reveals that the conflict in Kosovo at the end of the 20th century has caused an entanglement in the state of war, and after peace, recalls the sadness in that period.
At the end of the 20th century, the Kosovo war destroyed many families and caused many people homeless. In the beginning of 21st century, Kosovo became an independent state and moved toward a bright road. The turning point of the centuries has also become the turning point of the fortune of Kosovo. The poet Jeton Kelmendi also struggled from an exile, striving to become a famous scholar and poet. The individual life regains from the loss and resurrects from the death, correspondingly in relation to the progress of the nation.
In the poetry of Jetton Kelmendi, there are at once hot affective expression and cool rational analysis, there are also somewhat frustration in retrospective memories and still revealing optimistic expectations in the outlook. Lost then regained, destroyed then reborn, two parallel lines in public and private fields, respectively, go forward correspondingly. After the reestablishment of the country from sadness to beautiful vision, the thinking of the poet also displays a role in the cultivation of the soul toward the goodness in hunting the love.
Lee Kuei-shien(TAIWAN)
                                     March 8, 2018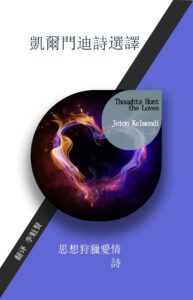 介紹傑頓.凱爾門迪的詩
人生在成長過程的主軸上,兩極不外是回顧和前瞻,而人生處境因過往回顧和未來前瞻的順遂與坎坷,明顯影響到生活、思想、處世態度。詩人以詩介入生活,免不了會注視生活兩極的存在狀況和變遷。所以,詩中常以鄉愁或懷念為基調,據此產生安慰和期望。
科索沃詩人傑頓.凱爾門迪的詩創作,正是這樣的表現,一方面經歷過去國破家亡的悲傷經驗,另方面養成學術上的成就,以思想回顧人生實存的探究,狩獵/追逐愛情本質的意義,思索未來的願景。愛情包括對國家、故土、親情、友人的愛。詩裡透示20世紀末在科索沃衝突,引起戰亂狀態的心情糾葛,在平靜後回憶那段悲淒。
科索沃在20世紀末戰爭造成多少家庭破滅、多少人流離失所,21世紀終於獨立建國,走向光明大道,世紀交接點也成為科索沃國家命運轉捩點。詩人也從流亡國外,奮鬥有成,臻至著名學者和詩人,由失而得,正好與國族進程息息相關,彼此對應。
傑頓.凱爾門迪的詩,有熱情感性的表達,也有冷靜理性的分析,在回憶中有些悵惘,在展望中也露出樂觀的期待。失而復得,滅而重生,公私兩條平行線交揉並進。家國重建後,從哀愁走向美麗憧憬,詩人的思想也在狩獵愛情中,發揮心靈向善的教養效用。
李魁賢
2018.03.08