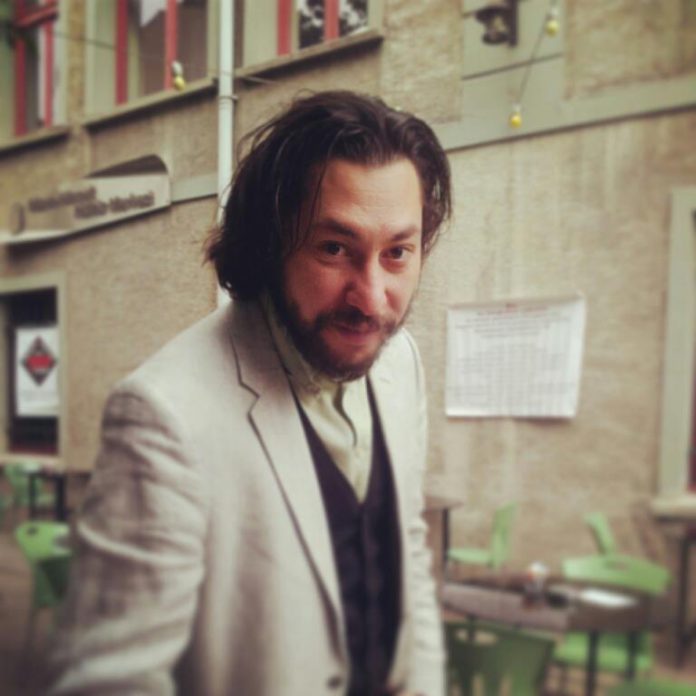 Efe Duyan, Turkey Member of Iwabogdani 
Poet, architect (b. 1981, İstanbul, Turkey).
He has been invited to several workshops, poetry readings and international organizations including Kopenhagen Turkish Poetry Evenings, Word-Express Project (series of poetry readings in several Balkan Countries), Edinburgh Book Festival, London Book Fair, Berlin Poetry Festival, Lodeve Poetry Festival, Riga Poetry Days, Malta İnizjamed Poetry Festival, Transylvania Poetry Poetry Festival, Palabra En El Mundo in Venice, Sofia Poetics Festival, Chisinau Poetry Festival, Enemies Project & European Poetry Night in Britain, Shaar Poetry Festival in Israel, Sidi Bou Said Poetry Festivalin Tunisia, Venice Dropping Seeds Project, European Poetry Biennale in Brasov, Swiss PEN's Day of Writers in Prison Meeting in Geneva, and Goran's Spring Festival in Croatia.
Some of his poems have been translated into Bosnian, Czech, Chinese, Croatian, Danish, English, Estonian, French, Greek, German, Hebrew, Hungarian, Italian, Japanese, Kurdish, Latvian, Lithuanian, Rumanian, Macedonian, Maltese, Occitan, Slovenian, Ukrainian and Welsh.
His translation works in poetry includes poetry collections of Radu Vancu (Romania), Matthias Göritz (Germany) and Llyod Schwartz (USA).
He worked in the editorial committes of literature magazinesNikbinlik (2000-2005) and Sanat Cephesi (2006-2010). He co-organized poetry translation workshops with British, French, Italian, Israeli, Bulgarian, German, Swedish, Dutch, Japanespoets and the Offline Istanbul Poetry Festival.
His critical essay "The Construction of Characters in Nâzım Hikmet's Poetry" has been published in 2008. He edited a comtemporary poetry anthology "Bir Benden Bir O'ndan" (2010) and is a member of the editorial board of the acclaimed literature magazine Offline Istanbul.
His poetry collections are  "Sıkça Sorulan Sorular" (Frequently Asked Questions, 2016), "Tek Şiirlik Aşklar" (One Poem Stands, 2012) and "Takas" (Swap, 2006).
He is currently teaching history of architecture at Mimar Sinan Fine Arts University.
SIMILARITIES BETWEEN THE REVOLUTIONS
revolutions too
like grand plans
can't be plotted in great detail
like punctual trains
and never look back once set off
like suicide
on every occasion
forge a connection between us that I can't name
like close friends
are also useful in covering our own defects
like babies screaming in joy
never tire
like me
they – in truth – don't like crowds
like all of us
it is a lie that they wish the best for everyone
like all gods
they are sure they are capable of creating the world in a few days
like the relationships
you suddenly find yourself a slave to
like women
you can only suppose you understand them
like a lover
they can only let you down
like a platonic love
they are beautiful after all
translated by James Vella
FROM CEVIZLI CIGARETTE FACTORY
mehmet grew another hectic mehmet
when he became a father
mehmet already owned another shy mehmet
when he got married
he also contracted a sceptical mehmet
urged by necessity
all the mehmets were in fine fettle
next to him stood osman who had many osmans
that mehmet didn't know
was there a self-sacrificing mehmet?
– mehmet wasn't sure –
but when a gun was pointed at his group of friends
he didn't hesitate
secret osman of osman with his police ID in his pocket
held the hand of a tobacco worker for the first time
– the dead mehmet of mehmet –
with sorrow for his widow's loss of her mehmet
stubborn mehmet walked up to taksim square
he tore up his last regrets
when osman submitted his letter of resignation
it was beautiful to be obstinate in the face of death
even after having died
translated by Richard Gywn
my eyes
bestow names
on the stains on your skin
like ancient astronomers
attent to all they might resemble
and bow down in respect
before every change of colour
in your limbs
with their lashes
they suck the sweat off your back
and try to stuff it into a bottle
to add it to the whites of their own
then dive down
into yours
and swim through
the beams of light
seeping in
to your cornea
and record what you have seen
to reflect it all
on a screen up on the wall
and go
to kiss you
there on your
blind spot
translated Neil P. Doherty