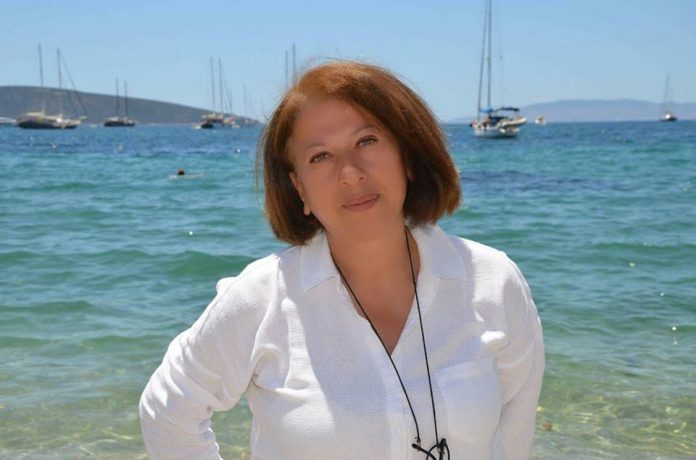 Serpil Devrim Member of IWA Bogdani 
Born in 06 January 1960 in İstanbul-Turkey
Her interest and love for poetry and literature began in her middle school years.
Speaks English and German.
She graduated High School.
She completed her certificate programs related to her profession in Turkey and Canada.
She worked in Istanbul as an IATA agent and foreign trade company owner for 15 years and she moved to Canada. She worked at İnternational Logistic company and lived there for 12 years. After returning to Turkey, she started to publish her works.
Has a daughter named Nazli.
Poetry Books:
At the Birth of day  / Çıngı Publishing/ 2012-İstanbul-Turkey
One half is half done / Artshop Publishing/ 2017-İstanbul-Turkey
The road was ending / Kaynak Publishing/2014-İstanbul-Turkey
Pain of the Earth/ Artshop Publishing/2018-İstanbul-Turkey
Short Stories:
Purple alphabet women / Artshop Publishing/2017-İstanbul-Turkey
Novel:
Like water / Mühür Publishing/2016-İstanbul-Turkey
Serpil Devrim has won the Muammer Hacıoğlu Literary Award for her book One Half is Half Done in April 2018.
In her poetry, she focuses on social issues, inspired by real life. She also writes love poems, socialist and lyric lines. Her poems, her novel and her stories are racial, violence and war against and she read her poems in diffferent radio and television channels and shared her humanist views with listeners and viewers.
One Half is Half Done was translated to Russian and Bulgarian in 2017-2018, Purple Alphabet Women and Like Water were translated to Bulgarian in 2018. Her poem named Wall was translated to Italian and published in an Italian literature magazinein 2018. The poems Wall, Hold My Dead Branches, and The Poem of the 100th Day were translated to  Balkanian Languages and published in Balkan Literary Herald magazine in 2018. Also was translated to Bulgarian and published in another literary magazine ; Balkanski Književni Glasnik in 2019 and some poems published in Femina Literature Magazine in Uzbekistan and published English, Turkish and Arabic Samama İnternational Literature Magazine in Morocco in 2018, and Afaqhorra Literature Magazine in Jordan.
Many of her poems and short stories were published in different literature magazines in Turkey.Some of these magazines are: Kasabadan Esinti, Menekşe, Bodrum Gündem, Berfin Bahar, Adalya, Tmolos Edebiyat, Aratos, Lacivert and Mühür.
She has taken place at many different international poetry festivals such as : Feminİstanbul, Bodrum Bineali and Kalimerhaba.
She is involved with many charities and works with disabled and homeless children.
She lives in Bodrum.
She is a member of the PEN İnternational Writers Associatıon in Turkey.
The Poem of the 100th Day
vinedresser, i linked my voice to sky, erase death
i am a stone-sculptor tonight i linked my voice to sky
my eyes sculpted what outweighed them
the crowd of my outside, the isolation of my inside
sculpted gently the side of me that was offended by life
i took it to the city square and left it there
i'm too lonely for anyone to notice me
my apprenticeship of stone age is a rodent in my chest cavity
my semi-skilled working, my bronze age,
the slip-of-tongue wing of whirligig
my iron age is my mastership, by inner beauty that attracts the devil
in a sleazy capstan-free well the cementer's cap
vinedresser, i linked my voice to sky, erase death
i am a stone-sculptor tonight i linked my voice to sky
i sculpted what outweighed my tongue
seven generations, seven shirts off of the back of the stone
young and old alike the great powers off of the belly of the stone
i spilled from my skirt ash-colored and rose-scented
i took my heart out and loaded my emotional clamorous side
onto the hands of a callow off-tune musician
i sculpted the earth to cleanse it of its dirt
the lifeguard with little room and a large heart rang the bell
blew its whistle its vigorous siren
quite appropriate for a tale, quite against the genuine
the bite in her throat turned out to be a hard row to hoe
put her seamy lustful foot down
vinedresser, i linked my voice to sky, erase death
i am a stone-sculptor tonight i linked my voice to sky
two acrobats on one tightrope, impatient and fond of comfort,
the one heavily seethed the one whose face is down
the fond one and the one with no dreams all of them is a memory loss
their skulls are the size of a huge cave each of them
i eroded the surface, took it out, slam it down
my flesh blood and memory thought
it wouldn't be heard when slammed
the joy of cleansing gleamed on the cutter
vinedresser, i linked my voice to sky, erase death
i am a stone-sculptor tonight i linked my voice to sky
i sculpted my heart, open wounds around it apparent
people passed by, passed away, hunger hasn't had enough yet
The Dead Poet
the dead poet is a river exiled from its bed
its gurgle is without foot or rhyme
its flow is the linear of existence
the path it knows is courageous and open
water takes the form of the container
dress the form of the body in it
and the chewn bits the form of the mouth
the bed of the poet for the outbursts
is like the narrow Aegean shores
the Cretan promontory
its two sides are the song of goats
and a lyric poem blessed with immortality
on the land of the dead
its heart never decays
the river exiled from its bed
stripped of its privacy
it brings down stars from the sky
and bathes in its own water
it's hilly and rocky when seen from the sea
when seen from the land there are crazy blue waves only
with their hard-line freedom
it sweeps before itself the ways
landless peasants walk on
and the aid sailors seek
it grows out of the labors
of workers and splitters
and lies next to dead children
decapitated at each war
it had sad eyes at each break up
it gurgles to death
with fragile loves at its core
Hold My Dead Branches !
                                                                           "my soul was a door handle
                                                                             as my mind never matched the steps"
the brunette refugee child with otherworldly descriptions
who lands down on the cage of my chest fluttering
your face is the gap called wound this evening
your eyes were a single country, the whole earth
the insensitivity of this era is a death trap
the thundering robbery, plunder, pillage of an avalanche
with its cooperative loam the red-brown marsh
depth and the subsiding weight do go away
lacking humanity that makes it lose its way
it has no roof to wash ashore or to take shelter
in september the unhugged body the surplus of water
the iceberg drifting from where it belongs is just like you
woven for the outer world a long time ago
its fragile body lessens by moments, from which
it adds itself to the water that will drown us all
wherever i turn the speed of light is the same
one's circle, occasionally recurring mercy sprinkle
which pours down on the sift of the sky
from a long distance
Hold my dead branches ! Hold my dead branches !
let the dead leaf fall !
let my crooked branch flatten…