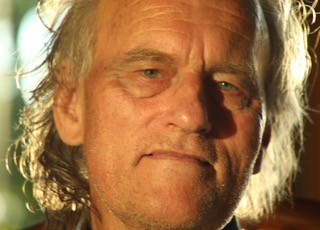 Erling Kittelsen, Norway
Member of IWA Bogdani
Kittelsen had his debut as a poet in 1970. He has since than published several poetry cycles and collections, as well as fables, dramatic works and translations of poetry. (En setning eller to her …)
He is known also for his dialogues, partly with colleagues and partly in the work with the translation of poetry from distant languages in relation to the Nordic language area like Arabian, Persian, Korean, Latvian and Sumerian. He also has poetical dialogue with the most ancient poetical traditions in the Nordic Countries – the Old Norse Poetic Edda where at first he translates the old text and than presents a contemporary literary answer. Erling is known as a writer who renews language, a poet and storyteller. He is a writer who moves in untraditional ways, both with the language in his books and dramatic works and his literary activity through events and happenings. His last play has been translated and performed several times in the Middle East.
He has received several literary prizes and awards, amongst them The Aschehoug Prize 1990 (awarded on a binding recommendation by the Norwegian Critics Organization), The Dobloug Prize 2002 (awarded by the Swedish Academy) and Vindtorn-Prize 2017 (The national poetry prize).
ERLING KITTELSEN, BOOK-LIST
Wild birds (poems) 1970
The tree arches (fable) 1973
Between the rivers (7 stories) 1976
Swing village (novel) 1977
Long live the hull, rise from the junk (children book) 1979
House in lockdown (biography) 1979
Day and night at Le (poems) 1981
Tiu (poetry cycle) 1982
The wayward story about sollos, sealcats and a pocket of love in the sea (fable) 1983
In this house (together with Paal-Helge Haugen, poems) 1984
To tease a Guru, the story of a nameless seal) 1985
Raka, the storyteller (fable) 1987
Abiriel´s lion (play) 1988
She (dialog with an Edda-poem, poetry cycle) 1989
The spacedrifter (play) 200
Pit (fable) 1991
Fable Vega (fable) 1992
The house of the seven dolls (play) 1993
Heaven, Lake (translation of He Dong together with the poet) 1994
Oceans of moments (translation of Jamshed Masroor together with the poet) 1994
Fleeing clouds (translating of Muniam Alfaker together with the poet) 1994
in (48 poems) 1995
Dainas (translation of Latvian folk-poems) 1996
Otrap (A critical exposition or wondrous intervals during 46 positions of love, novel) 1998
On the heaven (play) 2000
The book of vision (translation of Muniam Alfaker together with Walid al-Kubaisi) 2001
Vindkald (dialog with an Edda-poem) 2001
The sail of Brage (dialog with a scaldic poem) 2003
From vinehouse to mosque (translation, 5 Persien poets, together with Finn Thiesen) 2003
The rooster has crowed, the hero has done everything he had to do (poems, translated
from Korean together with Vladimir Thikonov) 2004
For Inanna (Enheduanna´s poem translated from Sumerian together with Jens Braarvig)
The receiver (poems) 2005
Diamond mountains (translating from Korean, Japanese ad Chinese, poems about to die, together with Vladimir Thikonov) 2006
All that remains (biography) 2007
When the world whispers (translation, san-stories, together with Roger Avenstrup) 2008
Don´t tell it (play) 2009
The poem runs like a town (poetry cycle) 2010
Selected poems (bilingual, Norwegian/English) 2012
I, Jako (novel/fable) 2013
The sleeper (play) 2014
Conclusion of peace (talk with Edda) 2016
The old one (fable) 2018.
Poems
1
Human bird
we throw you
off the cliff
can you fly?
2
If I´m blasted into the air
then I´m blasted into the air
and the air picked me up
tomorrow I am rain.
3
If I´m sunk into the sea
then I´m sunk into the sea
and the depths picked me up
tomorrow I am food.
4
If I´m put behind bars
then I´m put behind bars
and the walls picked me up
tomorrow I am script.
5
If I blast open the door
then I blast open the door
and you picked me up
tomorrow I am more.
6
I´m running along a branch
that only the earth can see
and because it is seen
I am running along it.
7
I am climbing up a rope
that only the mast-top can see
and because it is seen
I am climbing up it.
8
I´m balancing on an edge
that only you can see
and because it is seen
I am balancing on it.
9
When your wave comes with the stars as white sails
I fly up in its wake with a coral-red kiss.
10
To know you exist is reason enough to live
to ask where the spear is to be thrown
not to get mixed up in earth
not to float away without hunger …
a ray of truth catches up with me and warms me
shines – quivers through me
Is that what they want to do away with?
A gleam from the heart that will rise up
with force, wave slow-motion ticking flying
some other direction swishing like a dragon´s extended tail
shows itself: not so as to sink, not to stay there
The shadow that clarifies the light.
11
Time to think – leave in time
time to arrive – let time pass
suddenly too late to hang up the picture
the wall gone, too late to blow up the mountain:
a closed triangle against the far-away shower of sparks
stagnated time, clogged valve, power carriage
without a sense of the eroticism of mazes
pillars break inwards
The inaccessible
the only entrance to yourself
She is squeezed accessible
enter-tained easily-bought
Time for space-pease.