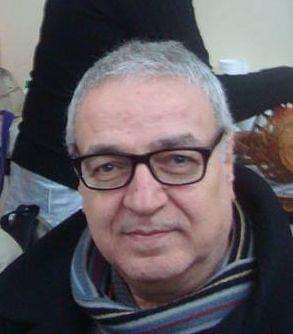 Ricardo Rubio, Argentina
voice president
Ricardo Rubio (1951) was born in Buenos Aires, Argentina. He is writer and poet, he also published essay, theater and translations from English, Portuguese and Italian. He premiered eleven of his plays in Buenos Airesand provinces, one of them in Madrid, Spain. He was Secretary of Culture of the Argentine Society of Writers OB (2005-2007), then President (2007-2010), and in 2010 he obtained the status of Honorary Member of said entity. He was also founder and General Secretary of the American Poetry Association (1999-2002). He has Published to the present forty books between poetry, narrative, theater, essay and translations. He directs the Literary Group "La Luna Que" since 1980. His poetry and some essays have been partially translated into a score of languages. About his work, Graciela Maturo has published "The revelatory word: the poetic journey of Ricardo Rubio", with a brief anthology of the poems cited (Ed. Sagital, 2004 and 2015); Jorge Oscar Bach wrote "About Ricardo Rubio" in the collection "Poets about poets III".He obtained numerous awards and recognitions in poetry, fiction and dramaturgy. Some fifty anthologies collect parts of his poetic and prose work in different languages and countries. He has been a member of poetry and tales juries in Argentine, Mexico, and Spain.
A PERIPLUS WITHOUT HEROIC DATES
The first attempts sharp passions,
the need for air, the lust;
they are just decoys, metaphors of untrue bullets.
Why I charge, then a spear
   and a shield on these feet?
Why a pencil of dream in each hand?
What do I look for in the heat of a star in war
   if right thing matters nobody?
A part of that drift lulls death,
the crying of mothers, grievance, torture,
rage of men plunging children
   in an unspeakable pond,
verses of a captain
   or a sailor on land.
A hero is hatched in each lineage
and in the skin of historical proverbs
   get open to the hunt for sense.
This fragment is given us to intuit light,
to see it born and dying at the hands of ruin,
to be and not to be between streams of chance,
to strain its nature,
its essence of secrecy,
its aphonia.
THE BODY IS ONLY PAST IN THIS IMMEDIACY
I look for answers in an old face.
I close my eyes and imagine gestures in sky,
I intend to enclose in a voice
   the arcane of universal night.
I want to try life in the word,
water in the gesture and earth in love.
I insist on believing that it has not been in vain,
that steps feed the way
  and that every moment is a cry that seeks eternity.
I feel that stillness is a future
which nobody waits.
I probed magnets and mirrors,
the mercury, the silicon,
and everything else that reason don't understand
I forgot the incomprehension of matter
   and his blind eye,
the wait and defeats that make it unfair,
the nights and noises when they stun
   the hope.
I took the indecisive papers
   that from hand to hand pour misery
   and presage pain.
I forgot this stubborn pretend we're together
   for desist or defeat it.
Darkness is light above doors of your house
  or bone dust in an hourglass.
INDOOR FIGHT OF HERO
I see darkness
   and I do not know if night is outside.
Everything is lost when unjust hand
   overflows the afternoon,
sense is drowned and surrounding becomes opaque.
The lie is insolence,
it is dace on the eve of the abyss,
omen of an idea that became nightmare.
I'm used to that murmur
   and chaos seems sensible,
necessary, jubilant;
In the middle of a song, the ravage arises
   and shakes the anxiety.
I dare to smile thinking about the exile,
I do it every day.
I intend to listen to silence
to navigate ideas,
to link up luminous points in the middle of nowhere.
I do not choose the place or vowels,
I only have longings, desires, cravings.
I cross the usual doors
   dreaming that one morning
 I'll think get over with day and fatigue,
just foliage of intend.
WE KEEP US WATER
IN A POND MEASURED AND STUNNED
Perhaps we consecrate the afternoons to the stupor.
Away from the already,
  we search about sacred places of memory:
the prodigal dreams, many chimeras,
ambitions that grew fearful
  with slow steps of autumn.
(Sadly the child leaves naivety
and plays to be tired.)
The hours can be endless days of light.
Intelligible, things can boast of existence.
Decisions are finally nerves that obey,
heartbeats that expresses itself, that opens.
Time becomes the true yes of hands
and they do not believe about dark enemies
   revealing a heat that does not succumb
   to the cold of sadness.
Patience slows the months,
centuries carry on the unspeakable of eternal,
the lightness and caress are subjected to anxiety.
The forgetting become never and hope, breezes.
The before houses a stillness,
the now, a story and a silence.
Sometimes the tree is weaker than its flower.
We do not have time except to tell us.
We are born to go losing light of stars.
A WALL OF NAMES
ENCLOSES AND TIRES US
I intend gestures of man with child's doubts.
The hand reviews time
   and caresses figures of other dreams.
Silence stuns
   and loneliness reigns at night
when we remember the round chaos of lies.
Facing  breathlessness we fill our drinks with boredom,
and demons are born,
the final walls, the dark pits.
We object death that give shape and maltreat us
and there is no place to hide the hand that writes.
Maybe splitted into tiny pieces
   I could sleep the dream of memory.
There is a lot of time to stop gnashing,
to forget fears, to let yourself live.
Despite sands that fall from your hands,
there are not more than ghosts between fingers.
If heart beats
   remaining days are choked with joy.
To ignore this project of the universe
   is to be part of horror,
it is a deep desire for absence of now.