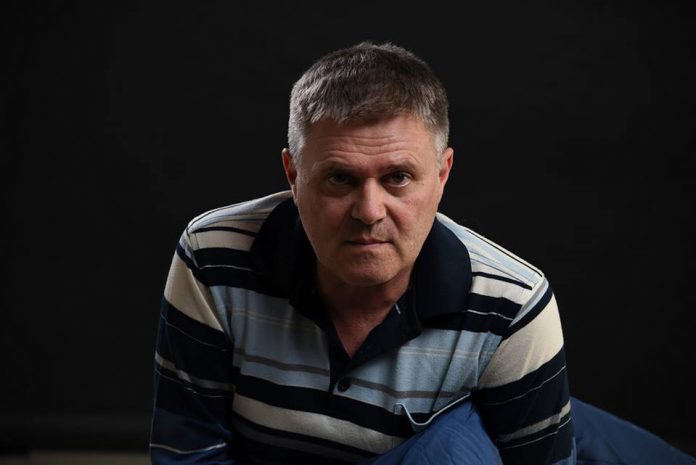 SASHO OGNENOVSKI, North Macedonia
Sasho Ognenovski, Ph.D (1964) is Macedonian writer, actor, director and scientist. Born and raised in Macedonia he earned his BA in Acting on 1987, being creative in almost hundred roles in his native city Bitola and on the stages in Sofia, Moscow, St. Petersburg, Wroclaw, Grenoble, Belgrade, Ljubljana, Zagreb, Sarajevo, Melbourne, Sydney etc. On 2002 he earned his MA in Communications and in 2017 a Ph.D as well building his career as a scientist and educator too. His creative list includes five poetry books (Avalanche, 1995; The Fruits of Hell, 2014; Desert flower, 2015; Forest, 2018; Changing of the Past,2019), two books of children plays (A Simple Tale, 2001; The Magic Compass, 2011)and two plays for adults (Grief, 2012; Citadel, 2016) and also papers in the field of Communications, Semiotic, Multiculturalism, Theater published in various journals and presented in the conferences around the world.  His latest play Citadel was published on English language by Lulu Publishing House from Northern Carolina, USA and his children plays entitled as "Magic Compas" were translated on Serbian language by publishing house "Alma" from Belgrade. Attended in a lot of conferences for Media, Communication and Multiculturalism in Gothenburg, Sofia, London, Oslo, Milano etc. His poetry is translated on Ebglish, Serbian and Arabian language.
HOPELESSLY ALONE
A silhouette had slipped this morning through the trees
A lonely ghost of a hopeless seeker
Seeker for charming
Master of the sad truth.
In the last trace of Borhes' pen
Probably remained a suspicion,
A thought left, eternal surprise,
Whose is this silhouette
That appears in a second in my dream
And disappears through the trees.
There's no last word in the infinity, there's no such a word
Not such view, not such crave even,
These branches still hide sadness and rage,
Still sprinkles poison
And still cover love with bitter passion.
My memory is filled with swords and spears,
I'm forgetting computers and cars,
A horse bat deafens my ears
And through the pines rows
The sad silhouette hides.
To suffer or not.
To hope or not.
UNDER THE WAVES
My choice, my maturity, my suffering,
My simple curiosity,
My exhaled header
And my abandoned home
Are witnesses of the hurricane of the hate
Of the silent sea after the unlucky tempest.
There only skulls down there
Only tissues of forgotten beans,
Only blue inevitable paling
There's something worse than death down there:
The forgetfulness.
Nobody's writing for us, for you anymore
Nobody's talking about them anymore either.
Now and then is nowhere and never.
Dark and hopeless future.
FOREST
If I don't find your soul
In my memories and restless dreams,
If I don't find her in my diaries
I recently stop to write
Infested by solitude
And charmed of desires,
I'll wander than through this forest endlessly,
While the legs don't lay me down on the grass
We smelled together while we borrowed our breathesone to each other.
Where are my futile curses I've thrown
Because of my dark evilness you're not beside me anymore,
Where is my hope
That you finally emerged together with the tears while we shared them
With the drowsy in the sunshine streams through the trees
That shadow my look
For not to reach anywhere.
The curses are yours, not mine
The hope is mine, only drowsy knows,
Yours is the damn curses the cloud will close
And you'll vanish forever together with my forgetfulness.
You punished me with dense remembrances although I burnt my diary recently.
You were my fire. Never extinguished.
CLOUDS
Nothing has beginning and ending,
All is caught into tormenting continuum.
This endlessness drags us into hopelessness
It suppresses us into lack of ideas,
And so we'd be useless,
When the cloud's greyness will sink us
In sorrow and corruption.
All criminals are prisoners of the sorrow,
All unfortunate victims are guards of the despair,
And the destiny flows and carries everything with her.