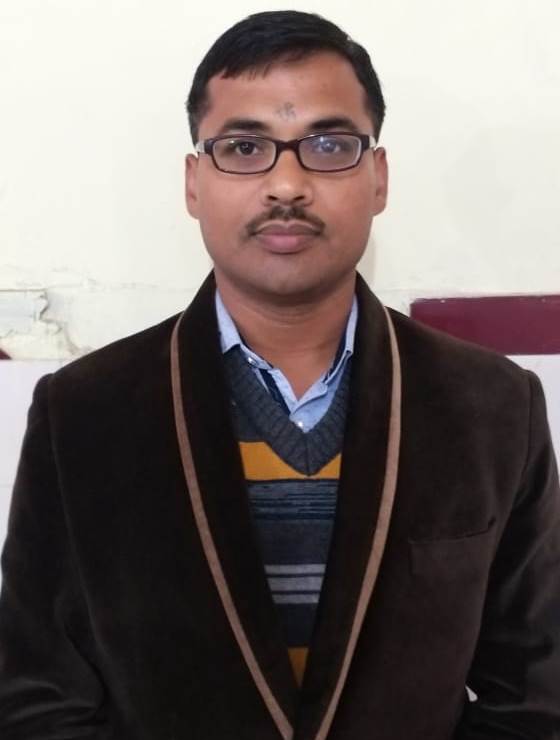 About the Author: Dr. Brajesh Kumar Gupta (Mewadev), an assistant professor of English at Eklavya P. G. College, Banda (U. P.) is a recipient of Uttar Pradesh Gaurav Samman 2019, "Golden Book of World Records", "Kavya Ratna Award" from "The Literati Cosmos Society (Reg. 75/2018-19) – Mathura, U. P. (India) and "The Phrasal King Arbind Choudhary National Poetry Award- 2018" and one of member of Members of "Board of International Writers Association". He is also Ambassador of Humanity and manager of the organization named "Hafrikan Prince Art World" (HPAW – It is a brand name of the promotion of contemporary art) in the service of promoting the safety of humanity through art and culture. He is also III° "SECRETARY GENERAL OF THE WORLD UNION OF POETS" OF THE HISTORY OF THE WORLD UNION OF POETS FOR THE YEAR 2019. He is founder president of "CONTEMPORARY LITERARY SOCIETY OF AMLOR – BANDA (U.P. – India). He is editor, translator and reviewer par excellence. He is an assistant professor and an award winning poet, short story writer, and essayist. He is author of 5 books and his areas of interests are Modern Poetry and Drama, Translation Studies and Contemporary Literary Theories. Visit him as DrBrajesh, facebook.com/brajeshg1 and email him at dr.mewadevrain@gmail.com.
VIEW OF BURNING LOVE
People can understand you
Of passing clouds and falling tears
The true condition of widows
Where burning love shuttered in pain
But when your casket closes
I know not where to turn
But with our hearts broken apart will it ever be the time
Behind woven webs,
Too frightened, too shocked, too ignorant
Then breath has gone raising alarms
With you by my side you're all, I need
A misty sense of dread
As in the formed silver vase
An empty space beside my chair,
The warming touch of gentle hands
Nothing new to say
I am ready to stop the culture of widows
Let's talk of roses and romance,
So believe in love
We're one and the same.
© Dr. Brajesh Kumar Gupta "Mewadev", Banda (U.P. – India)
@ All Rights Reserved.
MY POETIC EXPRESSION
The poetry scroll in the mind of a poet
That matters to you, or deliver a home truth,
Diversity through poetic expression
Need inspiration for a poetry action
And when broken hearts bleed pain in darkness
The fated soul carries its dubious light
We widen the purpose to acknowledge poetry and poets
The tempo of a new era in pronunciation but also in expression,
The innate integrity of human communities
To bring out meanings deeper than the mere definition of the words
In a world where people are constantly living
And celebrating World Poetry Day,
We are peace lover through our little words
Imparting onto all the joy and pain,
And only with the hope
I wish you all this great poetic day.
© Dr. Brajesh Kumar Gupta "Mewadev", Banda (U.P. – India)
@ All Rights Reserved.
MY FAULT
I am not at all a good poet
And a splodge on the literature
It's stuck but I'm not frustrated,
No hope of doubt
I mistake that gesture for a style
Ripen to a helpless smile,
From out the hedge, the wind lets fall
To learn how because I know
Not recognize an overture
In the mind which it intends
Doing whatever it takes to be original
Kill me, kill me if you can!
© Dr. Brajesh Kumar Gupta "Mewadev", Banda (U.P. – India)
@ All Rights Reserved.
WOMAN WHO UNDERSTANDS!
I am not a woman
But my existence is from a woman
This one of every new that come
So I can always hear her walk near me
The world will automatically turn so divine
No blinding big accessories
From the harsh glare of unenlightenment
You can never get her to trust you
I stand on the sidelines
Heart starts beating rapidly
To catch her every word
I'm afraid things might not work
The more future you will create
A natural beautiful sound;
A near masterpiece,
Windy blowing the silk sails from the mast
How do you expect her,
Indifferent to tomorrow's sun,
Sizzle me into something anew
Too tense, or too lax
The men rules, women seem incapable
But women should powerful nowadays
That's a new idea to her
This possessing of my spirit
A woman is in front of me
I like that you stay with me
I salute to this womanhood.
© Dr. Brajesh Kumar Gupta "Mewadev", Banda (U.P. – India)
@ All Rights Reserved.
NOW I MUST CREATE A RELATIONSHIP
I see the world through a much different eye
A relationship between animals and human beings,
And prideful relation is leading our company
Modern individuals can reveal
Man's struggle is doomed and weightless
As the gentle giants swim through the sea,
And exclude outsiders by every conceivable means
Into a beautiful new life
Make friendship with animals and make pet them
But don't pack them in the cage
They are also free like us
They are the pioneer of service of humanity
Do service for love and help them
I've love to let these feelings in
With a symphony of colours
But when listening carefully you can hear the droning reply
But just before they love into the earth
Yielding to a melodious strain
Love, respect, and care them
They are not only animals, but they are also our best friends.
© Dr. Brajesh Kumar Gupta "Mewadev", Banda (U.P. – India)
@ All Rights Reserved.