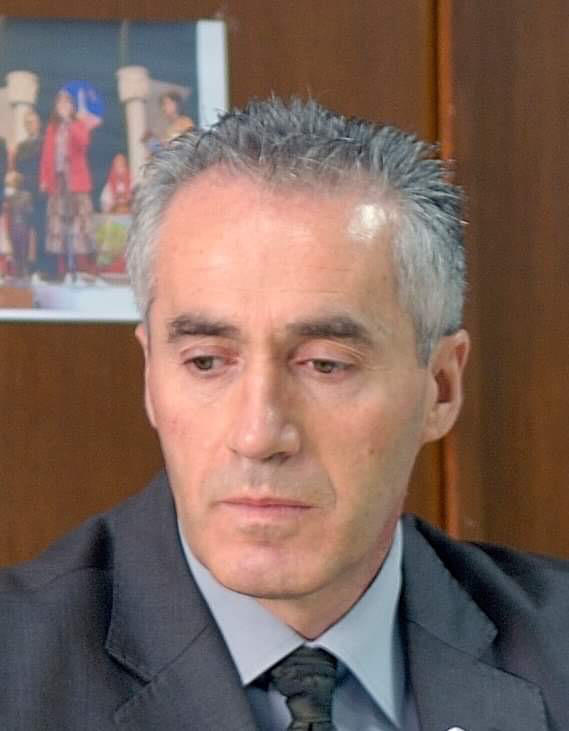 Shaip EMËRLLAHU North MACEDONIA
Shaip Emërllahu was born in 1962 in the village of Trebosh near Tetova, North Macedonia. He completed his Philological Degree of Albanian Language and Literature at Prishtina University in Kosovo. He got his Master's degree at Tirana University with a paper about "The Structure of the Poetry of Azem Shkreli". He got his PhD in Literature in Tirana. He is a lecturer at the State University of Tetova. Director of the International Poetry Festival "Ditet e Naimit", Tetova, he has worked as a journalist and culture editor for the newspaper "Flaka".
Shaip Emërllahu has participated in international and national poetry festivals in Columbia, Ireland, Italia, Greece, Tunisia, Poland, Croatia, Romania, Bulgaria, Turkey, Bosna and Hercegovina, Montenegro, … He has been awarded with many national and international literary prizes.
He has published the poetry volumes "Pagëzimi i viteve" (Baptism of the Years) in the publishing house "Naim Frashëri", Tirana, 1994, "Projekti i thyer" (Broken Project), Albanian Writers' Association, Skopje, 1997, "Vdekja e paktë" (Little Death) in the edition "Flaka", Skopje, 2001 and "Troja e kalit" ('Troy of the horse") in the edition "Ditët e Naimit", Tetova, 2018. In 2001, "Akademia Orient – Oksident" in Bucharest, published in Albanian and Romanian his poetry book "Vdekja e paktë – Putina moarte". In 2000, he published as a co-author the book about testimonies of the massacres in Kosovo "…edhe ne dëshmojnë / We witness", publishing house "Ditet e Naimit" (in Albanian and English). In 2004, the Croatian PEN and the Croatian Writers' Association published his bilingual Croatian-Albanian book with the title "Poezi". In 2004, the publishing house "Feniks" in Skopje published his book with selected poems "Dvorski son". In 2010, the publishing house "La stanza del poeta" in Gaeta (in italien) his book "Stracci di vita" and thepublishing house "Ditet e Naimit" (in English) his poetry book "Life's rags'. In 2014, his poetry book "Le marathon albanais" is published in French. In Japan, "Junpa Books" publishes his poetry with the title "Duet of Roads" (poetic dialogue with T. Aizu). In 2018, his poetry book "Life's Rags" is published in Taiwan. This year his poetry book "Epal Tetovo/Apples of Tetovo" is published in "Kultura snova", Zagreb (Croatia).  Cycles of his poetry are also published in Spanish, Hebrew, Swedish, Bulgarian, Arabic, Romanian, Ukrainian, Hindi, Turkish, Polish, Bosnian, Croatian, Macedonian etc. His poetry has been included in several international anthologies
THE APPLES OF TETOVA
through the concerted centuries
Tetova pruned and watered
​​its own apple trees
like rock salt
you'll want to burst
when you spot them turned rotten
from maggots
in the end
they've eaten so much
​​their teeth went numb
Tetova, 1989
REBORN AFTER THE VICTORY
For Azem Shkreli
in the turns bones take through history
verse-like and scattered
guarded steadily
in the psalm named Kosovo
the long-winded phoenix was reborn
eager after its victory
to make fun of his charming death
                                         in Illyrian
one portion of this victory
is reborn as Ali Podrimja
​​
Tetova, 25 May 1997
Ali Podrimja (born 1942) is a distinguished Albanian poet.
English version by Craig Czury and Elvana Zaimi- Tufa
PATHWAY OF ALBANIA
To Sadudin Gjura
he chased pathway's sun
awkward thought
​he was his forgiven life
he rushed to leave behind
​​      all he had
he kept leaving
pathway's sun
​​was a hand-width away
snow
​spread wide his tattered
dream
the way of walking
​listened to him through the spheres
Sadudin's Grave, 14.X.1999
English version by Craig Czury and Elvana Zaimi- Tufa
TROY OF THE HORSE
The geography of the Troy running horse
​​​expands with bitten knifes
you break out
and your little mind doesn't understand
how we bite the fish bait
when the shadows surround our bodies
with the Troy of the horse through and through
the foam of its mouth
fills our tables
nobody ruins their day, their fun
what remains from Troy
despite of the horse
​​with the whinny's fraud
13 january 2011
​​
Translated into Albanian language: Belfjore Qose
WHERE ARE WE GOING
the tail-end of night
stayed to host crickets
the morning leaf
exploded in anger
where are we going now?!
1994
English version by Craig Czury and Elvana Zaimi- Tufa