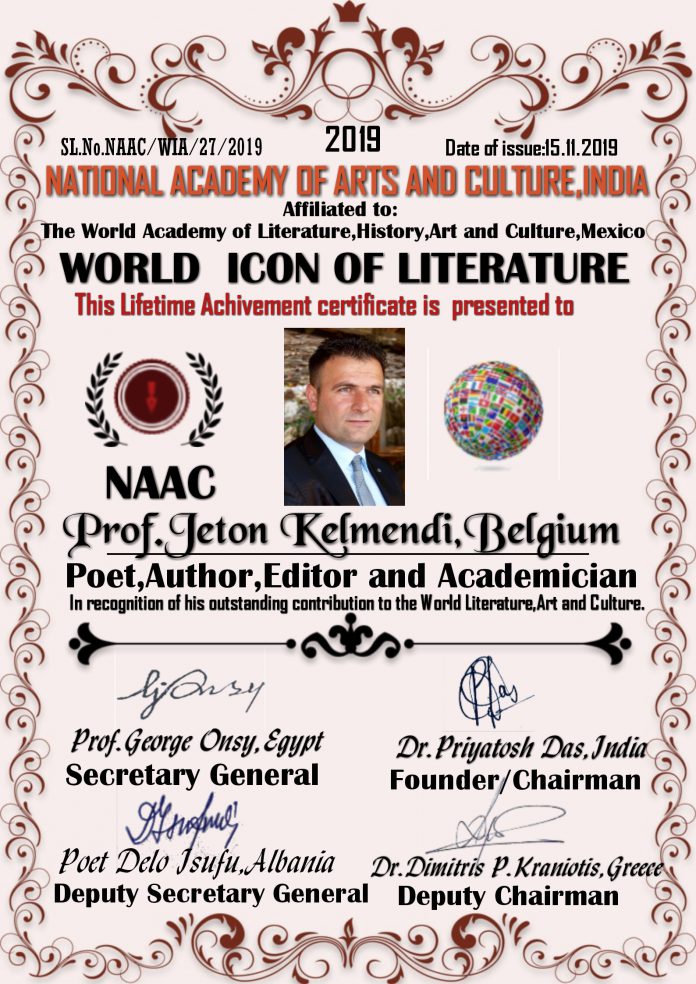 World icon of literature for Jeton Kelmendi, India 2019
It's great pleasure and glory for us to honour internationally acclaimed Poet,author, academician,Editor,Researcher and great humanist Prof.Dr.Jeton Kelmendi of Belgium with the 'WORLD ICON OF LITERATURE -2019′ award( Lifetime achievement certificate)for his outstanding contribution in the field of world literature,art and culture.Prof.Kelmendi is a real literary star in the galaxy of living legend of the 21st century who has won the heart of the globe by his magical and mighty power of pen.He is a poet par excellence whose verse is nerve cuddling and mind caressing.His verbal prowess and poetic dexterity is amazing.He is a versatile genius blessed with numerous types of talents and a humanist with godly spirit.A great orator Prof.Kelmendi enthralls his listener with persuasive words and power of speech.His voice is alluring and words are polite,full of wisdom.He has proved himself a great creative personality and has ensconced a great place in the assembly of the World literature.A modern visionery poet and literary personality Prof.Kelmendi highly acclaimed by the world literary community today.His name is uttered with high esteem across the world.Modern young generation writers' follow his literary style for his modern views and uniqueness. Journey of his life from a humble boy to a living legend itself is great lesson to be emulated by the new generation.Path(road) was not bed of roses but ever determined Kelmendi left no stone unturned to reach his coveted vision of life with undaunted spirit and determination.
DR.PRIYATOSH DAS
Founder/Chairman:NATIONAL ACADEMY OF ARTS AND CULTURE,INDIA.