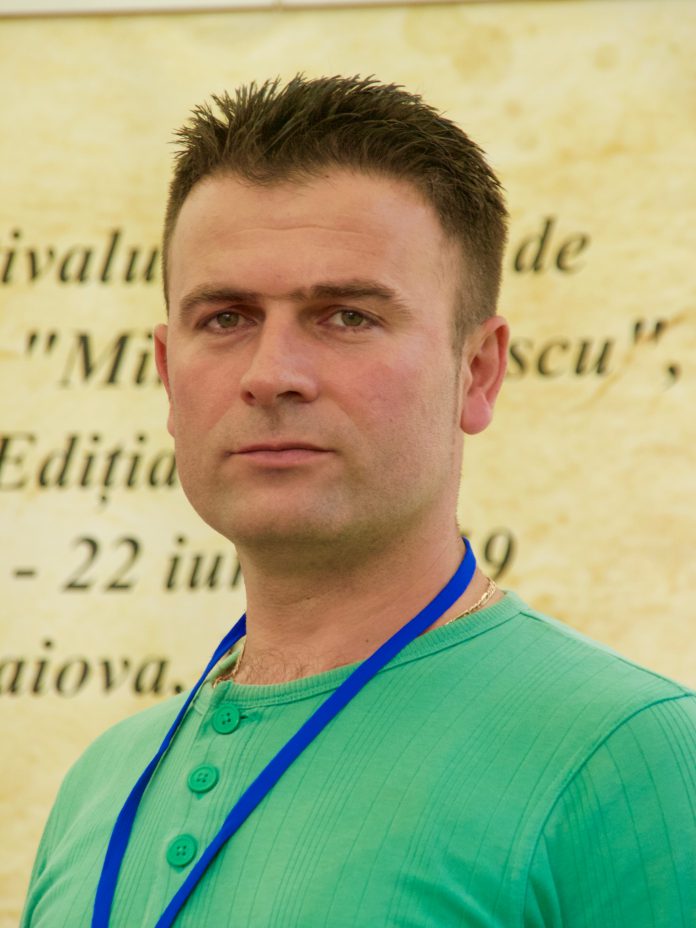 BIOGRAFI PROF JETON KELMENDI
Penyair, Penulis skrip drama, penterjemah, professor university dan ahli akademik.
Lahir di bandar Peja, Kosovo (1978), Jeton Kelmendi menamatkan sekolah asas di tempat kelahirannya. Kemudian melanjutkan pengajian di Universiti Pristina dan menerima ijazah Sarjana Muda dalam Komunikasi Massa. Beliau menamatkan pengajian di Free University Brussels,Belgium dengan pengkhususan dalam bidang Pengajian Keselamatan Antara-Bangsa. Beliau menamatkan ijazah sarjana keduanya dalam bidang Diplomasi. Jeton Kelmendi mendapat doktor falasafah Phd dalam bidang ' Pengaruh Media Dalam Isu Keselamatan Politik EU'. Beliau adalah professor di Kolej-University AAB dan ahli aktif Akademi Sains dan Seni Eropah, di Salzburg, Austria. Beliau telah menulis sejak sekian lama dalam genre puisi, prosa,esei dan cerpen. Beliau menyumbang kepada banyak surat khabar di Albania dan di luar negeri, menulis dalam bidang budaya dan politik, terutama mengenai hal-ehwal antara-bangsa. Jeton Kelmendi terkenal di Kosovo selepas penerbitan buku pertamanya bertajuk' The Century of Promises' (Shekulli I Premtimeve) , dalam tahun 1999. Ini diikuti dengan beberapa buku lain. Puisi-puisi beliau diterjemahkan ke dalam lebih daripada 27 bahasa dan diterbitkan dalam beberapa antologi kesusasteraan antara-bangsa. Beliau merupakan penyair Albania paling banyak karyanya diterjemah ke bahasa asing dan amat terkenal di Eropah. Menurut beberapa pengkritik kesusasteraan, karya Kelmendi merupakan representatif tulin puisi Albania moden. Pengkritik dan ramai penyair antara-bangsa menulis tentang beliau dan ,melihat beliau sebagai penyair Eropah yang hebat. Beliau menggangotai banyak organisasi puisi antara-bangsa dan menyumbang kepada banyak majalah kesusasteraan dan kebudayaan terutama dalam Bahasa Inggeris, Perancis dan Romania. Kekuatan karya beliau dalam bidang sastera terletak kepada perhatian yang diberikan kepada ekspresi puisi, eksplorasi moden teks, dan kedalaman mesej yang dibawa. Genre puisi beliau banyak berfokus kepada lirik cinta dan bait-bait iliptikal yang terjalin dengan metafora dan simbolisme artistik. Kini beliau tinggal dan bekerja di Brussels, Belgium dan Pristina, Kosovo.
Penerbitan :
"The Century Promises" ("Shekulli i Premtimeve"- Janji se abad ), 1999 (puisi)
"Beyond Silence" ("Përtej Heshtjes- Melewati kesenyapan"), 2002 (puisi )
"If it is afternoon" ("Në qoftë mesditë"- Jika ianya tengahari), 2004 (puisi)
"Fatherland pardon me" ("Më fal pak Atdhe"-Bumi ini, maafkan aku ), 2005,(puisi)
"Where are the arrivals going" ("Ku shkojnë ardhjet-Ke Mana mereka yang tiba mahu pergi"),2007 (puisi)
"You arrived for the traces of wind" ("Erdhe për gjurmë të erës"- Engkau tiba mengikut jejak angin), 2008 (puisi)
"Time when it has time" ("Koha kurë të ketë kohë"-Waktu ketika ia punya waktu ), 2009 (puisi )
"Wandering thoughts" ("Rrugëtimi i mendimeve"- Pemikiran yang merayau) 2010 (puisi)
"The baptize of spirit" (Pagezimi I shpirtit- Membaptis semangat ) 2012 (puisi)
"I call forgotten things" (Thërras gjërat e harruara-Ku panggil perkara yang dilupakan ) 2013 (puisi)
Skrip Drama:
"Mrs Word" ("Zonja Fjalë" – Cik Puan Perkataan ), 2007 (Drama)
"Play and anti-play" (Lojë dhe kundër lojë- Drama dan anti-drama ) 2011(Drama)
Sains Politik:
EU missions in Kosova after its independence 2010 ( Misi EU di Kosovo selepas kemerdekaan 2010) USA. ,
Bad times for the knowledge 2011, Pristina Kosovo (Waktu buruk untuk pengetahuan 2011, Pristina, Kosovo
NATO-EU missions, cooperative or competitive 2012, Tirana Albania (Misi NATO-EU, kerjasama atau persaingan, 2012, Tirana, Albania)
Media Influence in Security Politics in EU, 2011 Brussels, Belgium (Pengaruh Media dalam Keselamatan Politik di EU, 2011 Brusel, Belgium.
Penerbitan Dalam Bahasa Asing:
"Ce mult s-au rãrit scrisorile" ("Sa fortë janë rralluar letrat"); Diterbitkan dalam Bahasa Romania.
"A respiration" ("Frymëmarrje'); diterbitkan di India
"Dame parol," drama; diterbitkan dalam bahasa Perancis
"COMME LE COMMENCEMENT EST SILENCIEUX" ("When start the silence") Puisi: Paris, Perancis.
"ΠΟΥ ΠΑΝΕ ΟΙ ΕΡΧΟΜΟΙ ("Where go the comings"),Puisi : dalam Bahasa Greek, Greece.
"Wie wollen ("Si me dashtë"),puisi: Jerman
Frau Wort (Miss word) drama: Jerman
A Palavra Evitou o Silêncio/(Words croses the silence) 2009,
Nasil sevmeli (Si me dashtë) puisi: Turki
НА ВЕРХІВ'Ї ЧАСУ (In the beginning of time) puisi: Ukraine
How to reach yourself, Puisi: USA
в зените времени истлевшего (A verse on top of the time gone) Puisi: Rusia
34首封面 (34 poemus) puisi: China
"فواصل للحذف " (Elliptical dots) Puisi: Mesir
Pensamientos del Alma (Thoughts of the spirit), puisi: Bahasa Sepanyol 2014
Xewnên di dîwêr de (How to love) puisi : Kurdistan-Turki 2015
Cómo Llegar A Ti Mismo (How to love) puisi : Bahasa Sepanyol, Argentina 2015
Com Retrobar-Se (How to love) puisi : Bahasa Sepanyol-Catalonia 2015
Prescurtarea departarilor (Shortening distances), puisi : Bahasa Romania, 2016
Rănile cuvântului (Plagët e fjalës) puisi :Bahasa Moldovia 2018
思想狩獵愛 (Thoughts Hunt the Loves) puisi : Mandarin,Taiwan 2018.
wybrane wiersze (Selected poems) Puisi :Bahasa Poland, Poland 2018.
Düsünceye götüren misralar (How to know) Bahasa Turki, Turkey 2018.
ДИВЉА ЋУТАЊА (Wild silence) Bahasa Serbia, Belgrade, Serbia 2018.
Daba Ljubavi (Eatg of love) Bahasa Montenegro, Podgorica, Montenegro 2018.
Cудбински простор (destiny space) puisi, Macedonia 2018.
Tra realtà e sogno (Between the reality and dreams) Bahasa Itali 2019.
Čas ljubezni (Love moments) Bahasa Slovenia, 2019.
Savaş zamaninda eşq (Love in war time) Bahasa Azerbaijan 2019.
Keserü kávé (Bitter coffee), Bahasa Hungary, Budapest, 2019.
Pfungua dzinovhima vadiwa, (Thoughts Hunt the Loves), Shona, mangiage, Zimbawe 2019.
Anugerah Buku Terjemahan Jeton Kelmendi
Plagët e bukurisë oleh Athanase Vantchev de Thracy (France), diterjemahkan daripada Bahasa Perancis bersama Gjovalin Kola.
Hijet e dritës oleh Skënder Sherifi (Belgium),terjemahan daripada Bahasa Perancis
Gjuha e botës (Antologi Puisi Antara-bangsa-10 orang penyair dari 10 negara) diterjemahkan daripada Bahasa Inggeris dan Perancis.
Sheshi i shikimeve (Antologi Puisi Antara-bangsa- 13 orang penyair daripada 13 negara) diterjemahkan daripada Bahasa Inggeris.
E di kush je oleh Erling Kittelsen (Norway), diterjemahkan daripada Bahasa Inggeris.
Emrimi i gjërave oleh Zhang Zhi Diablo (Chine), diterjemahkan daripada Bahasa Inggeris.
Vetmia e erës oleh Bill Wolak (USA), terjemahan daripada Bahasa Inggeris.
Trokas në mendjen tënde oleh Alicja Kuberska, Poland, terjemahan daripada Bahasa Inggeris.
Tingujt e Mendimeve oleh Lee Kuei-shien, Taiwan.Terjemahan daripada Bahasa Inggeris
Kam mësuar ca gjëra by Ataol Behramoglu, Istanbul. Terjemahan daripada Bahasa Inggeris.
Pakti im – Testament oleh Ernesto Kahan, Tel Aviv, Israel, terjemahan daripada Bahasa Inggeris.
Rreth dy botëve oleh Maria Miraglia, Romë, terjemahan daripada Bahasa Inggeris.
Anugerah Antara-Bangsa
Ahli Academy of Science and Arts of Europe, Salsburg, Austria.
Ahli World Academy of Art and Culture, California, USA.
Ahli Association of Professional Journalists of Europe, Brussels, Belgium.
Ahli Academy of Science, Arts and Literature of Europe, Paris, France.
Ahli Academy of Science and High Education of Ukraine, Kiev, Ukraine.
Ahli International PEN club Belgian Francophone, Brussels Belgium.
Ahli Kehormat Academy Internacional "Mihai Eminescu", Romania.
Ahli Euro-Azia Writers Union.
Doktor Honoris Causa Institut Pengajian Ukraine dan Caucasian di Akademi Sains Ukraine 201
Doktor Honoris Causa Universiti Nasional Del Este, Paraguay 2017.
SOLENZARA Anugerah Berprestij Paris, Perancis, 2017.
Hadiah Antara-Bangsa 'Nikolaj Gogol' Ukraine 2013.
Hadiah Antara-Bangsa 'Alexander The Great, Greece 2013.
Hadiah Buku Puisi Kebangsaan MITINGU, Gjakoya, Kosovo, 2011.
Hadiah Antara-Bangsa 'World Poetry tempat ketiga Sarajevo, Bosnia dan Herzegovina 2013.
'Penterjemah Terbaik Tahunan ' China 2013.
Hadiah Antara-Bangsa 'Mother Theresa 'untuk kemanusiaan Gjakova Kosovo. 2013
Hadiah Antara-Bangsa 'Ludwig Nobel' Udmurtian PEN Club, Udmurtu, Russia 2014
Hadiah Antara-Bangsa "Mihai Eminescu" Romania, 2016
Hadiah Antara-Bangsa 'Penyair Tahun 2016' Sofly International Literature Foundation 2017.
Hadiah Antara-Bangsa 'Ikon Keamanan Dunia' daripada World Institute for Peace, Nigeria, 2017.
Hadiah Antara-Bangsa 'Kesusasteraan Dunia' Kazakhstan, 2017.
Duta Keamanan World Institute for Peace. 2017.
Hadiah Antara-Bangsa " Hadiah Akademi", European Academy of Arts, Sciences and Literture, Paris 2018.
Anugerah Antara-Bangsa "Matthew Arnold", India 2018.
Hadiah Antara-Bangsa "Special Ganadores del concurso", Bolivia 2019.
Doktor Honoris Causa daripada Universiti Constandin Stere, Chisinau Moldova, 2019.
Doktor Kesusasteraan di India daripada World Academy of Arts and Culuture 2019.
Laman Sesawang Peribadi: www.jetonkelmendi.page.tl