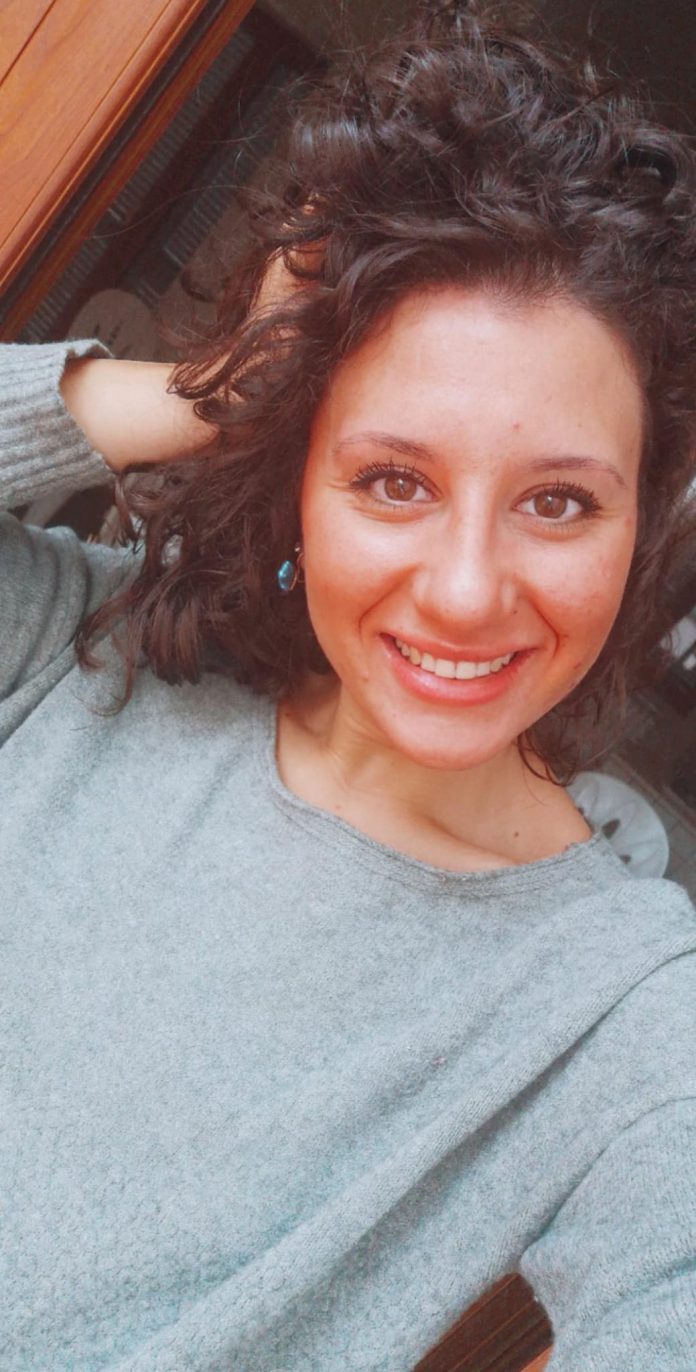 BIOGRAPHY
Italian Poetess for peace and cultural contamination. Anna was born in Pollena Trocchia, a small town in the province of Naples, Italy. Anna is a Reiki master. She studies European languages ​​at the University. She is registered with the Oriental ofNaples. She has published two poetic collections (Magic of Love – Punto, Oltre l'Orizzinte) and two stories (The Crypt of Desires – Shadows in the Mirror). She has won several National and International Awards and she is  present in many National and International magazines, radios, online newspapers, reviews. Shewrites for several Italian, national and international newspapers and magazines. Her workshave been translated into Croatian, Serbian,English, Bosnian, Chinese, Palestinian Arabic, Egyptian Arabic, Syrian Arabic, Hindi, Spanish, Albanian, Hungarian, Turkish, Swedish, Norwegian, Slovenian, Russian, Romanian, French, Bengali languages. Some awards: – From May 2019 was named Poet with internationalfame and administrator of the group of poem "GLOBAL VISION POETRY" from the Indian poet, lawyer, translator and researcherVendhan Ezhil.  May 2019: 51 FESTIVAL OF YOUTH POETRY (VRBAS) (51. Festival poezije mladih u Vrbasu) – ten poems in English and translated into Serbian, were published in the wealthyliterary anthology "Trag". June 2019: CERTIFICATE OF APPROVAL, International Association of Izdikhan poets and writers (International Association of Izdikhan poets and writersMiddle East) conferred by the Arab poet and writer Khalid Sheikh(خالد الشيخ). August 2019: collaboration with Darsha, Indianmagazine of Hindu / Buddhist culture and religion directed by the Indian writer Smita. August 2019 – AVLIJA – Portal for culture, literature and social topics – publication of some poems and updated biography in serbian language. VOCES Y PLUMAS DE UNAMOS AL MUNDO CON LA POESÍA – August 31, 2019 – Centro de México en Vision Universal Radio conducted by LeticiaGuzmán, Cristina Gonzalez and AHdez Felipe – reading Italianpoetry in Italian and Spanish ALBATRO. August 2019: collaboration with Darsha, Indian magazine of Hindu / Buddhistculture and religion directed by the Indian writer Smita. Anna's"INVENTAMI O …" poem has been translated into Hindi and published in the most important Indian newspaper "Hindi India Today" by the Indian poet Tangalesh Dabral. December 2, 2019: Certificate of Achievement for the dedication to Culture and Humanity. October 2019: his poem "LA MIA MELODIA" translated into Turkish by the Turkish poet Serkan Engin receivedthe special jury prize at the poetry competition of the Village of 2 Beans BAŞARI BELGESİ. November 2019: His biography and his poem "Bird" were published in the Tunisian Arab newspaperby the Tunisian poet Abdallah Gasmi. Anna Ferriero has beennamed WNWU Member (Member of the World Union of National Writers of Kazakhstan) by Muhammad Shanazar Ambassador in the World of World Union of Poets, Italy. World Icon of Peace, WIP Nigeria. Anna has reviewed her poetic collection ОСТРВОБАВИ (ISLAND OF LOVE) by Dragan Urošević (poet and elementary teacher at the primary school village of Čungula, "Stojan Novakovic" in Blace, Serbia).
Mbizo Chrasha, an African poet, described Anna's verses: ANNA FERRIERO is a brilliant poet of international fame. Her poetry iscandlelight for the body of his audience. The lines have a sparkling rhythm like a musical ensemble of guitars, tamborinesand drums. The sound of his verses are waves of a powerful seaand sometimes they become soft like the flowing tenors of a greatriver. reason is abundant and verbal dexterity is conservative while maintaining its literary ability. His poetry is written in so many languages. A very talented human being. Her poetry (DINASCOSTO AMANTI) in Italian, is translated into Chinese bymy friend, poet and Chinese artist 田宇 (Devil Bosa – chinesepoet and artist)  received the certificate for the second prize in the poetry activity held by the newspaper of writers in China. September 2019: she returned to the top 10 finalists of the International Poetry Competition La Piuma di Živodrag Živkovićdirected by the international artist and poet, the Bosnian EmirSokolović. CRAIOVA – OCTOBER 25, 2019: certificate ofachievement for the dedication to Culture and Humanity donatedby the Palestinian writer Munir Mezyed. International literaryrecognition: "CECHOV AUTUMN" INTERNATIONAL FESTIVAL. Among the various foreign interviews: – October2019: interview with the Palestinian poet and artist Ali Al Ameri – Issue 12 of "Al Nasher Al Usboei" (PW Arabic), published bySharjah Book Authority. Since 2005 she has corresponded withthe British Royal House and the Spanish Royal House. She is part of the jury members (popular jury) of the second edition of the Literary and Photographic Competition "La voce della Natura" organized by Dr. Gabriele Carmela.
On – line:
LIBARTES – Magazine for art, culture and social affairs (Serbianmagazine) – Croatian translation – https://libartes.rs/tag/anna-ferriero/
POETS AND POETRY – Audiobookwww.poetipoesia.com/audiolibro=anna-ferriero authors.poetipoesia.com/anna-ferriero/
OUR POETRY – (Indian monthly magazine) – translation intoEnglish
Her article "PROJECT 21" – Fun for all seasons, was translatedinto Serbian by MILJKOVIĆ JOVANOVIĆ and included in the Serbian magazine ЧАСОПИС ЗА ОПШТУ УМЕТНОСТ – Magazine for general art – Our collaborators on the other side ofthe Horizon! (Theme: Swiss wonders and landscapes). Hisbiography and his poem "The Force of Diversity" have beentranslated into Serbian and published in the same newspaper.
Some of her poems have been included in the Arabic site موقع الشعر في النثر (Site of poetry in prose) and translated into Arabicby Shurouk Hammoud (Syrian poet, literary translator, member ofPalestinian writers and journalists of the union and honorarymember of NAJI Naaman)
Her poem RISEN AWAKENING AUTUMN was translated intoEnglish and featured in the British magazine Duane's PoeTree(AUTUMN IS AWEKING)
Her poems MY MELODY, AUTUMN AND MY DREAM havebeen translated and recited in Chinese by Devil Bosa, Chinesepoet, writer and musician in the Chinese magazine "The law ofmy heart".
IWA magazine "Pjetër Bogdani", published in Brussels and Pristina, includes his biography and five poems in English (THE INFINITE STILL EXISTING, SIDDHARTHA, PASSION AND TENDERNESS, SEYCHELLES, THE LIGHT IN PARIS)
Galaktika Poetike magazine "ATUNIS", an Albanian magazine, includes several of his poems in English: (THIRD ACT: "LOVE OF A SUDDEN", ​​SPRING SNOW, FOOTPRINTS, INVENTE ME … OR)
EL ARTE POR EL MUNDO – El arte de escribir direct Armando Arzalluz: escritor, diseñador, investigador, periodical, creator de: "Tras la huella of the artist" "Sentires de poetas" (translation oftwo poems in Spanish: NIEVE DE PRIMAVERA, LA LUZ EN PARIS)
Her poem SPRING SNOW has been translated into Arabic byAziz Mountassir Aziz Mountassir (Moroccan professor) and published in the Moroccan magazine Mountassiraz.blogspot.com
Heted, HETHATAR, Hungarian magazine directed by the Hungarian poet Attila: Hungarian translation of the poem FORSE … POESIA
OPA Anthology of Poetry 2019 – SPIRIT OF NATURE (Publication in English and Italian of three poems with biography) – Online anthology directed by Indian writer NilavroNill Shoovro
Amar Ujala, a Hindi-language newspaper directed by the Indianpublisher Poet Shilesh Shukla – translation of the poem THIRD ACT: To love suddenly
AZHAR – Poetic Revista – N ° 99 – TALLER DE POESIA, AÑO XXXI – Julio 2019 – directed by Professor and poet Jose Luis Rubio Zarzuela – translation of the poem LA LUZ EN PARÍS
Raven Cage – American prose and poetry magazine – No. 36 – directed by Jerry Langdon, German Poet and Publisher – publication of four poems in English: A HAPPY BUDDHA !, PEACE OF BEAUTY, SO, YAKAMOZ
August 2019 – AVLIJA – Portal for culture, literature and social topics – publication of some poems and updated biography
ORG GLOBAL – Live African magazine Mbizo Chirasha – publication of some of his poems with an updated biography
VOCES Y PLUMAS DE UNAMOS AL MUNDO WITH POESÍA – 31 August 2019 – Centro de México en Vision Universal Radio conducted by Leticia Guzmán, Cristina Gonzalezand AHdez Felipe – reading Italian poetry in Italian and SpanishALBATRO
Some of his poems have been translated into French and publishedin the Arab magazine ADDIR. NET directed by the Tunisian poetAbdallah Gasmi
It is present in the Russian literary magazine LITSOVET.RUdirected by the Kyrgyz poet, translator and writer Rahim CarimKarimov
October 2019 – REVISTA MONITORUL DE POEZIE – Romanian poetic magazine directed by Daniela Toma – Translation of the Yakamoz poem and its biography in Romanian
October 2019 – Issue 12 of the magazine "Al Nasher Al Usboei" (Arabic PW), published by the Sharjah Book Authority – Palestinian magazine directed by the Palestinian artist Ali AL Ameri – Interview translated into Palestinian Arabic
Some of his poems were published in the wealthy Bengali magazine WNEWSBD directed by Monjurul Islam Megh, poet, writer, designer, researcher, speaker, journalist, director and Indian entrepreneur
From August 2019 he collaborates with Deepty Gupta poet, writerand professor at the University of Pune, West India
LORD BIRD
Rebel and traitor
its eyes hermetic
harmless,
from mortals cursed,
fugitives to its signal.
Of anguish and pestilence
of loves intolerant
late at night, in the great frost
is the Lord of Arizona.
Between Egyptians and Persians
it is the moon of death
wandering with an ax
up to the Nigeria Sea
in search of welcome, breathless
in the form of an Apache.
Pendants and drums
they honor the great chief
THE SCANDINAVIAN CHARM
The Norwegian sky
a lot of joy inspires me
colors and shades
decorate the vault to those
who watch with audacity.
From a photograph
the image of a forest
in the midst of dawn
a brush worked.
Innovative landscapes
and mirrors of wisdom
they start that dream
they follow in silence
the most secret spaces
like small sylphs
the story begins.
It is a magical experience
not to be lost forever
is the land of fairies that
you see in the eyes
of those who love poetry
DREAMCATCHER
Colored feathers
that
color my dreams
the union of my worlds;
divine understanding.
An "Augh" is released
that shook the big heart
in the great firmament
the revealed fate:
"In the light of summer
at the end of the stars
there is a boreal wind
beyond the face of the border
eagle the call "