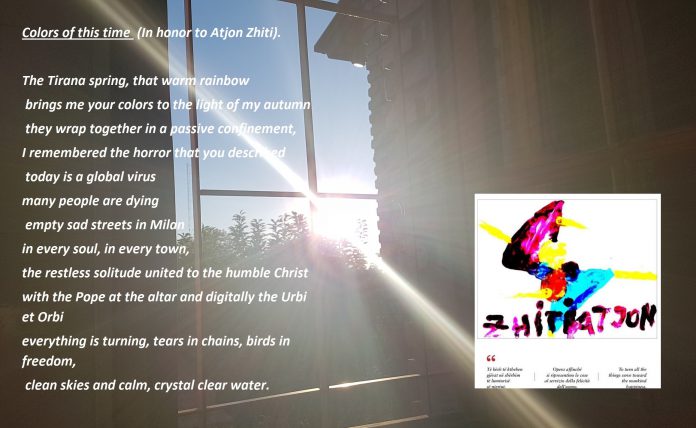 Colors of this time (In honor to Atjon Zhiti).
The Tirana spring, that warm rainbow
brings me your colors to the light of my autumn
they wrap together in a passive confinement,
I remembered the horror that you described
today is a global virus
many people are dying
empty sad streets in Milan
in every soul, in every town,
the restless solitude united to the humble Christ
with the Pope at the altar and digitally the Urbi et Orbi
everything is turning, tears in chains, birds in freedom,
clean skies and calm, crystal clear water.
Your colors knew the external change
with people who meditate on their faith
while others struggle each other in at Wall Street
and children studying on the web.
Your soul understand more intense tones
they are surely shadows of this time,
Or is it our simple perception
There are words that flow with their nectar,
Do you remember? The ones that were hanging from that tree!
They vibrated as magical sounds in so many hearts!
I know that they will flourish again.
Susana Roberts-Argentina-March 28th.2020