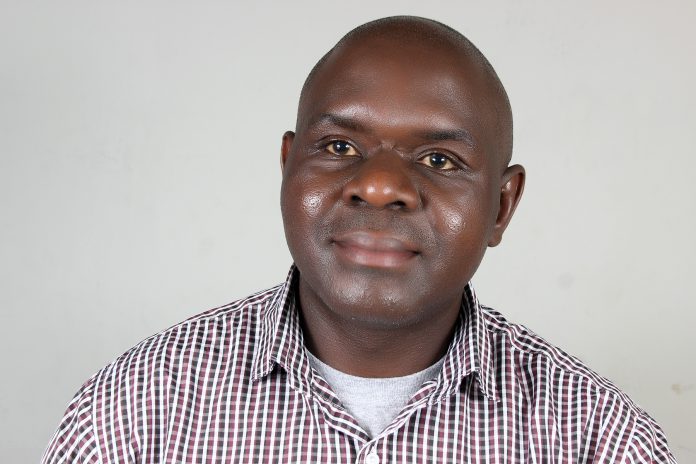 Christopher Okemwa, Kenya
Christopher Okemwa is a lecturer of Literature at KisiiUniversity, Kenya. He is the founder and director of Kistrech International Poetry Festival in Kenya. 
His poetry collections include The Gong (Nsemia Inc., 2010), Purgatorius Ignis (Nsemia Inc., 2016), Ominous Clouds (Translated to Norwegian, Finnish & Greek; Nsemia Inc., 2018); The Pieta (Translated to ArmenianՊԻԵՏԱ; Narcis, 2019), and A Withering Rose (Translatedto Polish and Bohemian Vadnoucí růže; 2019). He has also published a short story collection, Chubot, the Cursed One and Other Stories (Nsemia Inc., 2011). He has published three children's books: The Visitor at the Gate,Let us Keep Tiger and The Village Queen (Paulines Africa, 2010, 2011, 2013). This is in addition to four oral literature texts, Riddles of the Abagusii People of Kenya: Gems of Wisdom from the African Continent (Nsemia Inc., 2011), The Proverbs of the Abagusii of Kenya: Meaning & Application (Nsemia Inc., 2012) Otenyo the Great Warrior of the Abagusii People of Kenya (Nsemia Inc., 2016) and The Oral Poetry of the Abagusii People of Kenya (NsemiaInc., 2020). He has also written five folktales of the Abagusii people of Kenya in Ekegusii language: Ogasusuna Oganchogu (The Hare and the Elephant), Ogasusu naOkanyambu (The Hare and the Chameleon), Ogasusu naOkanyang'au (The Hare and the Hyena), Okang'ombeOkanyang'au na Ogakondo (The Cow, the Hyena & the Monkey), and Kerangeti na Kerantina (Kerangeti & Kerantina). Okemwa's novella, Sabina and the Mystery of the Ogre, won 2015 Canadian Burt Award for African Literature (Kenya). Its sequel, Sabina the Rain Girl (Nsemia Inc., 2019) was published in 2019.
Okemwa participated at a poetry workshop in Northern Ireland that was sponsored by Poets' House; participated at the 20th International Poetry Festival in Medellin (Colombia) in 2010 sponsored by Prince Claus Fund; was a guest poet at the 27th Biennale Poetry Festival in Liege(Belgium) in 2012; was again a guest-poet in the 3rdSpring and Poetry Festival in Istanbul (Turkey) in 2018; was a visiting poet at the International Poetry Festival of Hanoi (Vietnam) in 2019; and was a creative writing resident at Faber Writers' Residency in Catalonia (Spain)in 2019 — a residency that gave birth to the collection of poems, Love from Afro Catalonia.
Okemwa earned his PhD degree in Literature from MoiUniversity, Kenya, with a dissertation titled "A Study of the Kwani? Open Mic 'Literary-Gangsta' Performance Poetry of Kenya." He also holds an MA and a Bachelor of Education degree in literature from the University ofNairobi, Kenya.
This morning
This morning I woke up
With a sense of loss
I found silence holding the four corners of my room
And a mystery  
A sort of Muse
Playing in the light and in the darkness
Between the walls and empty spaces
I slipped down from my narrow bed
Quickly ransacked my suitcase for your photos
I couldn't find any
Scrawled down the screen of my phone
With nervous fingers
I didn't see one — my cheeks flashed white
Looking at the mirror on the wall
A sad curve formed at the corner of my mouth
My forehead became pale just like a dull day
The evidence of hunger
For a loved one back home
Now seated at the table
I sketch your body on a piece of paper
An imagination of the woman that I love
An expression within me
Of whom I know you have been to me
I pencil your foaming lips, whiten your
Teeth, circles twin hillocks on your chest
Dot your deep sensuous navel
I repeatedly scratch on the pupils of your eyes
Making them dilated, adds more pencil
On the cheeks to make them dazzling and bewitching
Shades the hair to make it glossy
Cleaves your forehead with two wrinkles
(You can't be young forever)
Gives a dark shade to your nose
A light colour to your chin
Then the neck of a swan to stabilize your head
I sit back to examine the finished work
My body twitches
I move my lips down
To kiss it
Suddenly I hear a loud sigh from a distant
A silent longing
A lusty act from a lover
With the utterance "l miss you, oh my dear love"
  –By Christopher Okemwa (Selected from Love from Afro-Catalonia, 2020)
I Love You Not as
I love you not as one can love a bar of chocolate
Or a mango juice or a banana fruit or a mushroom
Or as one can love roasted groundnuts in a plate
I love you as one can love an exotic dream
In which the dreamer is in a wedding costume
And his bride is fair of face and is in full bloom
I love you not as one can love a moon-lit sky
Or a tall tree, or a blue sea or a star in the night
Or as one can love a grasshopper, a termite or a butterfly
I love you as one can love a red ray of sunlight
When the morning, like ripe tomato, bursts in the horizon
And the foot-steps of the last night are long gone
I love you not as one can love a song of a bird in the nest
Or the whizzing of a wind or the buzzing of a bee that flits
Or as one can love the whistling of a tree in the forest
I love you as one can love the sound of ghosts and spirits
Who live in the waters of the sea or dwells in the cemetery
And is heard rising and falling at night in a puzzle of mystery
I love you not as one can love the aroma of fresh coffee
Or the smell of raw soil or rotten leaves damped in a pit
Or as one can love the fragrance of a rose or a lilac tree
I love you as one can love the smell of a lover's armpit
The erotic texture and the feel of its bushy hair
The moist and its rivulets of sweat when she is bare
I love you not as one can love a genius work of art
Or a sight of a magnificent city sprawled in the sun
Or as one can love a new pair of shoes, shorts or shirt
I love you as one can love an old tattered photo
In which one is a child playing in a puddle of mud
With an aura of innocence, honesty and Godliness
–By Christopher Okemwa (Selected from Love from Afro-Catalonia, 2020)
Purgatorius Ignis
Hanging in this burning emptiness of retribution, between
Death and the final dwelling–in this condition of existence–
I move stealthily like a cat, perpetually on the balls of his
Feet; with the cat's impression, indifferent aloofness,
My face drooped; in my eyes no light at all. I cry,
                                                   "I want affliction and fire!"
The soiled hamlet from whence I have come, voices rise
To cry for the pain and torture that my soul bore here
Aware that my spirit is not fully independent of the stains of  
Mundane effects of wrong-doing, its consequences; neither  
Sufficiently evil to be fated for abyss; but keeps on strengthening
                                                                    Itself in sanctity here
Having no purifications–neither sacrament of baptism, nor
of penance–my venial sins weigh heavy on my soul
I cry for pain, fire, to suffer for the rewards of the divine abode–
A Garden of delights. I ask to be relieved of my
Earthly baggage; for the pain of joy to be completed, to feel  
blissful mystery of Him
I find myself in that condition of mind and feelings
When reality gives place to reverie and merges with
The shadowy visions of the first stages of purgatories ignis
I've carried, on clammy hands, venial sins, to be purged
Of them, being only momentary pain, then soon be on my
                                                         Way to Olympus
Here it comes, like a clap of thunder, or like a magic spell
Light one moment and darkness the next—a big fire!
Burning brightly, spreading everywhere. I scream, "burnme!"
I hear those assembled in the hamlet from whence I have
Come, singing, raising their sacrifices up for my sake–
To be purified.
    -By Christopher Okemwa (Selected from Purgatorius Ignis, Nsemia Inc. Publishers, 2016)
Tufts of the Tall Grass
I have always wanted to know
Where the Maker
Of air and soil lives
Erecting those pillars high up
To hold the firmament in place; in pain
Sobbing Himself out so that we may have rain.
I look up to the sky where
A thick pile of clouds hangs
The blue only glare
Giving little clue.
I walk down to the riverbank.
Fagged out by many centuries
Of creation work, He would be there
Washing the cake of dust
Off His body; the plashes and purls play on
Monotonously, the brown waves
Swirl and churn up
But I don't sight a torso, a toe
Of a man swimming to the shore.
In a splendid fury
I walk through the mystery of the night
So as to bump into Him, vexed
He will retort;
My figure, spectral in a wash
Of moonlight, sight a tall black shadow
Spring forward
Not of the Maker
Not of an angel
But of a desperate mortal in search of truth.
I stop abruptly to listen
To the wind's soft song, picking
Out its notes carefully, one at a time
Feeling the inflection and the varying texture of its tempo
And suddenly—oyez! His voice
Awesome, yet soothing and caring
Emerge slowly, eerily
Out of the dark green tufts
Of the tall grass.
    -By Christopher Okemwa (Selected from Purgatorius Ignis, Nsemia Inc. Publishers, 2016)