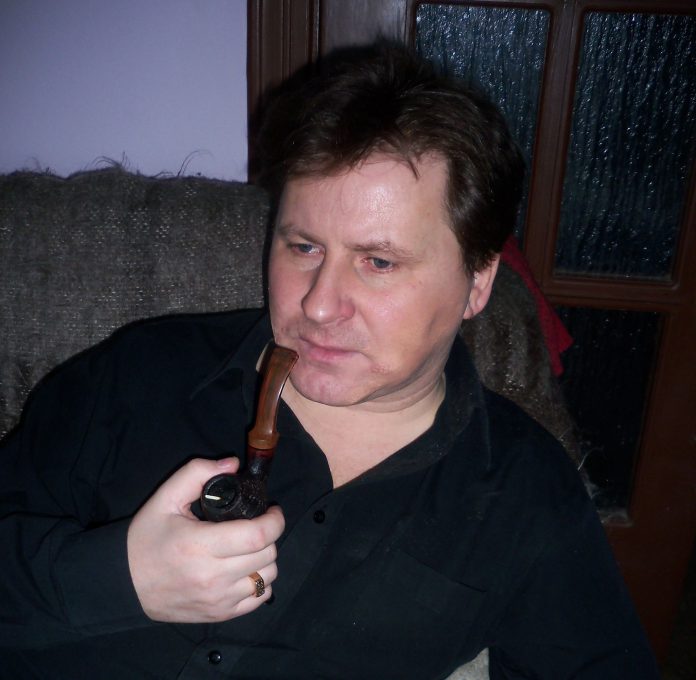 Ihor Pavlyuk, Ukraine 
Ihor Pavlyuk  is a Ukrainian writer, translator and research worker.
He is a Doctor of Social Communication.
Нe is a member of the European Society of Authors.
Now Ihor Pavlyuk is Leading Researcher of Taras Shevchenko Institute of Literature of the National Academy of Sciences of Ukraine in Kiev, professor of Ukrainian media Ivan Franko National University of Lviv.
He has participated in various international literary festivals, including Estonia, Georgia, Russia, Belarus, Germany, Italy, the United States of America, Poland, Turkey, Ireland, Pakistan, England, Czech Republic and international editions about Ukrainians from Volyn region, Ukrainian writers and poets.
Works of Ihor Pavlyuk have been translated into Russian, Belarusian, Polish, English, French, Latvian, Bulgarian, Japanese and other languages and published in such magazines as "The Apple Valley Review" (Volume 7, Number 2 (Fall 2012),"Muddy River Poetry Review", "Asymptote", "Gold Dust" (Issue 23), "The Adirondack Review", "The Recusant", "Metamorphoses", "Eurasia Review", "The world poets quarterly", and many others. Ihor Pavlyuk is the protagonist of the film "Between Bug and God" and film "Voice".
American and British actors read poems by Ihor Pavlyuk.
The books of Ihor Pavlyuk's lyric poetry appeared at the crossroads behind the cordon: USA (2011), Russia (2012), Poland (2012), England (2013), France (2015), USA (2019, 2020).
The book of Ihor Pavlyuk "A Flight over the Black Sea" became the winning book within Writers in Translation competition by English PEN club.
Read more here: https://en.wikipedia.org/wiki/Ihor_Pavlyuk
POEMS
***
        This poem was written after my father's funeral
Glistening grief and sorrow
Two crane-gathered leaves…
Has he truly gone,
Is he still on Earth?
Poems of clay and straw –
Like prayers, written
Somewhere far from home
From childhood, borsch…
Among the blesséd knolls
Where lie three "Pavlyuk"…
All this is yet unwritten
All this is the final page.
And in the lungs remain
Like barest breath of oxygen
In green of paradise
The tortuous pain of hell.
With him I lived my time,
With sins dark as molasses.
"Death, what is your name?"
He calls as though…
I am deaf.
A GIRL
A barefoot girl weeps
On grandma's doorstep.
Disillusioned Fall
Summons them both.
Coldness fills her soul
Even the rooster's dumb.
"For whom do you feel sorry?"
The girl replies,
"Everyone…"
THE RIGHT TO BE A LONE WOLF
For the right to be a lone wolf here
I'll pay "the full price".
As skies of silky white pay dear
Earth's sacrifice.
A foreleg snared, front paw trapped as well,
Someone stabbed me in the back.
Until Fall's rain on my heart fell
Through small round holes and cracks.
Black-listed in the bad old days maybe
By both left and right
Part of the brotherhood of infamy,
A State where right is might.
If mother were alive she'd lift the evil eye,
So vodka's there to swill…
The cross upon my chest is thin and high –
Long as a quill.
Yet still the towering shadows call
Of poets long renowned.
As if from space like leaves in Fall,
On Lethe's banks abound.
Their honest glory – that death does not deny –
A shared wealth.
The right to be, the right to die
As me, Myself.
A WOMAN
There is neither pleasure nor pain,
She dreamed of a crane that soared above.
A woman who wanted to be by the sea
And you sing to me a song of love.
In blue barn tales, on a manger of hay,
On the right hand of the tsar of flowers…
A woman adored in just the same way
As an icon in monastic cloisters.
A sleeping fox on her pale neck,
A sable – an unbraided tress ….
No saint was she, nor prostitute
For she had children, like the rest.
And when Fate changed the wedding rings,
Gold as weeping willow wood,
She fell, ascended unto Christ
As if her heart had drained of blood.
Who will embrace her in this world?
When Angel and Satan are bound in a pair
In a woman who wanted to be by the sea,
A black and white sail is what she should wear.
IN A BAR GLASS
North light flickers
Like a fox's eyes.
It's autumn.
I'm in a bar.
Where am I going?
And what am I doing,
So sad and alone?
A modern song
(No good at all)
Contaminates the air.
And we decipher
Secret signs
Of something, above people.
A mournful light,
The smell of perfume
Here in this old bar.
And someone says
When trains go "West"
Cranes fly overhead.
A candle – like the tears
of an old elk,
Drips on to tormentil*.
These people here
Have had to draw a gun
More than once.
They have scars,
Blue tattoos…
… And damn few words.
What's poetry to them?
Country?
Cranes?
But maybe, today,
Does being drunk
Make them ache with sorrow? –
Devout grannies,  
Hungry children –
Like blank cartridges.
The open door's
A coffin lid.
The morning's gray
As mercury.
The world shall be
In God's likeness.
I choose
The Way.
* A herb flavored liquor
I DON'T WANT PITY FOR MYSELF
I don't want pity for me or mine.
The lazy way is pity for mankind.
Behind me – wine and flowers,
And a sweet dark valentine.
Moonlight – a warm evening.
In the sun – cold morning.
My friend shot through the shoulder
Near the Iranian border.
It seems I have betrayed this life –
Sold myself to poems about Fall.
And old Faust laughs:
"It could be worse."
HERE ONLY TIME
Here only time does not stand still.
At the poles my songs are frozen too.
Infant Jesus and Barabbas.
The cross – a branch without a silver dew.
Dream portraits hung without a single nail.
Rain dancing and a candle held with grace …
Baby sphinxes cowering in fear
On seeing destiny in mother's face.
… A village club.
This movie's theme is execution.
The window's cross laid on an old man's chest.
A tear about to fall from Pilate's hands
Before they
Crucify God.
Translated by Yurii Lazirko (USA), revised and edited by Hilary Sheers (Wales) and Hanna Kosiv (Ukraine)