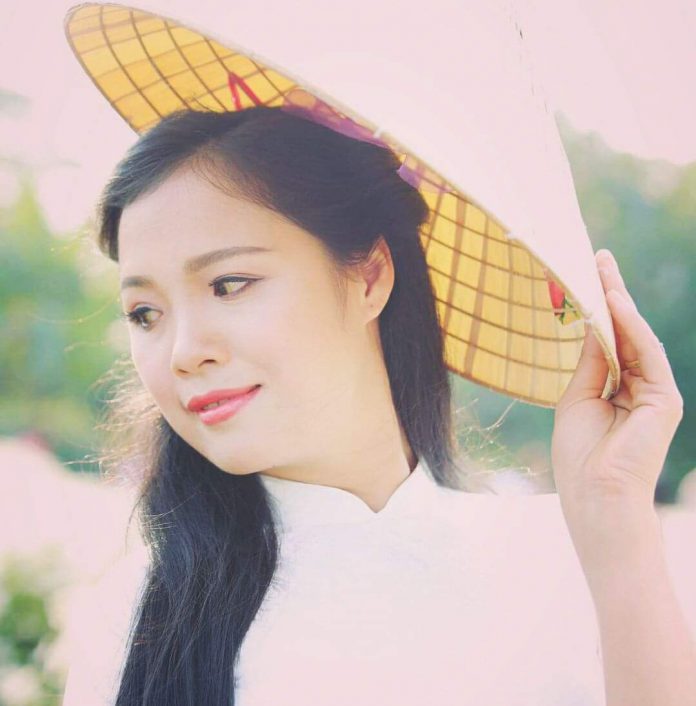 MISS RUNNER VIET NAM –  HOANG THI TRANG VIEN:
"NGOC LE NINH – A SPARKLING POETIC JEWEL OF THE MODERN TIME"
Translator: Linh Vu (American)
I am a lover of literature and poetry. So, when listening to the famous poet NGOC LE NINH, a
poetry "phenomenon" in the literacy circles in the country and over the world, I felt a curiosity and a secret admiration in my heart. Fortunately, I was invited by singer Hien Anh Sao Mai to attend his birthday party. I was really happy and surprised to meet the poet in real life as well as to meet his "big friends", and to receive his three volumes of poems as a gift with his signature.
Bach home, I turned page by page to "invade" into the word world of the poet for exploring and learning.
Perhaps, my praise to the poet Ngoc Le Ninh is just redundant.  Because all the sparkling, the value and the price of this jewel have been shimmering, praised, noticed and honored. And there are many famous literary critics, writers and poets who have wasted lots of papers and ink for praising and congratulating the poet. As for me, I just boldly have a few words to share my feelings as well as my respect for the poet.
Surely, everyone must be surprised when seeing his outward appearance in current life. Regardless of profound knowledge and life experience of a middle-man, a doctor of science and technology, he is a generous, active, optimistic, witty, cheerful, even funny like a "kid". Really, as he said: " My soul has not been getting old because of age, sometimes being as a child, sometimes as a young adult in love". It's truly a very cool, interesting, funny, impressive feeling. Maybe because of these, he is able to balance his life while studying science and writing poetry.
Poetry is the heart voice, the delicate vibrancy deep in the soul. Poetry is really life! Through Ngoc Le Ninh's poems we see that it is a picture of diverse genres, structure of ideas, with the gamuts of bright, new, unique and strange colors. His poems have rhythmic musical intonation. Therefore, in turn, from his poems 21 beautiful songs were created by famous musicians such as Tran Ngoc, Hoang Anh Tu, Tran Tua and by the author as well. And these songs were performed by morning-star top singers of Vietnam such as Anh Tho, Xuan Hao, Luong Hai Yen, Hien Anh, Phuong Thuy, Quynh Anh, Thanh Quy… Thereby, the portrait of our talented and outstanding poet becomes brighter.
Many of his poems have great thoughts about the universe, air level, all species. They are sparkling with beautiful ideals praising homeland love, national pride along with cultural values, traditions of thousands of years ago (The Soul of Natural Creations, The Desert Soul, The Fantastic Dream Poem, The Two Way Homeland). Oftenly, the ideas in his poems are weighed down with sorrow, struggle, sufferings in the face of life, people, environment and all things changeable. (The Opening Poetry, Sleep Lost Poem). Sometimes the poet has to struggle with the inner questions himself (The Silent Raindrops, The Number's Soul). Besides, in Ngoc Le Ninh's poems, we realize a clear soul loving profession and life as well. (The Teacher, The Love of Geology). Especially, we realize that the poet writes a lot on the subject of love. When studying at the University of Mines and Geology, he has been a handsome, elegant and excellent student. He has been invited to schools in order to read and exchange poems. During those days, the students at schools have learnt by heart his love poems. They have passed them to one another and kept them as a bedside "document".(Dike and River, Keep Loving Not Fearing, The Wave Heart, The Vegetarian Lover, The Third Night, The Lamp of Love, Memories Rolling Round).
Recently, I accidentally read his poem named LOVE CLOGS IN CORONA TIME posted on his personal facebook page, I laughed a lot because of enjoying and admiring his talent on his hard work about searching and discovering words. And without hesitating, I made an analise on this extremely attractive, charming, and delightful poem. It is funny, witty, lovely like his own personality.
The poem for prevention and treatment of " CORONA LOVE" is as follows:
LOVE CLOGS IN CORONA TIME
Hey Honey!
If I poured a ladle of boiling water into the past of your life,
thousands and thousands of worms of deceitful love would crawl out and cry.
If I fumigated your present life,
millions and millions of mice of intrigue love would run out, prostrate and roll over.
If I infected a special vaccination into the future of your life,
billions and billions of horrible Corona viruses of love would drop dead.
Do not even try to explain
Because for a long time, with love clogs on my feet, I have gone through your heart
Color palettes, white – black, defects – merits, hard – soft.
Come on! honey! Explaining is destroying yourself
The best way to protect our love happy, beautiful and in long lasting
We should get married soon.
It can be said that this is a very new discovery in poetry. It is really unique and strange!
"Pouring a ladle of boiling water" is just a real action making people think of common things in life… But the poet wrote that he poured a ladle of boiling water into the past of his lover. So, alas! her soul would be burnt up. Readers do not understand how his love is! It is so cruel! And before readers were able to understand this, the poet said that he would smoke the present of his lover.
So, we would see millions and millions of mice of intrigue love run out. The word " triều triệu" is very interesting, not in Dictionary. It makes readers pleased and happy.
Not stopping at the satisfaction, gloating and voyeur when knowing all the things about the girl, the poet has used the best ultimate scheme:
"…Injecting a special vaccine into your future. So, billions and billions of horrible Corona viruses of love would drop dead.
It does really need to use the special vaccine for mind peace, doesn't it?
The poet "investigates" and "infiltrates" into every corner of the soul, every body cell, every neuron to hunt down the opponent and then find out a special medicine.
It is not necessary to explain any more. I have penetrated your thoughts for a long time. So, for keeping it fine "We should get married soon"
It is ridiculous that the author is full of contradictions in using the comments of "chopping, blashing, digging up…but ultimately asking for marriage. Why so humorous? Verses having two clauses with IF-THEN prove that the poet is just hypothesizing, guessing, trying to catch, unleashing blindness, "intimidating the opponent. Or, could he also know that? The answer only the author knows. I think that is a beautiful love, a very happy ending. "Whatever your past is, I ignore it all, I want to marry you".
These unique tricks in love are truly unprecedented!
People only see vegetable worms, stem borers, or thousands of thousands of other worms. But perhaps, the fake love worms, ugly love rats, or horrible micro-viruses, just poet Ngoc Le Ninh could discover them. He is such a funny and unique soul!
I am also very impressed by the profound comment from some of his poetry fans:
"Comedic poetry adds energy for increasing resistance against diseases which are ideas in Ngoc Le Ninh's poems in sudden hearing… But behind that humour there is a deep meaning. The best resistance against diseases, individual or national difficulties is true love. The true love leading to solidarity, humanity, erasing the hatred of the past and looking forward to the future. The new and special notions in poetic pictures…Love worms…Love rats…Love Coronaviruses…are the extremely original abstract images. Deep thoughts on the seeds of boils causing diseases that people always hated. But only with loving-kindness, people could get rid of them the fastest. For love is forever the most powerful medicine in every field and every viewing angle.
At first glance on Love Clogs in Corona Time, we think it is only a funny poem, but it has a great connotation. While the whole world must be on guard, preventing and fighting the Covid-19, the poem is like a bell ring pressing into people's minds. It praises a love of IF THERE IS A TRUE LOVE, one of the ways to prevent illness, as the German scientist has researched and the miracle of love in healing. Poet Ngoc Le Ninh has prescribed for us an elixir, which is very necessary for now. When death is so fragile, we should love one another really, live every meaningful moment together, so that "Rhythms of love stir up the whole galaxy" (Not yet naming)
With talent, delicacy, hard working on words, on art, and especially on borrowing familiar images from old poetic style, the author boldly has blown the new spirit on poems that has made Ngoc Le Ninh's poetry impressive and "living" for a few past decades.
In the past, there were words of his poetry not in accordance with the period of time, and so, rarely appeared in newspapers. But I also vaguely knew the source of attacking his poems, maybe from many watchful reasons. As for me, perhaps his poetry is overbold, outrageously creative or "ahead of its time".
I knew that the poet read and was strongly influenced by works of famous writers all over the world such as Puskin, Lecmontov, Henrich-Haino, Targo, Kaputian. And his poems have innovation, breakthrough and worldwide savour.
For me, a good poet is one who can bring into full play his strengths, discovers the whole world of his consciousness, of humans and of the universe. He is able to surpass the limits of patterns, dogma, the old discordance, daring to express feelings, his being, his true self. Poetry as well as life having been covered up, bracing up, depended on is to lose life. So, it is no longer life. It is no longer poetry. Poetry is the most refined substance of soul. I like the creativity, the boldness in his brainwork on words.
And today, I congratulate him on his poems having flown over the immense sky. They have been well received, highly appreciated, and respected by his poetic fans in the country or overseas.
Wishing you a lot of health, joy, happiness, achievements and dedication./.
***This is translated from a Vietnamese Article written by Miss Runner HOANG THI TRANG VIEN as follows: