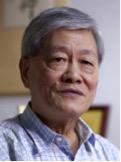 Poems taken from the newest book
Lee Kuei-shien(b. 1937)began to write poems in 1953, became a member of the International Academy of Poets in England in 1976, joined to establish the Taiwan P.E.N. in 1987, elected as Vice-President and then President of it, and served as chairman of National Culture and Arts Foundation from 2005 to 2007. Now, he is Vice President for Asia in Movimiento Poetas del Mumdo(PPdM)since 2014, the organizer of Formosa International Poetry Festival. His poems have been translated and published in Japan, Korea, Canada, New Zealand, The Netherlands, Yugoslavia, Romania, India, Greece, USA, Spain, Brazil, Mongolia, Russia, Latvia, Cuba, Chile, Nicaragua, Bangladesh, Macedonia, Turkey Poland, Serbia, Portugal, Malaysia, Italy, Mexico and Morocco.
Published works include "Collected Poems" in six volumes, 2001, "Collected Essays" in ten volumes, 2002, "Translated Poems" in eight volumes, 2003, "Anthology of European Poetry" in 25 volumes, 2001~2005, "Elite Poetry Series" in 38 volumes, 2010~2017, and others in total more than 200 books. His poems in English translation include "Love is my Faith", 1997, "Beauty of Tenderness", 2001, "Between Islands", 2005, "The Hour of Twilight", 2010, "20 Love Poems to Chile", 2015,"Existence or Non-existence", 2017, and "Sculpture & Poetry", 2018. The book "The Hour of Twilight" has been translated into English, Mongol, Russian, Romanian, Spanish, French, Korean, Bengali, Serbian, Albanian, Turkish and German, and yet to be publishedin Macedonian and Arabic languages.
Awarded with Merit of Asian Poet, Korea(1993), Rong-hou Taiwanese Poet Prize, Taiwan(1997), World Poet of the Year 1997, Poets International, India(1998), Poet of the Millennium Award, International poets Academy, India(2000), Lai Ho Literature Prize, Taiwan(2001)and Premier Culture Prize, Taiwan(2002).  He also received the Michael Madhusudan Poet Award from the Michael Madhusudan Academy, India(2002), Wu San-lien Prize in Literature, Taiwan(2004), Poet Medal from Mongolian Cultural Foundation, Mongolia(2005), Chinggis Khaan Golden Medal for 800th Anniversary of Mongolian State, Mongolia(2006), Oxford Award for Taiwan Writers, Taiwan(2011), Award of Corea Literature, Korea(2013), Kathak Literary Award, Bangladesh(2016), Literary Award "Naim Frashëri", Macedonia(2016), "Trilce de Oro", Peru(2017), National Culture and Arts Prize, Taiwan(2018), Bandera Iluminada, Peru(2018)and Prime Poetry Award for Excellence by Pulitzer Books, India(2019), Literary Award for Translation from Association of Literary Translators of Montenegro(Udruzenje knjizevnih prevodilaca Crne Gore)(2020), International Award "A Knight of the First Order of Noble Skills in Poetry" from "Raskovnik" Literary and Artistic Association,Smederevo, Serbia(2020).
He was nominated by International Poets Academy and Poets International in India as a candidate for the Nobel Prize in Literature in 2002, 2004 and 2006, respectively.
Volcano Complex
Mexican Smoking Mountain
erects on the high sky
in a solemn independent gesture.
Black scoria still dominantly spreads
all over surrounding hills and flats.
It is looked like Guanyin Mountain at Tamsui
which extends green surfaces along all directions
in a serene independent gesture
to form an greenish land over all.
The blacken surfaced dry soil in Mexico
achieves the passionate people,
while deep green world in Taiwan
cultivates a kindness and gentleness.
The appearance of mountains
displays different poetic connections
in a sympathetic complex.
* Mexican Smoking Mountain, alias Popocatépetl volcano,
 is one of the most active volcanoes in the world.
2019.12.07
人間病態
武夫莽漢病態
眼不見天空流行
中國特色的
一帶一路會員病毒
疫口同聲
台灣是
中國不可分割的一部分
卻拚命一省一省一市一市
封城隔離
分割成獨立實體
正當中國人心震盪時
成都以地震回應
顯示天地人
通通心律不整
2020.02.06
   Morbidity on the Earth
The boorish fellows have morbidity
without noticing an epidemic disease spread over the sky
the Chinese characteristic virus
through the country members covered under Belt and Road Initiative,
and speak in epidemic unison:
Taiwan is
an inseparable part of China,
while desperately separate provinces and cities one by one
by isolation and closing the borders
to become respective independent entities.
When the Chinese people are in shock
Chengdu responds with earthquake
in displaying the heaven, earth and human being in China
all suffered from arrhythmia.
2020.02.06
小葉欖仁落葉時
立春後
公園內整排小葉欖仁樹
弱勢小葉變黃
像感染疫病
一陣風起
捲到空中翻滾
紛紛落地
一具一具的葉屍
荒亂棄置於地
完全不像
新社區的新春景象
有待人來收拾
2020.02.20
   When the Leaves of Madagascar Almond Fall
After the Festival of Spring Coming
Madagascar Almond trees in the park
turn their weak leaflets into yellow
as if infected with epidemic disease
and then blown into air
by a gust of wind.
The leaflets are like corpses
fallen one after another
wasted on the land
completely dislike
a new spring scene in New Community
that to be cleared away by someone.
2020.02.20
疫病流行
疫病流行嚴重
從封口
封城
到封關
不能擁抱
不能親嘴
不能對話
即使夫妻
即使情人
即使一家親人
終於
個個分別
成為獨立實體
2020.03.03
 Virus Pandemic
The virus pandemic is so severe
that from masking the mouths
to closing the cities
and further closing the borders.
People can't embraces to each other
no kisses
no talk
even between the couples
the lovers
or the family members.
Eventually
each individual
becomes an independent entity.
2020.03.03
青春的蹤跡
詩
青春的文學
旅遊
青春的蹤跡
詩讓我的青春
延續到80歲後的老朽
遍遊五大洲
偶然的生命
來到世界旅遊
最後終站
要永息在台灣
美麗的祖國
2020.05.16
Whereabouts of Youth
Poetry
the youth literature,
tourism
the whereabouts of youth.
Poetry makes my youth extended
to over 80 years old age
for traveling across five continents.
My accidental life
came to travel to this world
until the last stop
eternal rest place in Taiwan
my beautiful motherland.
2020.05.16
保釋
悼念詩人趙天儀教授
當年你被警總約談
事先交代
我奔波安排託人
保釋
如今你被神約談
沒有交代
我已經來不及如何
保釋
你遷住進天堂
我自閉書房
要探望你
隔著雲端
2020.05.17
 On Bail
— A monody to poet prof. Chao Tien-yi
When interviewed by the Security Headquarters many yeas ago
you asked me
rushing to find someone able to request for
a release on bail.
Now interviewed by God
you ask me nothing
so that I have no time to think about how to request for
a release on bail.
You have been settled into the Heaven
while I prisoned myself in my library
I can only visit you
across the clouds.
2020.05.17