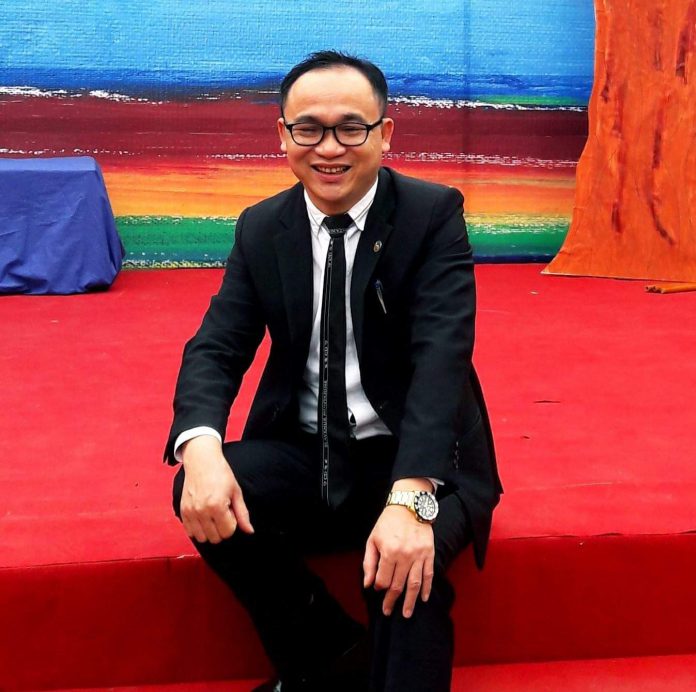 1. The BIO of Ngoc Le Ninh:
Le Ngoc Ninh is PhD of mining science, his pen name is Ngoc Le Ninh, given birth October 24th 1969. He was born in Hai Nhan village, Nghi Son city, Thanh Hoa province, Viet Nam. He lives in Ha Noi Capital and working at General Department of Environment, VIET NAM MONRE. He is a member of Ha Noi writers association and also a member of IWA – BOGDANI. His poems were published in Viet Nam, USA, Belgium, Spain, India… He received a poetry prize 2019 from IWA-BOGDANI for his poems and other prizes.
Address to: Le Ngoc Ninh
Building B – P208 – Number 10 – Ton That Thuyet street – Nam Tu Liem District – Ha Noi Capital – Viet Nam.
Email: ninhcucthamdinh@gmail.com
Phone number: (84) 942 900 967
03 Poems by Ngọc Lê Ninh for IWA-Bogdani 2021
UNIT 1:
THE PAIR OF EYES AT THE TIME @4.0.BLUE SEA
Poet: Ngoc Le Ninh
Look! Honey!
Wave laid its head on Island's foot sighing
Wave's hands shivered and groped the Rock's chest
Wave's eyes gazed at a strange green Island looming dimly
Wave swallowed the ambitious time into its heart, ready attacking
Oho!
Island furiously kicked Wave falling down and breaking the moon
Wave staggered swirling down the impetuous moment
Rock's chest rose up, Island suffered the pain of incomplete satisfaction
No more the time of memory fire flaming in each other.
Ha ha!
Wave tried to chase after Boat for reconciling the break-off first love
But unable for catching up! Boat swiftly ran along Wind
Wave endured heartache for the whole life because of Boat's fleshy lips
With the pair of eyes at the time @4.0.Blue Sea
He-he!
In exhaustion, Wave crawled toward Beach stressful and feeble
Wave's hands looked old with swelled blood vessels of deceitful love
In a hurry, Beach carried Wave up and laid it in the bed full of sins
Although lots of years Wave gave up their intimacy of cheek to cheek and hand in hand.
Hee-hee!
Oh, waves in the past – today – forever are always the same
Heads full of white hair are still up in love
Wave would be Me addicted to You, a blue pill of drug
Also addicted to the pair of eyes at the time @4.0.Blue Sea
Hic!
*** In Vietnamese as follows:

Bài 1
ĐÔI MẮT THỜI@4.0.BIỂN XANH
Ngọc Lê Ninh
Kìa em!
Sóng gối đầu lên chân Đảo thở dài
Tay Sóng run run quờ vào ngực đá
Mắt sóng lờ mờ nhìn Đảo xanh xa lạ
Sóng nuốt vào lòng thời khao khát, hung hăng.
Ô hô!
Đảo giận tình đạp Sóng ngã vỡ trăng
Sóng chệnh choạng lăn quay thời hăm hở
Vươn ngực đá Đảo nhức cùng dang dở
Thôi hết thời lửa nhớ cháy ran nhau.
Ha ha!
Sóng nhoài theo Thuyền lầm lỡ nỗi yêu đầu
Không kịp nữa! Thuyền chạy ùa theo Gió
Cả đời Sóng lao đao vì Thuyền môi mọng đỏ
Với đôi mắt thời @4.0.biển xanh.
He he!
Sóng rã rời, trườn về Bờ trong nhàu nát mong manh
Tay sóng già nua nỗi gân tình gian dối
Bờ lật đật bế Sóng lên giường đầy tội lỗi
Dẫu Sóng bao năm bỏ má ấp tay kề.
Hi hi!
Ôi sóng ngày xưa – hôm nay – muôn đời sau vẫn thế
Đầu phau phau trắng tóc vẫn dậy tình
Sóng sẽ là Anh ghiền em – viên ma tuý xanh
Ghiền đôi mắt thời @4.0.biển xanh…Hic!
————————————————————————–
UNIT 2:
THE FUNCTION LOVE
Ngọc Lê Ninh
I want to tell you
Our story about two functions
On the unfinished graph
In time of our early love.
The days we got to know each other
The increasing function  along with remembrances
At night, we breathed in the wind's soul
Loving each other! Hearts in praying!
The function love at the intersection
Our emotions in happiness
My blood boiling with excitement
Your fire burning up in blue.
The days we got angry with each other
The decreasing function  along with sufferings     
Evening falling  sadness on the grass
Red eyes coloring over the trees.
The season we broke up
The function love separated forever
Shattered in young grass time
Storming across the domain without us. 
***This is translated from a Vietnamese poem written by Ngọc Lê Ninh as follows:
HÀM SỐ TÌNH
Ngọc Lê Ninh

Anh muốn kể em nghe
Chuyện mình hai hàm số
Trên đồ thị dang dở
Thuở tình yêu ban đầu.
Ngày chúng mình quen nhau
Đồng biến hàm nhung nhớ
Đêm theo hồn gió thở
Yêu nhau! Tim nguyện cầu!
Hàm số tình giao nhau 
Nổi miền ta hạnh phúc
Máu sôi anh rạo rực 
Lửa em cháy xanh màu.
Ngày tháng mình giận nhau
Nghịch biến hàm đau khổ
Chiều rơi buồn trên cỏ
Mắt đỏ màu lên cây.
Mùa chúng mình chia tay
Hàm số tình xa mãi 
Tan tác thời cỏ dại 
Bão qua miền không nhau.
……………………….
UNIT 3
STONE REMEMBERING GREEN MOSS

Ngọc Lê Ninh

You are like Edge of the old rocky hill

Love moss  has turned into love mold

Love stream is  dry and gloomy

Stone lies quietly in remembrance

Listening to grass  slightly shivering

Trees are lifeless and shaky in coldness

The youth time has been cracking

Who knows the heart crumpled.

*I am, formerly, as Wave roared 

Overwhelming you,  Edge

Wave's arms grasped tightly

Edge crushed into soft sand

In addition, Wave played with wind

Moaning in mid ocean

Torn down, wind slept quietly

Wave became languid and  slow 

*There was a rumor: " Island is so attractive! "

 In secret, Wave crossed the ocean

Putting arms over the Island's shoulders

Screaming noisily over all the ocean

Making the ocean rough from every direction

Wave swayed and staggered

Wave suppressed Island, Island ruffled

The love vortex swirled in rainstorm

*This evening Wave weakens

Exhaustively, the heart gets worn down

Vision blurred, Wave gets vertiginous

Throwing itself into the rock's chest

No minding of the old rocky love hill

Love moss has turned into the love mold

Love stream is dry and gloomy

Stone lie quietly in the remembrance.

| | |
| --- | --- |
| | ***This is translated from a Vietnamese poem written by Ngọc Lê Ninh as follows: |
Bài 3
SỎI NHỚ XANH RÊU
Ngọc Lê Ninh
Ngọc Lê Ninh

Bờ em đồi đá cũ
Rêu thương phủ mốc tình
Suối yêu khô ủ rũ
Sỏi nhớ nằm lặng thinh
Nghe cỏ khẽ rùng mình
Cây thẩn thờ run rét 
Nứt nẻ một thời xanh 
Nhàu nát lòng ai biết.
*
Xưa Sóng anh gầm thét
Đè ngạt thở Bờ em
Tay Sóng ghì siên siết!
Bờ vụn nát cát mềm
Sóng lại vờn Gió đêm
Giữa trùng khơi rên riết
Tơi tả Gió ngủ êm
Sóng lừ đừ, lê lết.
*
Nghe đồn: "Đảo hay phết!" 
Sóng lẻn vượt Đại dương 
Tay quàng vai Đảo hét
Ầm ĩ cả trùng dương 
Đêm biển động muôn phương 
Sóng ngã nghiêng lảo đảo
Sóng ghìm Đảo cuống cuồng!
Lốc tình xoay mưa bão.
*
Chiều nay Sóng thều thào!
Rã rời tim mệt lả!
Lờ mờ Sóng nôn nao!
Đổ ào lên ngực đá!
Mặc đồi yêu đá cũ
Rêu thương phủ mốc tình
Suối yêu khô ủ rũ
Sỏi nhớ nằm lặng thinh.