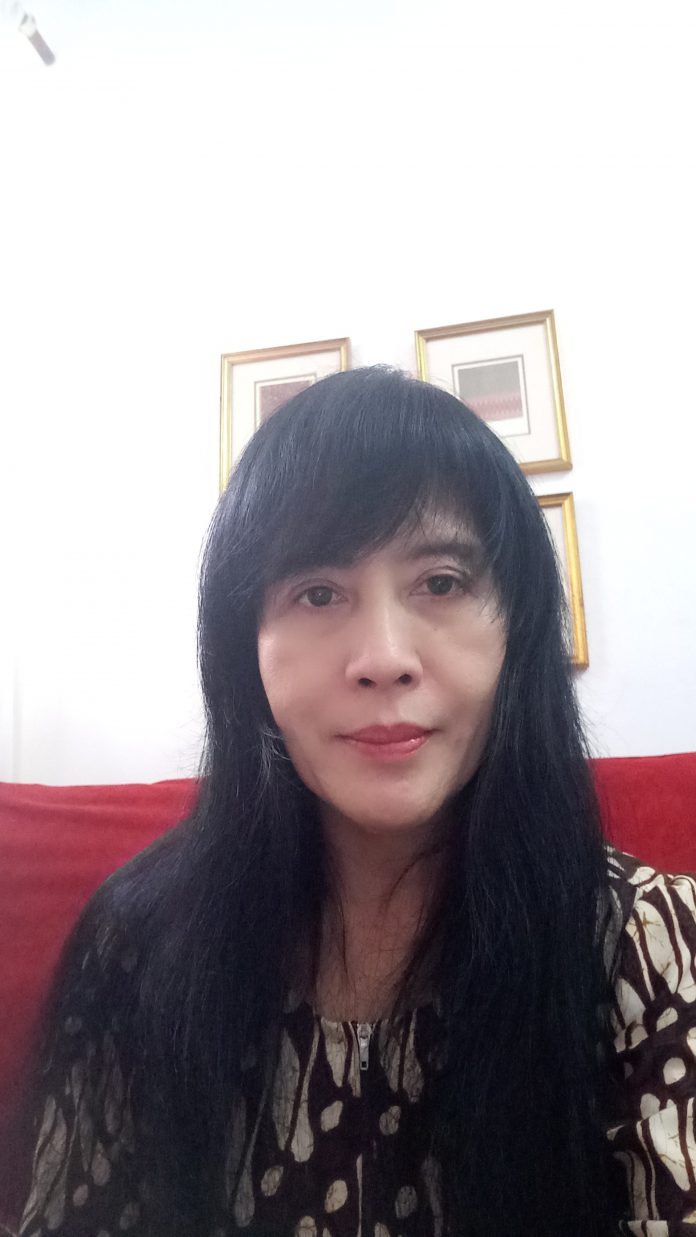 BRIEF BIOGRAPHY 
Ewith Bahar is a poetess, novelist, editor, translator and essayist  from Indonesia, and lives in Jakarta. She had a long time career in a mass-communication field, radio and television industry, as a TV host at Television of Republic of Indonesia (TVRI, a government TV station) for several cultural and musical programs. She has published nine books, in all genres, poetry, short stories, novel and essay. In 2015, she was a producer and publisher for Hungarian poetess' bilingual poetry book, titled POISON (Racun), Kinga Fabo, for Indonesian market.  Ewith Bahar also organized Indonesian poets to publish their works into ten poetry anthologies since 2014. One of her poetry books,  Sonata Borobudur, got a prestigious prize from Indonesian National Library as The Best Five Indonesian Poetry Books 2019.  Ewith Bahar also loves teaching. She was a teacher at a Communication Institution, Interstudi and LEPPKINDO, and a public speaker for communications matters, creative writing and bibliotherapy.  
FEBRUARY EULOGY
Fetched by the dawn,
You and your time depart with early dew
Inherit sorrow and unfinished prose
The leftover fever still sticks on the velour blanket
The aroma of youth age, vaguely pervaded the air
Why too soon? I hear the echo of my own voice
And the amber tears roll down the cheeks
A salty and warm moisture, hidden for weeks
During your isolation
You sleep now with uninterrupted dreams
In the solemnity of funeral I hear your soft voice.
(Ewith Bahar)
MIRACLE
A miraculous open door leads to a place we found easily
And inexplicably
We are amazed but torn between convinced and unconvinced
To comprehend the logical from illogical
We paint a life within a serious dream
Brushing opaque and transparent hues
Along the sleep, for a sublime life
And a mysterious super being
Finalizing it as a masterpiece
It just lies there,
as an ultimate surprise.
(Ewith Bahar – published for PoetMeNotLeave)
WRAITHS
Visited sea at ebony night
Without torch and the phone light's turned off
Spirits' whisper were welcoming my steps
The weep, moan and scream beneath the dark blue waves
Those packed hair-raising cries from years ago
Stabbed the quiet night
They were there, and still are
Within the chest of the sea
Becoming secret and history
Hazy morning
Under the deep magenta sky
I still stand,
my feet sank in the grey sands
the noises faded out
the noisy wraiths hid somewhere
waiting for the blackness
to appear again.
in the daylight my body's quivered.
(Ewith Bahar)