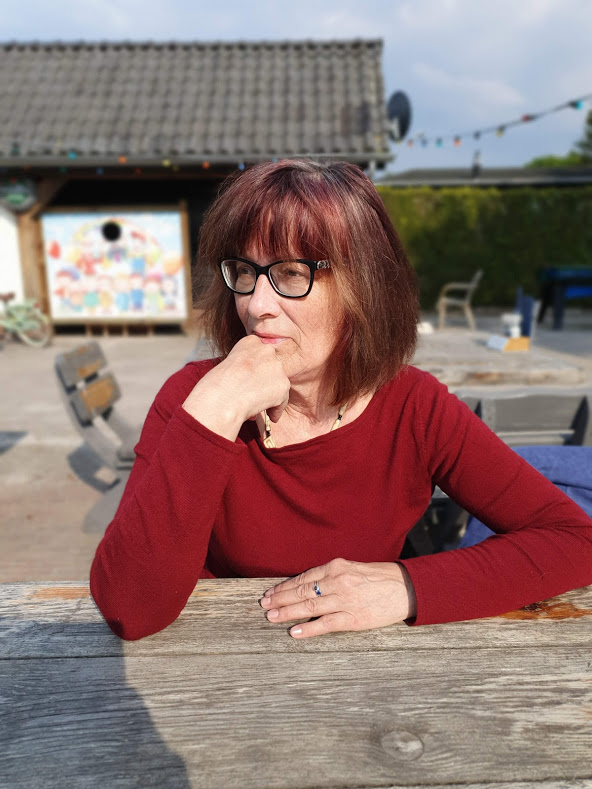 (A horse! a horse! my kingdom for a horse
Richard III, play by Shakespeare)
schuilt de koning in diep gras
eenmaal aan de kant gezet
(A horse! a horse! my kingdom for a horse
Richard III, play by Shakespeare)
the king hides in deep grass
Sometimes I drive again in the middle of the night
into the Highland. Moonlight sweeps over plowed fields
forming a magical field of vision when there is water in them that sloshy
shoots over the edges as I blow my song against the windshield.
About melancholy, longing, the long lines of a horizon, church towers
in the distance, the people I knew who are no longer there.
The stillness of the waters with gentle curves, always a brisk breeze
that makes clouds flee inimitably, without a trace.
Behind the fence of the old house an abandoned garden
still overgrown that in its innocence buried in deep earth layers
all evil and weeds. The cruel words that pour out of mudslides
seeping up like echoes haven't been able to cover it up.
The glass broke from windows, behind works of art
possessed a loving presence. The shine disappeared
gradually over the years. What remains is the memory.
Sometimes I drive deep into the night into the Highland, paradise
where I sought rest and peace, the silence of the starry
covered evening skies and the calls of birds in evening twilight.
Soms rijd ik weer in het midden van de nacht
het Hogeland binnen. Maanlicht strijkt over omgeploegde akkers
die een magisch blikveld vormen als er water in ligt dat klotsend
over de randen schiet als ik mijn lied uitblaas tegen de voorruit.
Over weemoed, verlangen, de lange lijnen van een horizon, kerktorens
in de verte, de mensen die ik kende en er niet meer zijn.
De stilte van de wateren met flauwe bochten, altijd een stevige bries
die wolken onnavolgbaar, spoorloos op de vlucht doet slaan.
Achter de schutting van het oude huis ligt nog overwoekerd
een verlaten tuin die in zijn onschuld al het kwaad en onkruid
begroef in diepe aarde. De wrede woorden die uit modderstromen
naar boven sijpelen als echo's hebben dit niet kunnen toedekken.
Het glas brak van ramen waarachter kunstwerken
een liefdevolle aanwezigheid bezaten. De glans verdween
geleidelijk met de jaren. Wat overbleef is de herinnering.
Som rijd ik diep in de nacht het Hogeland binnen, het paradijs
waar ik rust en vrede zocht, de stilte van de met sterren
bedekte avondluchten en de roep van vogels in de avondschemering.