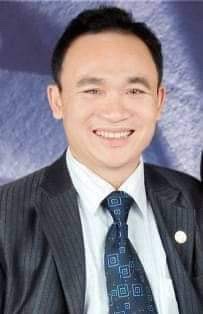 05 NEW POEMS BY NGỌC LÊ NINH TO SEND IWA-BOGDANI IN 2021
Poet: Ngọc Lê Ninh – Vietnamese
Translator: Linh Vu – American
UNIT 1:
SILENT RAINDROPS
In the past, I wished to write poems for a living.
Love sent but no response
Day and night, I held the pen in expectation
The heart dripping silent raindrops
Hearing suddenly, my poems flourishing green  on newspapers
My hope still remains unanswered
Hands counting the string of dream beads
Meditative eyes stretching to the distance
Dreaming to be the richest businessman
I went into business, the capital shortened, the heart sad
The muse turns away spinning on her heels
Startled, I write up to the life to come
*** This is translated from a Vietnamese poem written by Ngoc Le Ninh as follows:
HẠT MƯA THẦM
Xưa mong làm thơ để sống
Gửi tình chẳng thấy hồi âm
Ngày đêm bút cầm mong ngóng
Trái tim rớt hạt mưa thầm.
Chợt nghe thơ giăng xanh báo
Lòng chờ hy vọng biệt tăm
Tay lần đếm hạt mộng ảo
Mắt thiền căng đến xa xăm.
Mơ làm thương gia giàu nhất
Đi buôn cụt vốn lòng sầu
Nàng thơ nguẩy mình đánh gót
Giật mình viết đến mai sau.
—————————————————————————————–
UNIT 2:
SINE-SHAPED RAIN IN EYES
Hey my dear! It's only me who knows!
When we were apart, there was in your eyes a bitter cold rainy sky of memories
The rains suffered wind and storm of a salty and acrid life
The sine-shaped rains whipped my life with sharp cold.
And I know ! My heart  always sang
While I was suffocating beside you
Because your eyes were a clear blue lake
Sinking my boat of love delicately drifting away.
You don't know! And you can't know!
Your summer eyes roasted my heart hot!
Oh! The love eyes evaporated love into thousands of love clouds
Waiting for a day become heavy affectionate drops
Again turn into sine-shaped rains whipping my life with sharp cold
And at that time my heart sings again
That I love you so much! Just that's all!
***This is translated from a Vietnamese poem written by Ngọc Lê Ninh as follows:
Này em hỡi! Chỉ một mình anh biết!
Khi ta xa nhau trong đôi mắt em rét một trời mưa nhớ
Những cơn mưa chịu gió bão cuộc đời mặn chát
Những cơn mưa hình sin quất vào đời anh lạnh rát.
Và anh biết! Trái tim anh luôn ca hát
Khi anh được ngạt thở bên em
Vì đôi mắt em là hồ nước trong xanh
Nhấn chìm thuyền tình anh lạc trôi mong manh.
Em đâu biết! Và em không thể biết!
Mắt hè em rang nóng trái tim anh!
Ôi! Đôi mắt yêu bốc hơi tình hóa ngàn đám mây thương
Chờ một ngày nặng hạt nhớ vấn vương
Lại hóa những cơn mưa hình sin quất vào đời anh lạnh rát
Và khi đó trái tim anh lại hát!
Rằng anh rất yêu em! Thế thôi!
—————————————————————————-
UNIT 3:
THE PEN SOUND IN THE NIGHT
At night, I lie and listen to the pen sound
From a life of various problems
On the field of refining
Words about wandering life
Manuscripts sit in rows
The paper lies still holding its breath
The pen touches dreaminess
The ink pot waits in unfinished writing
Sleeplessly, I lie and listen to rain
Leaking upward piercing through the high sky
Soul dry up with windy eyes
Earth clogged up with tears of love…
Dreams come verdant in newspapers
Scent spreads on the road of future
Leading  soul through the tempests
Dipping pen into ink all night long.
*** This is translated from a Vietnamese poem written by Ngọc Lê Ninh as follows:
TIẾNG BÚT TRONG ĐÊM
Đêm nằm nghe tiếng bút
Từ kiếp người đa mang
Trên cánh đồng trau chuốt
Con chữ đời lang thang
.
Bản thảo ngồi giăng hàng
Giấy nằm im nín thở
Bút chạm tới mơ màng
Nghiên chờ trong dang dở.
Nằm nghe mưa trăn trở
Dột đến thủng trời cao
Cạn hồn đôi mắt gió
Đất nghẽn giọt thương trào…
Giấc mơ xanh trang báo
Hương giăng đường tương lai
Dìu hồn qua giông bão
Chấm bút qua đêm dài./.
———————————————————-
UNIT 4:
ON THE FIELD OF ASPIRATIONS
I don't know whether later we would be still close together
My dear friends! Now suddenly we are going to be apart
Who likes staying around? Who's sad? Who sheds tears?
Hands in hands saying goodbye
The student life, oh well bye bye!
The white papers fragrant with the dreamy soul
A time of passion on the field of aspirations
Books and notebooks secretly dreaming of the pen writing on the first love.
Away from teachers, nostalgia tinged in many colors
So thankful for parents raising children growing up
With youthful verdure in the ripe succulent fruit season
Bring fragrance and sweetness to life, my friends!
And afterwards, we are apart from one another
Oh! I do miss lively sunshine falling on the school yard
Familiar places where many of us sitting and dreaming
The sky arch tilted to the eyes of remembrance for a time.
It's over, no more the sound of drums and songs, my friends
Lots of memories deeply sleeping in the mind
Oh, how I miss the first days of skipping class
More written memory lines stayed in tomorrow days
There are many obstacles on the way of life
Bring youth to build a life with more flowers blooming
With new book pages the timeline opening again
Don't think of anything more, my friends!
Fly, fly, and fly to all over the four directions
Building a country  strong and rich beside the large ocean
A country renowned with the green field of aspirations
Our hearts are blazing  with the school age forever.
***This is translated from a Vietnamese poem written by Ngọc Lê Ninh  as follows:
TRÊN CÁNH ĐỒNG KHÁT VỌNG
Chẳng biết ngày mai có được gần nhau nữa
Bạn mến thương ơi! Nay bỗng chia tay
Ai lưu luyến? Ai buồn? Ai lệ ứa?
Xa nhau rồi tay nắm lấy chặt tay.
Đời sinh viên thôi chào nhé từ đây
Trang giấy trắng thơm tâm hồn mơ mộng
Một thời say mê trên cánh đồng khát vọng
Sách vở thầm mơ cây bút chấm tình đầu.
Xa Cô, Thầy nỗi nhớ nhuốm muôn màu
Ơn cha mẹ vun trồng con khôn lớn
Xanh biêng biếc tuổi vào mùa mọng chín
Thơm ngát cho đời ngọt lịm bạn ơi!
Rồi mai đây ta mỗi đứa một nơi
Ôi nhớ nắng rơi sân trường xao động
Chỗ ngồi thân quen bao đứa ngồi ước mộng
Một vòm trời nghiêng theo mắt nhớ một thời.
Xa xa rồi tiếng trống hát bạn ơi!
Bao kỷ niệm ngủ vùi trong ký ức
Ôi sao nhớ những ngày đầu bỏ lớp
Lưu bút thêm dòng đọng lại ngày mai.
Trên đường đời còn lắm những chông gai
Mang sức trẻ xây đời thêm hoa nở
Trang sách mới dòng thời gian lại mở
Đừng vấn vương chi bạn của tôi ơi!
Bay bay đi bay khắp bốn phương trời
Xây đất nước mạnh giàu bên biển rộng
Rạng rỡ non sông xanh cánh đồng khát vọng
Rạo rực lòng ta còn mãi tuổi học đường./.
—————————————————–
UINIT 5:
THE FRUIT POEM
The Autumn garden whispers poems
Miss Custard Apple raises her eyes looking life sluttily
Darling Persimmon's cheeks blush with flutter
Apples, Pears, Plums, Guavas stay fidgety
Miss Golden Apple looks sad with unlovely pale yellow
In rags, Jackfruit's fate is arduous and out of season
Grapefruit round as the monk's head brought to the pagoda
Blaming the boring life, Mr. Coconut laments
Falling face down, Honeydew Melons implore
Rambutans perk up their jaws and stroke their beards
MS Durian weeps for the first love
Mr. Mango hanging commemoratives turns yellow of Autumn
Papa Dragon Fruit's face turns red because of anger
Miss Sapodilla, for a long time, has been fastidious in choosing a lover, who follows her?
The Lychees, The Longans pretend poor
Java Apple's house is rickety and empty all day
Powerfully, Buddha's Hand fruit points the fingers up
Tangerines, Oranges are brazen not fearing anybody
In peace of mind, Husbands Papaya sleep for a long time
With sharp tongue, Limes and Starfruits give themselves on air reproaching their husbands
With animosity, Pineapple's eyes stare at the life
The Grape Cluster  is very wealthy but indifferent to everybody
Pomegranate grins and belly laughs
The Banana couple  produce ten hands of bananas
The Autumn garden brimmed up with the full moon
A tray of various fruits displayed in the telling of little stories of life.
(1987)
***This is translated from a Vietnamese poem written by Ngọc Lê Ninh as follows:
QUẢ THƠ
Vườn thu thủ thỉ tiếng thơ
Ả Na nghếch mắt lẳng lơ nhìn đời
Hồng em má dậy bồi hồi
Táo, Lê, Mận, Ổi đứng ngồi chẳng yên
Thị buồn vàng nhạt cái duyên
Xác xơ phận Mít truân chuyên trái mùa
Đầu sư Bòng, Bưởi lên chùa
Trách đời nhạt nhẽo ông Dừa thở than
Úp mặt vào đất Dưa van
Lũ Chôm Chôm vểnh cong hàm vuốt râu
Sầu Riêng khóc với duyên đầu
Xoài treo kỷ niệm ngả màu vàng thu
Thanh Long mặt giận đỏ lừ!
Hồng Xiêm kén mãi bây chừ ai theo?
Vải, Nhãn giả bộ mình nghèo
Nhà Doi ọp ẹp vắng teo suốt ngày
Uy quyền Phật Thủ chỉ tay
Quýt, Cam mặt nạc, đóm dày sợ ai
An thân Đu Đủ ngủ dài
Chua ngoa Chanh, Khế ra oai mắng chồng
Hận đời Dứa láo mắt trừng
Bọn Nho giàu sụ dửng dưng với người
Nhe răng Lựu ôm bụng cười
Vợ chồng nhà Chuối đẻ mười nải con
Vườn thu ăm ắp trăng tròn
Bầy mâm quả kể cỏn con chuyện đời./.
——————————————————————————————–