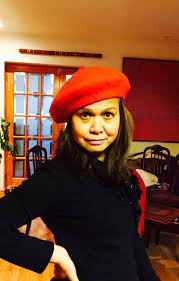 Brief Bio of Amy A. Barry :
Amy  A Barry writes poems and short stories. She is published globally including Southword, The Blue Nib, Turkcem Dergisi Journal(Kosovo), The Opiate, The Poets'Republic,
Sunday Tribune, Paris Lit Up. Her poems have been translated into many languages; Italian, Turkish, Spanish, Azerbaijani, Romanian, and Persian. Featured on Radio and TV in Ireland, Italy, Canada, Australia and UK. Her poems were shortlisted, longlisted, and Highly Commended and won local and international awards. Nominated for the Pushcart 2021 Poetry Prize. Amy is an Honorary member of the Neruda Association, Italy, and founder of Global Writers. Amy loves to travel, trips to Mumbai, Paris, Beijing, Falkenberg, Bali have all infused her work.  She curated a 42 mins Poetry film with thirteen global poets for Poetry Day Ireland 2021. Amy regularly organises Poetry events in her hometown – Athlone where she promotes poets and musicians. These events featured local and international poets.
She has performed her work in Ireland & internationally.
There's no way to say Goodbye
We promised ourselves a trip-
On the road like Kerouac;
To see everything-
close our eyes
and dream with the peeling waves.
Cigarette dangling from his lips,
he strummed the Electric gypsy.
Blazing-eyed,
he sang of darkness,
revenge, life, death.
His mind scribbled notes.
My eyes transfixed,
he was a butterfly on a bush-
A charming bastard,
but complex,
confused.
Like the sharp, strong afternoon sun-
Joy became pain sliding deeper,
and deeper into my skin.
My happiness slit
like recurring nightmares.
The past sealed like a tomb.
@amybarry