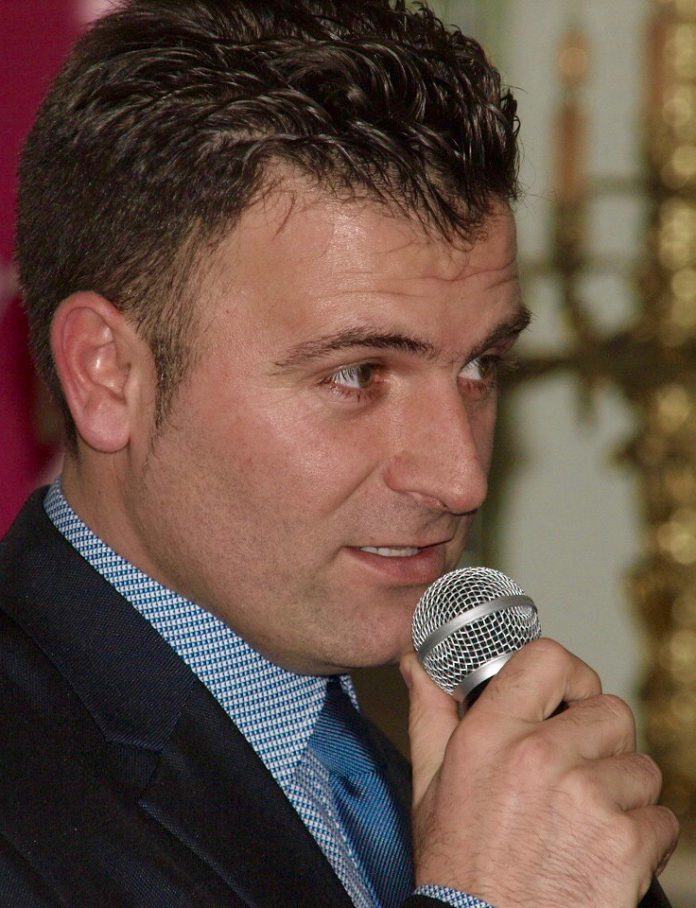 I relax in forecasts – Mi rilasso facendo previsioni
nota a cura di Claudia Piccinno
Una scrittura profetica quella del professor Kelmedi, che concilia esperienza e  preveggenza.
La vida vive en mí  di Jeton Kelmedi è un libro trilingue :albanese, inglese, spagnolo, completato a giugno 2021 e che vanta la traduzione e la prefazione di Julio Pavanetti Gutierrez, fondatore con Annabel Villar del Liceo poetico di Benidorm.
Nato nella città di Peja, Kosovo, classe 1978,  Jeton Kelmedi, è professore all'AAB University College. È un membro attivo dell'Accademia europea delle scienze e delle arti a Salisburgo, in Austria.Vive in Belgio, ma è conosciuto sin dalla sua prima pubblicazione in Kosovo dal 1999. Le sue poesie sono state tradotte in più di trentasette lingue e pubblicate in diverse antologie letterarie internazionali.
Questo volume in particolare racchiude i temi fondamentali della sua poetica : l'esilio, la nostalgia per la terra d'origine, l'amore per la poesia e la letteratura.
Così si rivolge alla Poesia : This night/where the whole World is sleeping/you stay awake poetry/ you pulled out the ticket/for tomorrow/and go now/go beyond yourself/that loneliness is sleeping here. ( Questa notte/ in cui dorme il mondo intero/stai sveglia poesia hai tirato fuori il biglietto/per domani/ e vai adesso/vai oltre te stessa/mentre la solitudine sta dormendo qui)
La Musa ispiratrice del Poeta è la vita stessa con le sue gioie e i suoi affanni, ci sono componimenti sulla guerra in Kosovo e sulla più recente e purtroppo attuale, fase pandemica. Molti i riferimenti al senso della vita, alla ricerca di senso, all'indagine introspettiva. Ci sono distici fortemente evocativi, in cui la potenza del pensiero si mescola a una sottaciuta spiritualità. Si legga ad esempio :The truth faded the dreams, until the meaning lost its meaning,(La verità ha sbiadito i sogni, finché_/il significato ha perso il suo significato),
Padroneggia il nostro la sinestesia: I hide from myself/so my hearing doesn't see me/so my sight doesn't hear me/ as it happens with other things.
(mi nascondo da me stesso/quindi il mio udito non mi vede/ così la mia vista non mi sente come succede con altre cose).
Poesia e introspezione s'intrecciano nei componimenti di questo libro: It's better to know languages unspoken,/ timeless like what we talk up the hill of meaningless meanings. (È meglio conoscere/lingue mai parlate, senza tempo/come quelle di cui parliamo/ su per la collina di/ significati privi di significato).
E ancora :and brought myself here/ now I've got all the time/to deal with myself. (e mi sono portato qui/ ora ho tutto il tempo per occuparmi di me)
Eppure malgrado l'arrovellamento e il moto dei pensieri, il poeta sa che la vita segue un percorso predefinito, e Jeton riconosce la presenza del fato: to understand that life moves/just as the wind blows(occorre capire che la vita si muove/come soffia il vento)
Con un certo fatalismo affronta la vita e attende l'amore, le cui origini sono note solamente a Dio.
Si legga I'm waiting for you
beyond my possibilities
in the no where's somewhere

Vi sto aspettando
 oltre le mie possibilità
nel no che è da qualche parte 
I meet you
in the pages of closed books
and the titles of forgotten poems,
I seek you
through the many thoughts, when
the absence comes forth,
and thus you
you overcame all my waitings
ti incontro
nelle pagine dei libri chiusi
nei titoli delle poesie dimenticate,
ti cerco attraverso i tanti pensieri,
quando l'assenza viene fuori,
e quindi
hai superato tutte le mie attese.
Tuttavia parte fondamentale della sua vita è l'attesa, come si evince da questa strofa:
We walk together
through unknown streets, that
only I see in my dreams
that's how I wait for you
even when someone else waits for you
it is still me doing the waiting. 
Camminiamo insieme
 attraverso strade sconosciute,
che solo io vedo nei miei sogn
ecco come ti aspetto
anche quando qualcun altro ti aspetta
sono ancora io a stare in attesa. 
Ricorrenti le metafore del viaggio e della patria che sono accomunate dalla necessità di osare e sfoderare il coraggio, caute e prudenti le allusioni alla situazione politica, eppure egli usa senza veli, parole intrise di verità.
you need courage to believe/ I brought myself / to the occupied homeland/ to the end of my suffering.
( ci vuole coraggio per credere/ che mi sono portato/ alla patria occupata
fino alla fine della mia sofferenza)
Lo addolora anche l'ingratitudine, ma le sue parole sono semplice constatazione
The homeland has a bad habit,/ usually forgets the leftovers.
La patria ha una cattiva abitudine,di solito dimentica gli avanzi.
Malgrado il fatalismo insito in coloro che hanno vissuto la diaspora,il poeta sottolinea che va lodato il sè di ciascuno, quasi a ripetere con Sallustio ed Appio Claudio Cieco faber est suae quisque fortunae, per affermare che nella vita dell'uomo conta più la volontà e l'azione che l'intervento della sorte. Lo si evince da un altro distico potente: The game goes on,/ be praised the self of each, (Il gioco va avanti, sia lodato il sé di ciascuno). E ancora it takes courage to dare/to believe in love( occorre coraggio per osare, per credere nell'amore)
Frequenti versi c'inducono a riflettere sul dilemma tra essere e apparire, sulla frenesia della vita che si conduceva prima del dilagare del Covid 19, serpeggia un monito a restare umani, a riappropriarsi dei sentimenti migliori e a rispettare il Pianeta che custodisce i nostri corpi come noi dovremmo custodire la nostra anima.