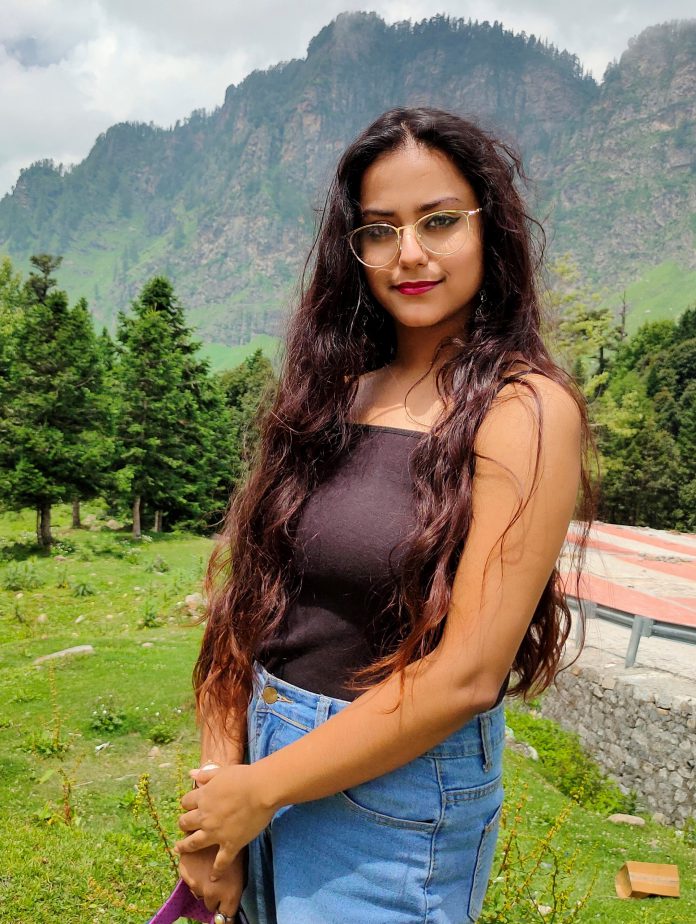 Author Suchismita Ghoshal hails from West Bengal, India. At the very early age of 24, she has shaped her life in a way where she cuddles with literature and devotes herself into finding peace through love, compassion, learning & community service. With an academic career in science till graduation, she is currently pursuing her masters in business administration ( MBA) from the renowned GD Goenka University in Gurgaon, Haryana. She has also completed her  degree ofAdvanced Diploma in Computer Application from Jawaharlal Nehru National Youth Center, Malda branch and accomplished a short Diploma course on Media Science and Mass Communication from SMPAi Institute, Kolkata.  Besides that, she is a professional writer, published author, internationally acclaimed poet, literary critic, translator(English & Bengali), active communicator, literary influencer, content writing member for WEST BENGAL UNITED NATIONS YOUTH ASSOCIATION, INTERNATIONAL ORGANISATION OF UNITED NATIONS VOLUNTEERS & HELPING HAND INTERNATIONAL ORGANISATION, change-activist & a nature lover. With more than 620 prestigious co-authorship in various renowned national & international anthologies, renowned literary magazines, websites, webzines and eminent literary journals, she fosters her literary career in a more prominent way. In recent days, to nurture her writing skills and spoken abilities, she has been performing in various literary platforms to voice her thoughts in front of a wide audience. Some renowned platforms she has performed are THE FIRST STEP, LAZZAT-E-ISHQ, LIKHON DIL SE, POEMS AND KAHANIYAN ( Considered to be one of the most consistent and popular platforms in New Delhi), UNMUKT OFFICIAL, THE ART LAB Platform etc in India and PURE INK POETRY SLAM, USA, CHEYNNE WRITERS COMMUNITY, USA, VIRTUAL POETRY SHARING BY READING PUBLIC LIBRARY, PATHWAY ARTS OPEN FLOOR READINGS (USA), THE REFORM INN GROUP ( UK, IRELAND & SCOTLAND), STICK FIGURE POETRY QUARTERLY, LET'S UN-MESH LIFE, JUNEETH POETRY SLAM BY BETHEL AME CHURCH, (MONTCLAIR), MINNEAPOLIS POETRY SANCTUARY'S OPEN MIC, THE ARTIST PLACE etc and many more. She has also authored 3 poetry books by the name of "Fields of Sonnet ", " Poetries in Quarantine " & "Emotions & Tantrums".They are available on the Amazon website. She contributes to more than 1100 globally reputed literary groups and famous artistic, aesthetic and creative communities. Her recital videos and audios of her own written poems have been widely broadcasted through televisions, radio stations, literary festivals and book fairs worldwide.
Her poems have been translated into Arabic, Italian, Spanish, Ukrainian, Serbian, Bosnian, Romanian, Hungarian & Chinese till now. She has recently been appointed as an international diplomat and change activist for the organization, World Peace & Climate Change Diplomatic Organization, Nigeria.
She has been rewarded with some honorary positions in some prestigious global literary communities. She is the coordinator of India for "Together For Letters" (Argentina), moderator for "Poetry and Literature World Vision" and also the Representative of India in the International Art & Literary Revolutionary Movement "IMMAGINE & POESIA" , ITALY. The Art, Culture and Liberty movement of El Salvador, "Festival of El Salvador, Festival de Teatro : Somos La Resistencia" has made her a prominent part of their revolution, "We are resistance", International representative of India for Latino-american Youth Program Organization, Argentina. She has been selected as the Indian Co-ordinator for "Together For Letters" group, Argentina. A lot of certificates and newspaper features have accoladed her with a distinctive position.
She has an enormous number of accolades and highly elegant achievements entangled with her name for her indomitable willpower and excellence in hardwork. Few of them are enlisted below :
1) REX KARMAVEER CHAKRA AWARD( instituted by iCONGO and powered by UNITED NATIONS),
2)AUTHOR PAGES BEST WOMAN WRITER AWARD 2020,
3)INDIAN YOUTH GENIUS AWARD 2020,
4) INDIAN YOUTH STAR AWARDS 2020,
5) AAGHAAZ 2K20 AWARD,
6)THE SPIRIT MANIA INFLUENTIAL WOMEN AWARD 2020,
7)TOP 50 POPULAR AUTHOR AWARDS 2020 By THE SPIRIT MANIA
8) NE8X LITERARY AWARD 2020,
9) INTERNATIONAL GOLDEN AWARD by Deep Dan Foundation 2020,
10) INDIA STAR PERSONALITY AWARD 2020 by India Star Book of Records
11) ASIA PRIDE AWARDS 2021 etc.
12) One of the Winners of the III International Literary Festival "Terekhovsky Readings – 2021" for the Republic of Crimea, Russia.
13) Excellent Young Poet Prize in the Chinese Spring Festival of Philippine Venue, 2021 by the Ministry of Birland State.
Water Resilience
The universe is in the flow,
Free cascading through everyone's life
Watching the bluish love of oceans, rivers, pools
And most importantly adoring the enigma of water.
We, as, humans are yet to learn how to flow,
How to feel the intensity, fluidity of situations
And carry on with the tide of growth!
As timeless as it's even been, as flexible as it is
And as powerful as it possesses in this entire world and beyond,
Water synchronises with every possible thing we want to instill in our memories.
Interrogate yourself if you've had enough resilience
Just like the water does
And if you're way backwards, meaningful approaches are yet to come
To make you more patient, calm and emotionally resilient
And once you achieve what actually you're needed to be
Your journey smoothly goes with the indelible watermarks of God's blessings.
Complexity doesn't take place where aquatic fluorescence occur more often
And mind conjugates with the frequency of serene to wash away difficulties.
~© storytellersuchismita
Suppressed Peace
Now that all has been shattered,
drifted towards a new chasm of nothingness,
my night is immensely dark
and duality remains in between
the confused sheathes of its long duration.
I wasn't wrong when I fought with my solitude
yet never let myself drown with the sinful commitments.
People say I vomit sadness often,
that the fade, scattered liquid stinks of truth only;
I wonder if victory without the shrinkage of my face and anemic limbs
could ever be possible for the world to mercy and send compassion!
– storytellersuchismita
PROMISES TIED IN STRING
Promises tied in strings
Won't go wasted in vain.
The love you sowed
Will never be withered
Under the gloomy rain.
You've crossed many thorns,
Many hurdles and many storms
Did you lose your determination?
Heaven seems to be a dreamy place
While you wander for the reassurance
Of all the efforts you've showered
To your dreams, patience and dedication.
You need firm hands in the cold winter
To warm you up and to lit your wishes up.
You need brave heart to embrace yours,
You need coastline and sands,
You need sunlight and waves
You need all the things that makes you
Feel alive in this crazy world.
You breathe and again you run,
You know running is comprehensive
To the breathless state of your body.
You need coziness to make you freshened.
Loving and spreading love,
The only ways to keep your heartbeats strong.
To wash the coldness away, your reverence
Proves to be stronger than anything else.
Escalation of potentiality never takes your
Promises escalate from its roots.
You shower your promises water
And one day they walk to you in reality
Being the 'banyans' of adoration and unity.