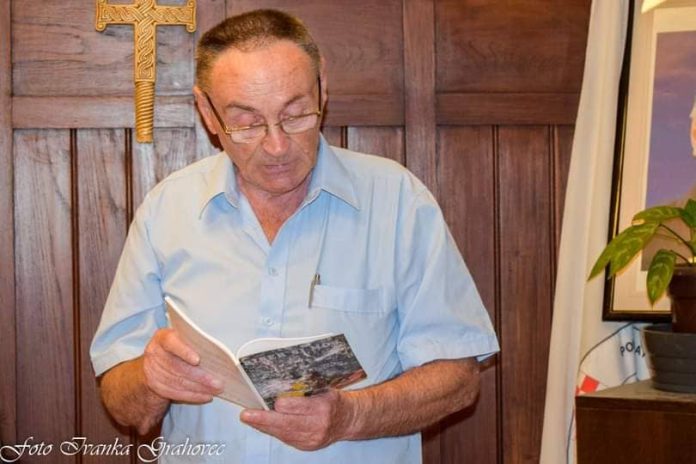 IVAN GRAHOVEC, Croatia 
Born in 1946 and started writing poetry at the end of 2017. He had  written 5 book of poetry in dialect and official language of Croatia. Colorful Haiku his sixth book published in 2021. (300 in the official language and 100 in  the Međimurje dialect). In 2019-2021, 64 poems of his were included in 27 collections, and he participated in various recitals and promotions. His songs were also published in the satirical newspaper "PIKAČ" from Prelog and "ZLATNA SMOLIGA" from Mali Mihaljevac and in the magazine "KVAKA".Three songs were set to music: "Marica" ​​which was performed at the festival "Med Murom i Drovom" in Prelog and "Klet" and "Ljubav med nami" which were performed at the festival "Po dragome kraju" in Adamovac. Ivan Grahovec has  three websites where he administered and poets from the closer region publish songs, his own blog and  website, which (like the other two) is intended for all affirmed and non-affirmed poets. https://vasapoezijasatiraiproza.com.hr/poezija/index.php/hr/ https://blog.dnevnik.hr/vasapoezija.
AT NIGHT
I will climb the highest mountain,
at night,
in deep darkness.
I will feel the cold silence,
on a frozen stone.
I will stand with respect,
looking at the starry sky.
I'll reach out.
Maybe I'll get lucky,
to touch you
among the stars.
DUSK
Late summer dusk
at the end of a hot day
the sun behind the mountains
disappears on the horizon.
Wake up to a warm night
with a quiet song of
sea waves
that dance playfully
on a sandy beach.
I KNOW
I won't bother you,
we haven't seen each other in a long time.
I know our love is dead
and I know it's not my fault.
The last words were yours,
I was just listening to you,
I didn't say anything.
I won't see your look again,
feel your lips.
There will be no more hugs,
love words,
unbridled thoughts.
I became aware
that it's all over,
without false pathos,
a sad smile and tears.
LOVE
Love is an endless
Intimate song
Of playful souls
Floating in the clouds.
She is not dying
But lives forever
Deep in the soul
Of every beating heart.
IT IS NOT
It is not easy to live
In  the time of storms.
Feel the invisible chains
Bans and confiscations,
What little remaining strength
In the desire for better,
But uncertain future.
Trapped in our own destiny,
Constrained by recommendations
which no one understands even written.
We are wounded birds
Broken wings,
Grounded,
In  the chains of hopelessness…