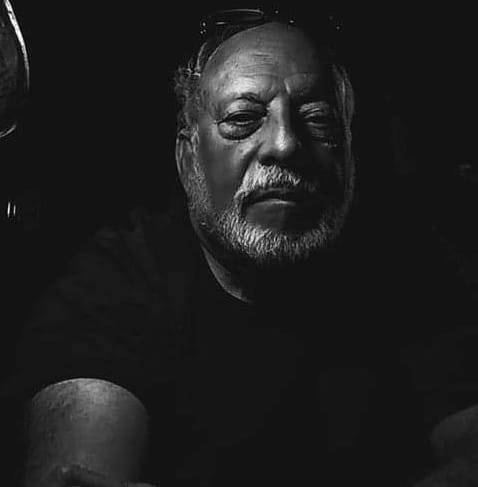 George Wallace
George Wallace is writer in residence at the Walt Whitman Birthplace, author of 39 chapbooks of poetry, and professor of English at Pace University in New York City. He is editor of NYC FROM THE INSIDE: AN ANTHOLOGY OF NEW YORK POETS (2022), and curator of POETS BUILDING BRIDGES, an online international gathering of poets. George travels internationally to share his work. Shortlisted for Poet of the Year for the 2022 Boao Festival in Hainan China (announcement of winner TBD in Sept 2022), recent international recognition includes the Naim Frasheri Prize (Tetova, North Macedonia); Corona d'Oro (Korca, Albania); Orpheus Prize (Plovdiv, Bulgaria); Nelson Mandela Award (Morocco); Alexander Gold Medal (UNESCO-Greece); and Centro Studii Archivio d'Occidente Award (Lavis, Italy).
THE POET
the poet is an
abandoned room
in a terrible city,
he lives with
strangers,
he lives with
the dead, he's
haunted by
memory,
overhead
a naked
light bulb
swings,
inside his head
jaguars prowl,
jaguars and jackals,
the poet spends
all day filling
his head up like a
faucet leaking into
a clogged sink, he's
a man on a mission, he's
a man with a small
gambling problem,
he is filling out a
lottery ticket with
all the wrong numbers,
what a laugh! the poet
is a detective without a badge,
he is present at the scene of the crime,
everyone ignores him, who is this
guy anyhow, after the cops leave
he tries on all the clothes
in the closet, nothing fits him;
he lines his pocket with hard candies
and skin creme; he is a rag picker,
he is all of the above, human history
is knotted up in his fist like a noose,
he is fair game for lovers and
merchants of dreams, he speaks
all languages, all the uttered phrases
of lost nations are at play
in his head, his brain
is fire, his brain is smeared
concrete, his brain is
hieroglyphics, he lives in
the tomb of the forgotten kings,
his tongue is cave paintings,
his will was written
by a frightened child,
and the city loathes him,
he has no spending money
and nothing to offer
except words, words, when
the landlord comes to the door
he pretends he is dead.

I AM FROM
I am from the dead
not of them
i am from the alphabet
not the written word
the
filthy rank of
history
is not my destination
I am from the future
custom is the fertilizer
out of which I flower
not the blueprint
for my song
I am
the raw ingredient
my own seed
original
in my origination
screw you
and your pre-
determinations
I am from
the trajectory I choose
a man not
a memory
modest to my means
no slave to the past I will
propagate and bloom
in the four directions
no wind
no tide
no hell of
bible or clan
shall be my rudder
nor select
the field in which
i make my stand
the past is dead!
Long Live
the lilies of the field!
read all
about it
in my poem.
ROCK N ROLL
I am in my tender years
I have calluses on my fingers
I have a twelve-string guitar
and live in your town, I am
six miles of pickup wire
and a real cool amp, I am
blind in the stagelight to
everything but the song,
barely 17 in the crucible
of time literal as fuck
slick as liquid nylon
what I know of love
I can hold in the
palm of my hand
what i know of desire
can be stuffed into a
pair of kick ass jeans;
set off like dynamite
I am vagrant I am
plugged in I am
perpetual, a rotating
spinmachine an
American dream;
boys envy me girls
ride home from
the dance in the back
of daddy's car
imagining
I am holding hands
with them; I am
too much smoke,
riffs like thunder,
the drummer's
uptight the lead
singer's high on coke,
this gig's going no
where so what there's
always tomorrow night
and another dive bar to get
lost in; I am playing
a lovesong too
hard for love, I am
too bold too idealistic
too punk my guitar won't go
where my heart leads me
I am too restless too
contrary but I am
playing for you,
only you, I am your
very young lover
I will live forever
on the precipice
of this game,
whacking
hell out of
every lie ever told
in this sorry little town.
ROCK THE MANGER
if i told you once
i told you a thousand
times, brother!
tractors maul
the hillside,
warhorses
paw the earth;
men with more
sense in their peckers
than in their hearts
rule the air waves
they have bullets for brains
they will shackle
your bowels
carpetbomb
your children
they will lock up
what they fear losing
they will hogtie
the poor with lies
disturb the gentle
thrashing of nilotic waters
in the yellow month of june
and call themselves just;
if i told you once
i told you a thousand
times, sister! men are dishonest
their laws are lies and seldom to be trusted;
their tongues are crocodiles
their hands are guillotines
their bootsoles
spiked with malice;
they will rob you
of your ovaries
they will rob you
of your mind
they will place you
under house arrest
and walk away smiling;
treasonous to nations,
gods, fisheries,
themselves;
they will lay waste
to oceans
they will haul
thru your privacy
like armored vehicles
thru peaceful cities;
men are not worth it
i have told you this
a thousand times,
ten thousand probably
— not useful for
peace or for love —
made for dominion;
if you want to
stop them
silence their
war machine
strip judges
priests
and politicians
of their power;
restore to the forest
its green natural
production
and glow
scuttle the ship
demote the barge
rock the manger.