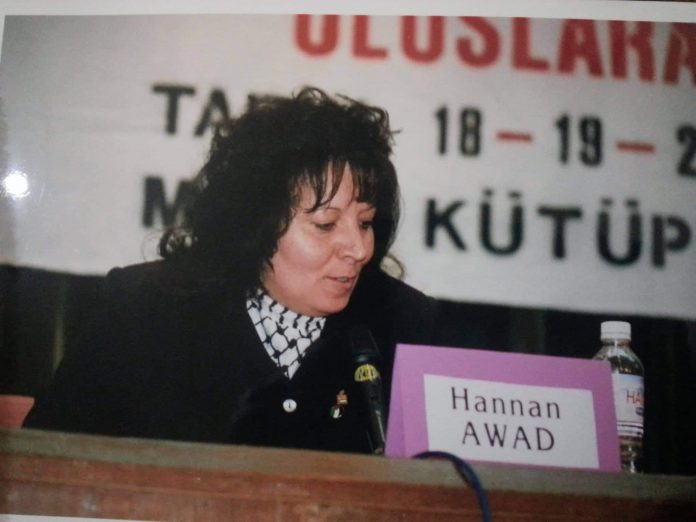 HANAN AWWAD
Dr. Hanan Awwad
President of Palestinian Pen and was Cultural Advisor toHis Excellency Yasser Arafat. Also Cultural Advisor, to the The Governorate of Jerusalem and Member of Palestine National Council
——————————————————————————————–
Scholar, writer and poet Hanan Awwad is a Palestinian woman with an extensive firsthand knowledge of the strife-torn history of her people. Dr. Awwad was born in Jerusalem-Palestine; she comes from a notable family of scholars, whose legacy to her has been a strong attachment to her Palestinian homeland, together with an abiding determination to work towards removing the destabilizing features in present-day Arab society. She is a passionate advocate in universal freedoms and Human Rights.
As a renowned writer, Dr. Awwad has published several works in poetry, prose, politics and literature. Among her important works: (I write with my blood,1983),(The Bethrothed returns.1988),(I have chosen danger,1988), (Arab Causes in the Fiction of Ghada al-Samman, published also in Arabic), (From behind the Barbed Wire,1993) ,(In the beginning you Palestine), (Episodes of the Seige,Ramallah,2004). Her works were published in many languages,including,French,English,Portugese,Spanish,Italian,Finish,Japanese and other languages.
Awards and Honours;
Dr. Awwad has often represented Palestine at high-level meetings including Presidents, Ministers and other important institutional representatives. Dr.Awwad was given many national, Arabic and International awards, and received honour certificates and P.H.D of honours from several international universities. She gained a B.A with honours in Arabic language and literature, graduated with a Diploma in literary criticism from al-Azhar university in Cairo, with an M.A in Arabic literature and Humanities from the university of Jerusalem, an M.A from the Institute of Islamic Studies – McGill university-Canada, Post graduate studies in Oxford University, Mcgill university where she obtained her doctorate in literature.
TRAVEL OF DREAMS
I passed you for a moment of silence
All the borders of the miracle on the road to you
Until you became to me an olive tree,a home
1
I passed you for a moment at the end of the errand
When the world was waving with us,
And a boat sank in grief forgotten,
When you were a wonderful chant for a while
2
I beg your pardon if I have prayed in your name
Or for your sake,I waited here.
And my Arm destroyed the idol.
3
And agai I beg your pardon if I have called out
From behind the stands of barbed wire.
From behind the tremor of longing.
I took leave of you,
I did not forsake you,
I came to you wearing a shroud.
4
Until my blood
Goes to sleep in the breast of torment
I rush to you with swift steps,
I myself lament nobody except you.
5
When shall I wake up with the palms of your hands
Wiping my forhead
Time of sorrow?
When…?
6
Shall I smell the dew fragrance of the soil
Shall I say farwell to the splinters of my blood
At the end of the journey?
No,no we shall never end.
7
It is because I stem fro you
That I take the short cut to you.
I proceed in confidence
Words do not come out without echoing
8
It is because I stem from you
That I came to you.
I proceed in confidence
Words do not come out without echoing.
9
It is because I stem from you
That I come to you
Engraving our enstrangement on the walls of fear.
I proceed and see no one.
10
When will rivers and secrets unite?
When will trees move?
When will the tempest grow?
When will the rivers overflow?
When will the projectiles spread out their fins
And the guns theirs,in the fire's flame?
11
I have borne you in my blood for ages
Of words.
In your name I engrave my strides
In your name I end or begin in miracles
I swear that I have age
Which,if prolonged,
Will give me my greatest joy.