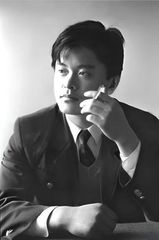 杨吉军[中国]
秘密全在沟渠里(外三首)
天色比往常要暗。那是因为要下雨
而还没有开始
这里的苇子比雨更密集
没有强硬的阻拦,走进去也并不容易
更没有一块空地
可以安置你
这里不同于矮草的旷野
你没有什么未来,也没有过去
你可以折断一根芦苇
不可能夺取一块苇子地
苇子地被苇子占满了。野兔无法穿行
阳光也投射不进去
别看阳光投射不进去,这里没有秘密
秘密需要较大的内存
如果有,那都在沟渠
那里常年存着一些水
那里忽明忽暗,一只灰色的大鸟守着
似乎守着一艘隐蔽的潜水艇
大鸟
它不在大海上飞
也不沿着黄河而上
黄河口的荒地有众多沟渠
它在浅水里
已记不清在哪里破壳
是不是父母把它送来这里
没有伙伴,也没有扈从
这里适合流落,也适合隐居
它只吃些小鱼小虾
但它在不停地长大
大的声音它不在乎
只对小的保持警惕
一帮臣子有了叛逆之心
只差一位可以名正言顺拥立的新君
它是一个疑问
也解答了一切
它不躲藏
也很难找得到它
一棵荒草
都是一大片一大片的
大片大片地用决绝的盐碱地连结,连向苍茫
至少也是一丛,自己围成圈
一棵难以存活
你看那些露出地皮的地方,一旦露出
就一根都没有
一棵荒草就在别的荒草里
别的荒草摇曳它就摇曳
别的荒草停止它就停止
那天想的深了
大风吹的时候。别的荒草已经匍匐
它还在直立
然后赶快摇
多摇了两下才跟上节奏
遇上一个人
究竟是不是这个人
前两天你发现了陌生的脚印
当你正穿过荒地,走向海边
他向你而来
这里人迹罕至
还能冲着谁
要说是进入了你的领地
他似乎走得比你还要远,还要深
但你已经习惯了孤独。孤独像领地一样
不能分享
而这里根本没有路,即使有
也不可能两个人共同走
看来这是相逢
而非偶遇
就这样,谁也没有发出询问
谁也没有直视谁
仅仅隔着一条沟渠,扛了一下肩膀
然后谁也没有回头
Yang Jijun [China]
The Secrets Are All in the Ditches (and other three poems)
The sky is darker than usual, a sign of the rain
That has yet to start
The reeds here are denser than the rain
Without any other barrier, it is still hard to step into them
Not empty space
To place you in
Here it differs from the wilderness overgrown with short weeds
Here is no future and no past for you
You can snap a reed
But you cannot seize a reed field
The field is occupied by reed. No hare can go through
Nor can the sunlight penetrate
In spite of that, here is no secret
Secrets require bigger memory
If there is any secret, it must be in the ditches
Where there is water stored throughout a year
There light and darkness alternate, a big gray bird is on guard
As if guarding a submarine hidden there
A Big Bird
It flies not above the seas
Or along the Yellow River
The wasteland at the Yellow River Estuary abounds in ditches
There it stays in shallow waters
It does not remember when it was hatched
Or whether its parents sent it there
There is no companion or retinue for it
A perfect place for wandering or seclusion
It feeds merely on tiny fish or shrimps
But it grows bigger and bigger
It cares not about loud noises
But it stays alert to little sounds
A group of ministers have secretly turn treacherous
They just need someone who can be justifiably made a new monarch
It is a question
Yet it answers everything
Even it does not hide
It can hardly be found
A Weed
All in large tracts
Linked with ruthless salt alkali, so vast
At least in clusters, they make circles
A solitary one can hardly survive
You see, in those bared patches
Grows not a single weed
A weed is mixed in other weeds
And sways with them
It quiets down when other weeds do so
It thinks a lot that day
When a gust blows, other weeds lie prone
It still stands upright
And then it loses no time in swaying
So as to keep pace
Encountering a Person
Is it that person
The other day you saw strange footprints
You were crossing the wasteland, towards the sea
He was walking to you
People rarely tread there
Who else could he walk to
You might claim that he had entered your territory
But he went beyond it, even farther
You have been used to loneliness which, like your domain
Could not be shared
But there was no path. Even if there had been one
It would not allow two persons to share
It seemed that was not
An encounter by chance
Thus, neither of them questioned
Or looked each others in the eye
Withe a ditch between them, they touched each other's shoulder
And neither glanced back
(Translated by Shi Yonghao)
作者简介:
杨吉军,中国当代优秀诗人。山东东营人。中国诗歌学会会员,山东省作家协会会员。曾在《诗刊》《延河》《大河》《文学月报》《白银诗刊》《天涯诗刊》等发表诗歌,获第九届徐志摩微诗歌奖金奖,《世界诗歌》国际诗赛金奖。部分诗作被翻译成英语、意大利语、荷兰语、俄语、塞尔维亚语、瑞典语、韩语等。著有诗集《最初与指向》《那个走过苇子地的人》《铁匠》《螺丝刀》《青铜》(中英对照)、《和世界》(瑞典语)等。
About the Author:
Yang Jijun, an excellent contemporary Chinese poet, is a native of Dongying, Shandong province. He is a member of Chinese Poetry Society and Shandong Writers Association. He has published poems in "Poetry Magazine", "Yanhe", "Dahe", "Literature Monthly", "Silver Poetry Magazine", "Far Poetry Magazine" and so on. He won the 9th Xu Zhimo Micro Poetry Prize and the Gold Medal in the International Poetry Competition of World Poetry magazine. Some of his poems have been translated into English, Italian, Dutch, Russian, Serbian, Swedish, and Korean, etc. He published poetry collections such as "The First and the Point" and "The Man Who Walked through the Reed Field", "Blacksmith", "Screwdriver", "Bronze" (in Chinese-English), and "And the World", etc.
译者简介:
石永浩,翻译家、学者,山东财经大学外国语学院副教授,MTI专任老师。任《国际诗歌翻译》杂志客座总编。在《国际诗歌翻译》《诗殿堂》《人民日报》、意大利文学杂志《POMEZIA-NOTIZIE》、黎巴嫩《prix littéraires naji naaman 2021》、阿联酋《World Poetry Tree》、北马其顿《СОВРЕМЕНИ ДИЈАЛОЗИ》、荷兰《PEN & PAPIER》等等海内外纸版刊物和选本,以及中国诗歌网、中国诗歌学会网等电子平台发表数百篇翻译作品。已有译诗集《疯狂的房子》(以色列拉莉•齐皮•米凯利 著)、《一朵油菜花就是一颗小小的太阳》(中英对照,罗启晁 著)和合译诗集多部,分别在国内(包括香港)、美国和意大利出版。曾获第六届中国当代诗歌奖•翻译奖。
About the translator:
Shi Yonghao, a translator, scholar and associate professor of Shandong University of Finance and Economics, full-time teacher of the MTI program, guest-editor of Rendition of International Poetry. He has published hundreds of poems on journals such as Rendition of International Poetry, Poetry Hall, People's Daily, POMEZIA-NOTIZIE (an Italian literary journal), prix littéraires naji naaman 2021 (Lebanon), World Poetry Tree (UAE), СОВРЕМЕНИ ДИЈАЛОЗИ (North Macedonia), PEN & PAPIER (Netherlands) and some online platforms including Chinese Poetry, and Chinese Poetry Society. He has published a collection of translated poems The Mad House (by Lali Tzipi Michaeli, Israel), A Rape Flower Is a Little Sun (Chinese-English, by Luo Qichao), and co-translated several poetry collections, which have been published in China (including Hong Kong), America and Italy. In 2020 he was awarded "Best Translator" in the 6th Contemporary Chinese Poetry Award.