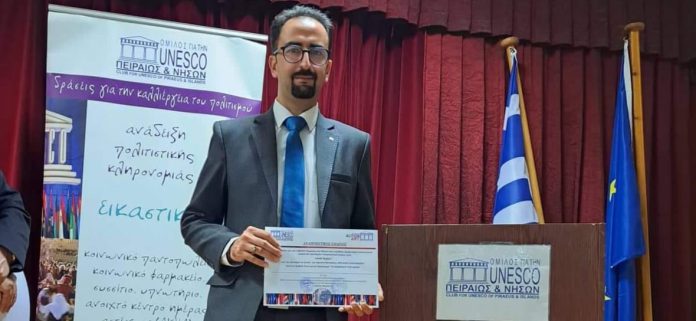 Mr. Umid Najjari
The International Association of Writers BOGDANI by special decision has decided to appoint Mr. Umid Najjari as the President of the IWA Bogdani Association for Asia. The decision enters into valide on April 26, 2023. Mr. Najjari has also been elected Vice-President of the BOGDANI international writers' association, with headquarters in Brussels and Pristina.
Early career
Umid Najjari – (April 15, 1989, Tabriz, East Azerbaijan Province, Islamic Republic of Iran) – Poet, writer, translator, publicist, active member of the IWA Bogdani International Writers Association, and the World Union of Young Turkish Writers.
Career
Umid Najjari was born on April 15, 1989 in the city of Tabriz, East Azerbaijan Province, Islamic Republic of Iran. He received his primary education in İran. In 2009-2013 he studied at the Faculty of Electronics of the Tabriz branch of the Islamic Azad University. In 2016-2020, he studied at the Faculty of Philology of Baku Eurasian University, majoring in "Azerbaijani language and literature."
Umid Najjari began his career at a young age. His first works were published in the periodicals of Iran. His poems are translated in more that twenty languages and published in several international Literature Anthologies. According to a number of literary critics, Umid is the genuine representative of modern Azeri poetry. His genre is mostly focused on romantic social poems and surreal poems mixed with artistic metaphor and symbolism. He is a member of several international poetry clubs. He translated several books and poems that are examples of classical and modern Persian literature from Persian into Azerbaijani.
 Published works
Valley of Birds (title of the original: قوشلار وادیسی), 2015 (poetry), Iran
On the other side of the walls  (دیوارلارین او تایی), 2019 (poetry), Iran
Photo of Darkness (Qaranlığın fotosu), 2019 (poetry), Azerbaijan
Photo of Darkness (Слика  tame), 2020 (poetry), Serbian
FORGET(Yнуtмoк), 2021 (poetry), Uzbekistan
Photo of Darkness (Fotoja e errësirës), 2022 (poetry), Kosovo
Photo of Darkness (Slika tame), 2022 (poetry), Monte Negro
Cotton Sounding Letters (Cotton sounding letters), 2022 (poetry) Azerbaijan
Awards
I. Prize "Samad Behrangi" Azerbijan 2016.
II. Prize "Ali Bey Hosseinzadeh" Azerbijan 2019.
International awards
I. International Prize "LIFFT" Russia 2019.
II. International honorary diploma "love and friendship" Chile 2020.
III. International Prize "Montenegrin Translators Association" Monte Negro 2021.
IV. Prestigious International Award "IWA Bogdani"  Belgium 2021.
V. International Award "A Knight Of The First Order Of Noble Skills In Poetry" Serbia 2022
International Prize "Mihai Eminescu" Romania 2022.
International Gold Medal "Alexander the Great and Vergina" Greece 2022
International Prize Club UNESCO Piraeus and Island & International Action Art Greece 2022